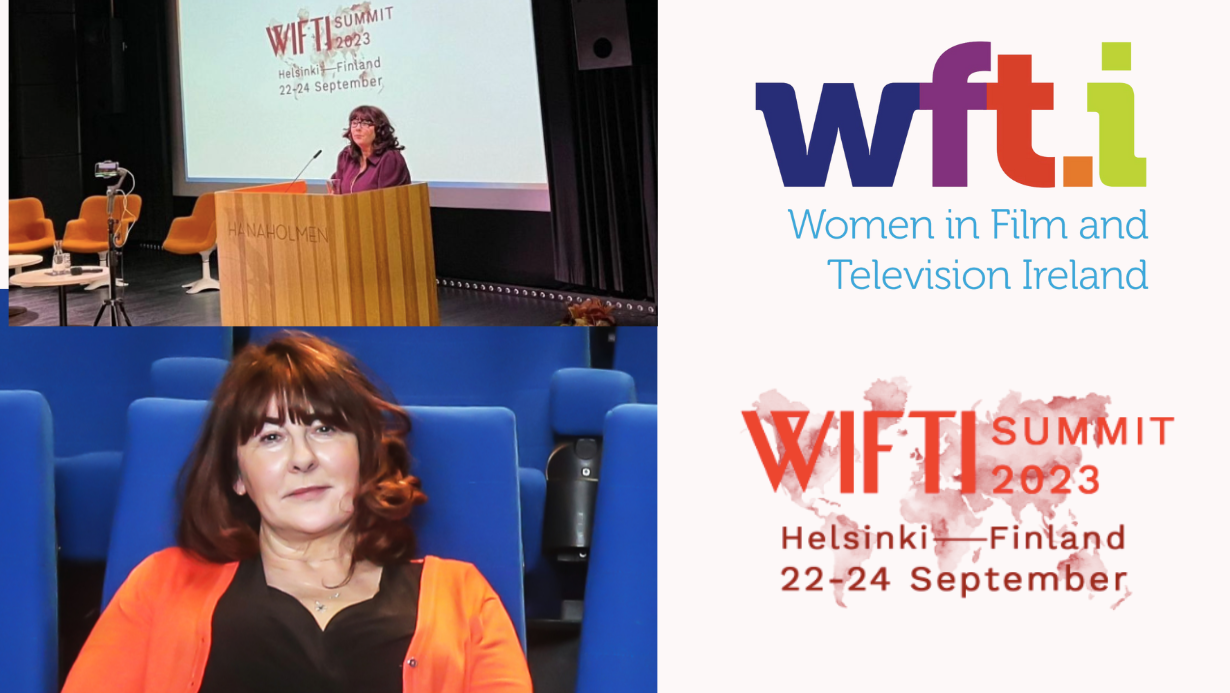 Women In Film and Television International (WIFTI) organised the weekend in cooperation and by the invitation of WIFT Finland and WIFT Sweden with WIFT Finland in charge of the event production. The WIFTI Helsinki Summit 2023 was curated by Marjaana Mykkänen, in collaboration with Helene Granqvist, Dr. Susan Liddy and Kirsten Schaffer, in co-operation with the WIFTI Knowledge, Advocacy and Activism Committee. There was much joy in seeing familiar faces, especially since most of the attendees hadn't travelled much in the last few years. Many of these panels are now available to watch on the WIFTI YouTube Channel!
On Saturday, the conference saw a discussion on the current status of Gender Equality from researchers, professors, professionals including Prof. Lisa French (Australia), Dr. Eva Flicker (Austria), Dr. Susan Liddy (Ireland), Dr. Greta Gober (Poland). They discussed change – what has changed, who's responsible for change, what does change mean? Director Katja Gauriloff (Skolt Sámi, Finland), director Fawzia Mirza (US/Canada), editor Theo Lindberg (Sweden) were in conversation with Victoria Thomas (UK).
Liselott Forsman from Nordic Film & TV Fund talked about the impact of AI.
Laura Allen Muller from WIFT Denmark spoke about their campaign "A BIGGER PICTURE" that aims to improve the representation of minorities in Danish Film and TV.
Andria Wilson Mirza from WIF LA shared some insights into how the ReFrame Initiative (a collaboration between WIF LA and the Sundance Institute) designs and leads systemic change programs in Hollywood and how they develop partnerships with key industry leaders and companies. Within the ReFrame Initiative they are now launching ReFrame ReSource – an online hub of culture change tools and best practices created in collaboration with 50+ advocacy organizations, covering topics ranging from equity in development, to production, hiring, audience development.
Eeva-Sofia Anttonen from WIFT Finland presented a digital tool called "The Equality Tool for the AV-industry" to help people in the industry take concrete actions to improve equality and comply with diversity legislation. They are launching it soon, and it will soon be available in Swedish!
The audience heard from Brigitte Monneau, Canada, about women as a specialist tool. They also heard from Domizia De Rosa, Italy, about rules for ethical behaviour in the AudioVisual Field Sector. Alejandra FC Zarazua, Sweden, disclosed insights from WIFT TECH.
WIF CEO Kirsten Schaffer, WIF LA, shared the celebration of WIF LA turning 50 with stories about how the community was built 50 years ago, what change looks like now and what's next for WIF and the movement, followed by an evening of dinner, dance and a celebration of WIF LA turning 50.
Helene Granqvist also presented the newly instated WIFTI PEACE PRIZE to Anne Lajla Utsi from the Sámi Film Institute. The WIFTI Peace Prize rewards the efforts of embracing peace, even while experiencing tension, discomfort and historical challenges. The prize honors the art of storytelling and the process of building constructive relationships.
Sunday morning started off with "Voices from the indigenous North." Pauliina Feodoroff remarked about how to re-learn communication with nature, Anne-Lajla Utsi (Sámi Film Institute) shared how three of the four films from their slate has premiered at Toronto International Film Festival, Victoria Thomas (UK) and Grace Maharaj (Sweden) talked about leadership and economic equity in the European media and entertainment context. Dr. Deborah Jermyn, Professor Bernadette Luciano and Dr. Susan Liddy talked about inclusivity with a spotlight on age.
Then there was an opportunity to visit different rooms with different discussions – topics ranging from: how to run a successful chapter, gender inclusive language and chapter names, benchmarking programs: mentoring, upskilling, advocacy, sustainability, experience on ageism and how to overcome it, the imperative and the impossibility of managing diversity, global guilds and peer groups.
Domizia De Rosa, Italy, Elina Knihtilä, Finland, Norma Jean Straw, The Bill & Melinda Gates Foundation, USA, Kirsten Schaffer, WIF LA were in a panel called "Culture Wars", addressing the right-wing governments around the world who are using culture (including film, TV, media) to move forwards repressive agendas.
Hollywood, Bollywood and Nollywood are the three largest film and television producing regions in the world – but not in that order. Do you know who produces the most films? Guneet Monga Kapoor, India, Fawzia Mirza, US/Canada, Victoria Thomas, UK taught us that Nollywood and Bollywood are not terms used by their own industries and that from here on out we should all call them for what they are – the Nigerian film industry and the Indian film industry.
The Summit was enveloped with discussions on the next steps for WIFTI, and summaries from all the parallel group meetings earlier in the day.
In the afternoon, there was a ceremony of the change of guards where Helene Granqvist stepped down as president of WIFTI and Dr. Susan Liddy took over the reigns. In between all the sessions, the attendees had time for chats, saunas, dips in the ocean or the pool (or both, for some) and all in all it was a weekend full of community, love, respect, and simply amazing to share a room with people from six different continents and feel they are all working towards the same goal. A better world.