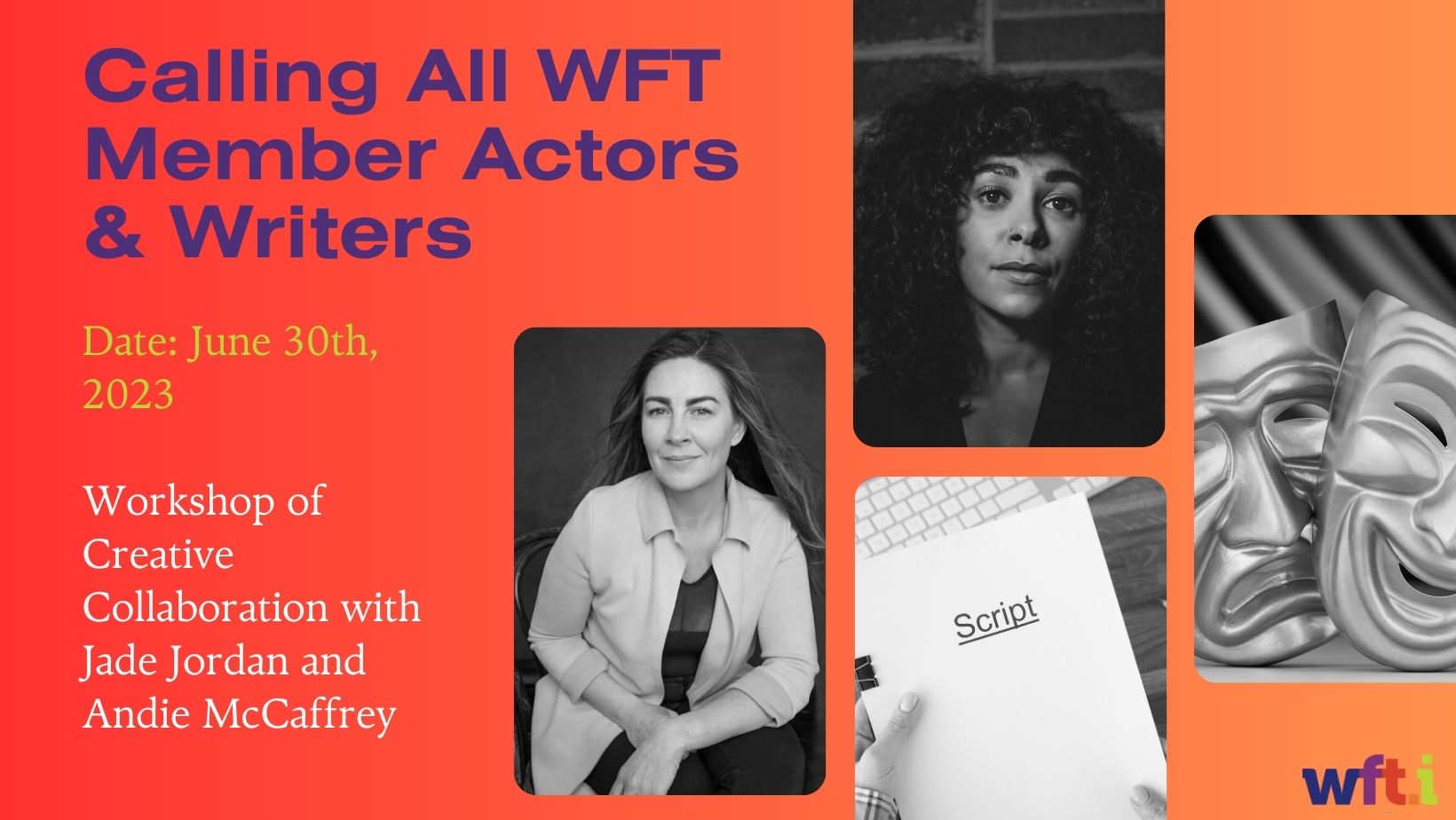 Are you passionate about acting or writing? Do you thrive in a collaborative environment? We have an exciting opportunity for you to participate in our Workshop of Creative Collaboration led by industry professionals and WFT Members Jade Jordan and Andie McCaffrey. This is a unique chance to refine your skills, explore new ideas, and network with like-minded individuals.
This event has been made possible with the generous support of Coimisiún na Meán.
Actors:
We are seeking actors of all ages and backgrounds to participate in this workshop. WFT Members preferred. Please submit your CV along with your application. Show us your range and talent as we delve into the creative process together.
Writers:
Writers, this is your chance to bring your ideas to life! We are looking for projects at any stage of development. Whether you have a complete script or just a concept, we want to hear from you. Submit your bio or CV along with a logline for your project. We particularly welcome strong, female-led stories across all genres.
Event Details:
Date: June 30th
Time: 10 am – 2 pm
Location: 2/13 Bow St, Smithfield, Dublin 7
Compensation:
All participants will receive a small stipend for their involvement in the workshop.
This event is led by WFT Board Member, Actor and Author Jade Jordan and Member, Actor Filmmaker Andie McCaffrey. You won't want to miss this incredible opportunity to learn, create, and collaborate.
RSVP and Notification:
To secure your spot, email info@wft.ie before 15th June. Successful applicants will be informed by June 19th.
Get ready to immerse yourself in a day of creativity, collaboration, and inspiration. Don't miss your chance to be part of this exciting workshop. We can't wait to see your talent shine!
About Jade Jordan
Jade Jordan is a mixed-race Irish actor and author of Nanny, Ma & Me. She studied screen acting at Dublin's Bow Street Academy. Jade's television credits include roles in ITV drama No Return, ITV/Virgin Media drama Redemption, Channel 5 drama Witness No 3, as well as guest roles on Kin RTE1, Channel 4's The Virtues and BBC's Doctors as well as Channel 5's The Catch to be released this winter. Jade's film credits include roles in Roddy Doyle's contemporary film Rosie, Kate Dolan's feature film You are not my Mother, Shaun Dunne's film documentary, How to tell a Secret and as a writer and producer of her own IFTA-nominated short film The Colour Between. Her theatrical appearances include Citysong & Dear Ireland for the Abbey Theatre, Coole Park Poetry Series & Four Days in July for Druid Theatre Company.
About Andie McCaffrey
Andie McCaffrey is an actor, screenwriter & emerging director from Dublin. Early 2023 saw Andie selected as one of twelve participants for CREATOR, the X-pollinator initiative for emerging female and non-binary directors. Combining her love for comedy and all things 1980's she was awarded funding from Screen Ireland through the Actor As Creator scheme for her self penned film Sparkle. Sparkle is based on the true story of the time the Irish government tried to ban aerobics in 1982. A comedy Improviser, Andie felt frustrated at the lack of diverse female roles on screen so decided to create her own. Shine Bright Productions her new company was created in order to make more female led film and television, amplifying working class voices. Her second film Rally has been funded as part of The Siol Foundation Fund and received the second highest award of the funding scheme. Andie has taken on the role of director & screenwriter in this film which is in pre-production & will be developed with the young people in her community shooting in 2024. Andie has appeared in over 22 films, four TV series and a range of national & international advertising campaigns including BBC TV Pilot Paramedics as lead Lisa. Stephanie in award winning TV series Love/Hate RTE/BBC. Recently Jennifer in TJ O'Grady's The Runner. With over 15 years experience in film she is also a Qualified NAYD Drama Facilitator & a member of The Writers Guild.