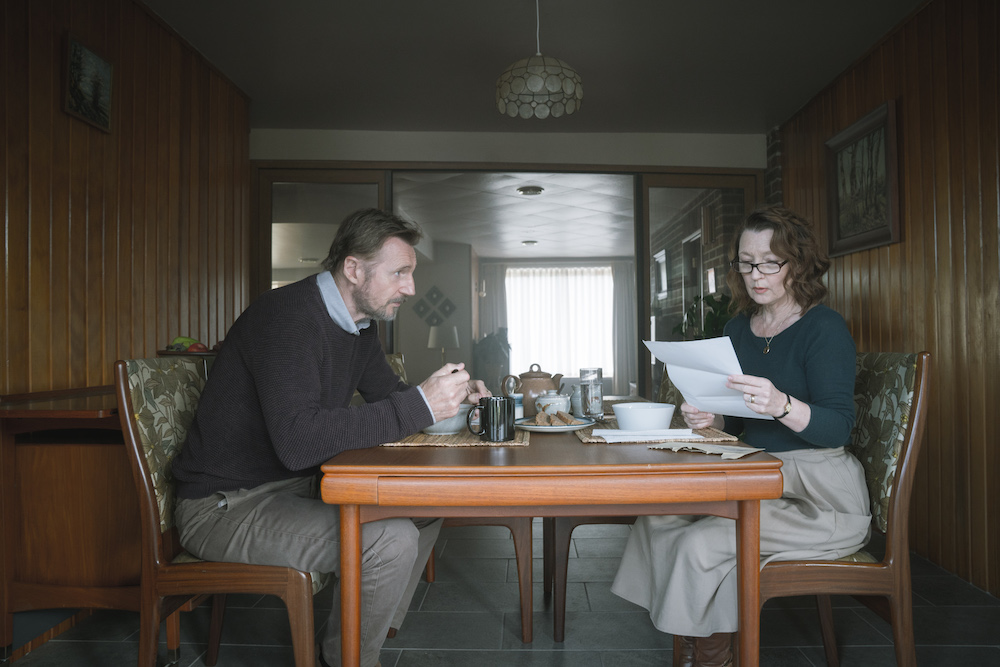 The much-anticipated drama Ordinary Love, starring Liam Neeson and Lesley Manville, will have its Irish premiere at the 64th Cork Film Festival's Opening Gala on Thursday, 7 November. Based on a script by award-winning Irish playwright Owen McCafferty, Ordinary Love will launch an outstanding 2019 programme of over 120 feature films presented at Ireland's first and largest film festival. Closing the 11-day festival will be the Irish premiere of new Irish-Belgian drama, The Other Lamb, direct from its world premiere at the Toronto International Film Festival, starring Raffey Cassidy, Michiel Huisman and Denise Gough, on Sunday, 17 November.
The full 2019 programme, which runs from 7-17 November, will be unveiled at the launch on 15 October. For further details, see corkfilmfest.org.
Shot in Northern Ireland, Ordinary Love is directed by the acclaimed Lisa Barros D'Sa and Glenn Leyburn, and centres on a couple dealing with the fallout from a cancer diagnosis. The Other Lamb is the haunting English-language debut of critically acclaimed director Małgorzata Szumowska, following a young woman raised in a repressive cult.
Response
Speaking on today's announcement, Festival Director and CEO Fiona Clark said: "We are thrilled to announce these two esteemed films for our Opening and Closing Galas in The Everyman, which profile the work of three visionary filmmakers — director Malgorzata Szumowska and co-directors Lisa Barros D'Sa and Glenn Leyburn — for its Gala films, who are embracing very different topics, but are unified by their beguiling story-telling."
Fiona addeed: "Cork Film Festival is flourishing. Building on a 22% increase in audience numbers last year, we are presenting over 400 events and screenings of significant Irish and international titles in 2019. We are also continuing to expand the Festival's reach with more regional events and guest filmmakers in attendance to meet the appetite for quality cultural cinema across Cork and Munster."
Speaking about the Opening and Closing Galas, Cork Film Festival Programme Director Michael Hayden added: "Ordinary Love is a filmmaking masterclass on every level. The script by playwright Owen McCafferty is smart and beautifully observed; the direction by Lisa Barros D'Sa and Glenn Leyburn (Good Vibrations) is fittingly patient and unobtrusive; while the performances from Lesley Manville and Liam Neeson are honest, touching and impeccable.
"We are excited to be closing the Festival with The Other Lamb, a film supported by Screen Ireland. Written by fantasy author Catherine S. McMullen, Małgorzata Szumowska's (Body, Mug) unsettling English-language debut establishes her as one of the most thrilling emerging voices in world cinema. It is a haunting, visionary drama and a timely rage against patriarchy."
Sponsors
Cork Film Festival is proudly supported by principal funder the Arts Council, along with Cork City Council, Screen Ireland, Fáilte Ireland, Screen Skills Ireland, Culture Ireland, Creative Ireland, Fundraising Fellowship Ireland, ESB Energy for Generations Fund and Creative Europe Media. Principal media partner is RTÉ Supporting the Arts and media partners are the Irish Examiner and Red FM. Principal venue partner is The Gate Cinemas; principal accommodation partner is The River Lee and principal drinks partner is Murphy's.