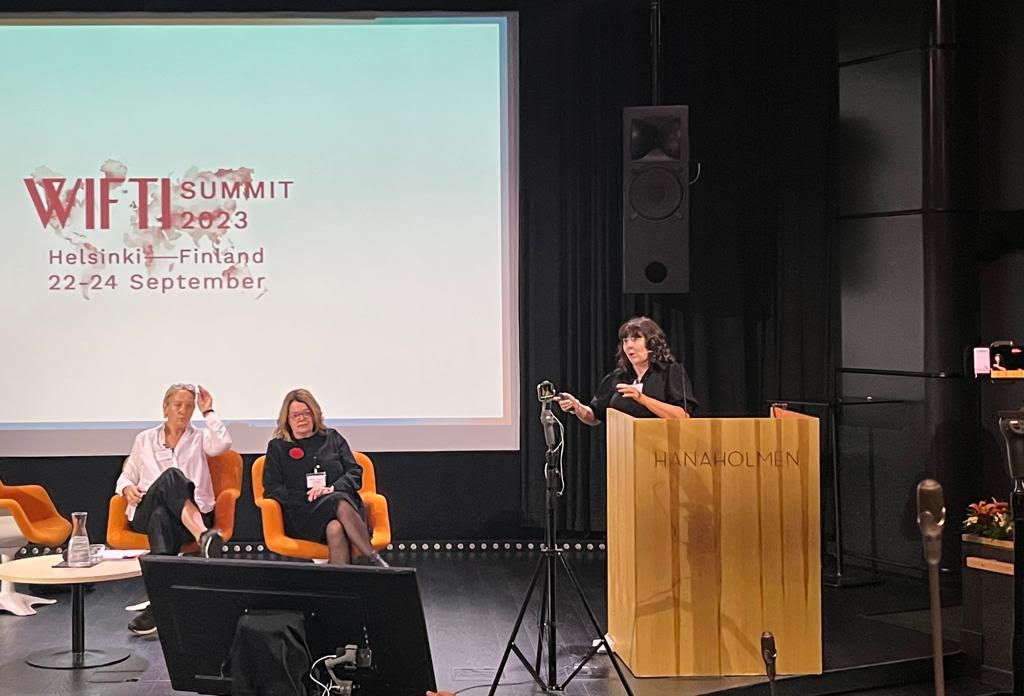 Helsinki, Finland – October 4th, 2023 – We are delighted to announce that Dr. Susan Liddy, Chair of WFT Ireland, has been inaugurated as the new President of WIFT International at the 2023 WIFTI World Summit held in Helsinki, Finland, on Sunday, September 24th. WFT Ireland's presence at the event was supported by Coimisiún na Meán and Screen Ireland. 
"As we stand on the threshold of a new era in the global screen industries, let's remember that for us true progress is marked by the unwavering pursuit of equality. Together, we work to break down barriers, amplify women's voices, diversify the industry and shape an inclusive future. It is an honour to lead WIFT International on the next leg of a transformational journey started by my predecessor, Helen Granqvist. I am committed to championing the cause of gender balance in our industry, one frame at a time" commented Dr Susan Liddy on her appointment. 
Outgoing WIFTI President Helene Granqvist shared: "I trust Dr Susan Liddy to bring our outstanding organization into a brighter future by expanding practitioner and researcher experiences and knowledge across boundaries."
About this Event
The WIFTI World Summit, a weekend-long celebration marking the 50th anniversary of WIFTI, brought together participants from six continents and 40-member associations to the Swedish-Finnish Cultural Centre and Hotel, HANAHOLMEN. The event, titled "Facing the Future," featured creative exchanges, strategic discussions and cultural debate. The inaugural WIFTI Peace Prize was presented to the managing director of the Sámi Film Institute, Anne-Lajla Utsi.
The summit concluded on Sunday with Swedish producer and pitch coach, Helene Granqvist, concluding her five-year term as President of WIFT International, receiving honours for her extensive contributions to the organisation. Dr. Susan Liddy formally stepped into the role with an enthusiastic welcome from attendees. The proceedings concluded with a reception sponsored by the Embassy of Ireland and the Ambassador of Ireland to Finland, H.E. Ruth Parkin, and other distinguished guests.
The 2023 WIFTI World Summit attracted members from around the world who shared ideas, working methods, strategies, and solutions for achieving gender balance, diversity and inclusivity in the screen industries. The event underscored the importance of international collaboration between women in the screen industries and the importance of allies. 
Many events at the summit have been live-streamed via WIFTI's YouTube Channel, and are available to watch back now – allowing a global audience to participate and engage in discussions about the future.
About WIFT International
Women in Film and Television International (WIFTI) is a global network comprising approximately 50 WIFT and WIFT partner chapters on six continents. Established in 1973 as Women in Film Los Angeles, the organisation was set up as a response to male dominance in the film industry. Fast forward 50 years and WIF LA were out in force in Helsinki to reflect on their history and the ongoing work for gender parity and cultural transformation. 
WIFTI's mission is to work collaboratively for gender balance and equality in the screen industries. With chapters worldwide, WIFTI unites women in film, television, and media to advocate for change collectively.
For media inquiries, please contact info@wft.ie
For more information about WIFT International, please visit WIFT International's Website.