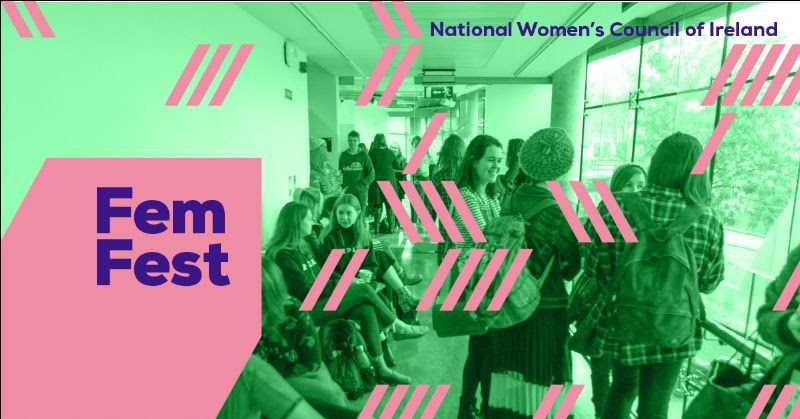 Femfest is the National Womens Council of Ireland Flagship event for young women aged 16-25
Join the National Women's Council of Ireland for #FemFest, a major conference for young women aged 16-25 discussing leadership, equality and planning for that feminist future! FemFest 2019 will discuss campaigns for universal contraception, young women's mental health and the equality issues for young women today.*** Please Note: This event is strictly for young women aged 16-25 ***#FemFest is a fun and engaging space about young women and for young women. It will combine passionate and deserve speakers of all ages with engagement from the audience with our brilliant line up of speakers!
The list of inspiring speakers includes:
Siobhán McSweeney, Actor and Activist
Louise O' Neill, author
Roe McDermott, Journalist
Dil Wickremasinghe, broadcaster and mental health advocate
Ciara Fanning, president of the Irish Second Level Students' Union
Owodunni Mustapha, Activist with Ballyhanuis Integration project
Fathi Mohamed, Activist with National Youth Council of Ireland
The event will feature a performance from Avoca Reaction
MORE TO BE ANNOUNCED IN COMING DAYS.
#FemFest will:
Provide a fun and engaging space for young women aged 16-25 to engage with issues relating to leadership from a feminist perspective.
Explore and raise awareness of the issues affecting young women in Ireland today
Empower young women to use their own voice and agency by asking them to set practical objectives on how to address these issues into the future.
Create an important opportunity for engagement with a diverse group of women from all over Ireland, and from varying backgrounds.
FemFest is a safe, inclusive space for young women. You can include preferred pronouns on your lanyard and we will have gender neutral bathrooms. For more information on inclusion and accessibility you can e-mail our Accessibility Officer, Susan McCormack on susanmcc@nwci.ie
Register here