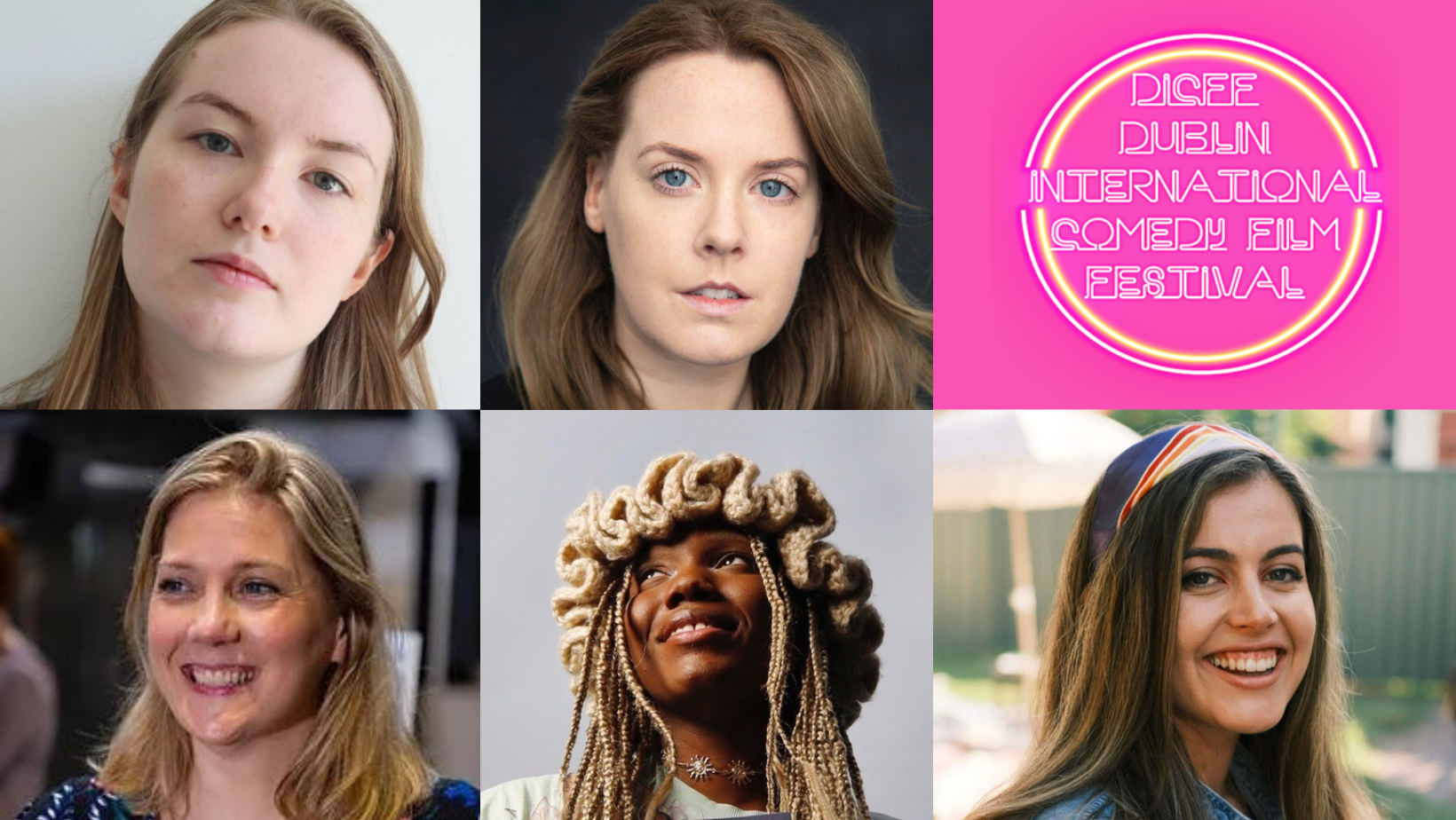 What makes a comedic film great? At 10 am on Tuesday 21st November, join us for a very special online webinar ahead of the Dublin International Comedy Film Festival. Hosted by WFT Member Margaret Kane-Rowe, this panel brings together the creative and talented women whose work is screening at the festival. Rebecca Hickey (The Performance Review), Aisha Bolaji (The End of the World Tour), Alexandra Eftos (Good Fortune), and Croí Burrowes (Kiss Kiss Fang Fang) will be talking about their funny films and careers to date. Secure your spot by registering online on Zoom.
Register your spot here. And get your tickets to the festival here.
This webinar is funded by the Screen Ireland Stakeholder Funding.
About Margaret Kane-Rowe (Moderator)
WFT Member Margaret Kane-Rowe is an award-winning scriptwriter and director winning The Nantucket Film Festival, Tony Cox, and Showtime Channel, Scriptwriting Award, in 2018, where Margaret was mentored by Oscar-nominated director, Noah Baumbach. She won best Debut director at the Dublin International Comedy Film Festival 2020 with her first short film Duck Egg Blue. And Best Short Comedy at the Dublin Independent Film Festival in 2021 for Duck Egg Blue. Her short film Mask was produced in July 2022 and premiered at the London Irish Film Festival in November 2022. Mask won Best International Narrative Short at Focus Wales Film Festival 2023 and was a nominated finalist for Best International Short at the BIFA qualifying Barnes Film Festival, London in 2023, Best Thriller at the New Renaissance Film Festival, London and winner of Best Director at the Oxford Shorts International Film Festival 2023. Margaret was recently appointed as The Creative Digital Artist in Residence with the Laois County Council and Creative Laois.
About Aisha Bolaji
WFT Member Aisha Bolaji is a director, screenwriter, producer and film curator who creates fun and fantastical work exploring themes, styles and genres such as coming-of-age, identity, girlhood and surrealism. She was part of Dublin Fringe Festivals inaugural WEFT Studio and wrote for the Writers Guild's 'Writers Room'. Her screenplay Why the Sun and Moon Live in the Sky was shortlisted in the Virgin Media Discovers Short Film Competition 2022 and received a Special Jury Mention at the Catalyst International Film Festival 2023, earning her a Writers Guild membership. Why the Sun & Moon Live in the Sky is currently in pre-production after being awarded the 2023 Film Award from the Creative Ireland Programme and South Dublin County Council. Aisha is also involved in various Irish film festivals in curatorial roles currently acting as one of two Shorts Programmers for Dublin International Film Festival. Lastly, she advocates for representation in the arts and media sectors as the co-founder and creative director of The GALPAL Collective, spearheading various events and initiatives that align with their mission.
About Rebecca Hickey 
Rebecca is an award-winning actor, writer and director. Beginning in theatre, at 20 years of age she was hired to direct the Irish premiere of the hit Broadway show Hair, The Musical (based on the film of the same name) the production won the Gilbert Spirit Award at AIMS. Rebecca went on to direct The Mercy Seat by Neil LaBute at The Helix Theatre as well as directing a workshop of The Pillowman by Martin McDonagh. Most recently, she directed the world premiere of new Irish play The Next Room to a sold-out audience at Smock Alley Theatre. The short film Hot Chocolate was Rebecca's screen directorial debut and it has been officially selected for the 14th Underground Film Festival.
About Alexandra Eftos 
Alexandra Eftos consolidated her love for filmmaking while studying media in high school. Her Year 11 film UNCONSTRAINED CONVERSATIONS placed 2nd in the CRE8 Film Festival and was a finalist in FLICKERFEST'S student competition FlickerUp. Since graduating in Screen Arts at Curtin University in 2018, Alexandra has worked on many feature films, TV series, documentaries, short films, corporate videos, and music videos as a Production Coordinator, 1st and 3rd Assistant Director, and Production Assistant. Alexandra is currently developing a web series with collaborator Lata Periakarpan and working on a music video for local Perth artist Grace Sanders. Alexandra is a passionate filmmaker and is eager to continue her journey of being a director who creates impactful and comedic films with a strong focus on female characters. GOOD FORTUNE is her first non-student film.
About Croí Burrowes
Croí Burrowes is an up-and-coming Irish writer, filmmaker and actor with a particular love of comedy, fantasy, and strong, heartfelt character relationships. She dreams of acquiring enough funding for the perfect soundtrack. Her third and latest short film 'Kiss Kiss, Fang Fang', which she wrote, directed, edited and acted in, will be screened at the Dublin International Comedy Film Festival in December. A recent graduate of Pulse College's Diploma in Film Production course and Bow Street Academy's Full Time Programme in screen acting, she is continuing her film studies at Ballyfermot College of Further Education. She looks forward to winning her first Oscar; even if that only means winning over a citizen named Oscar who thinks her work is swell.