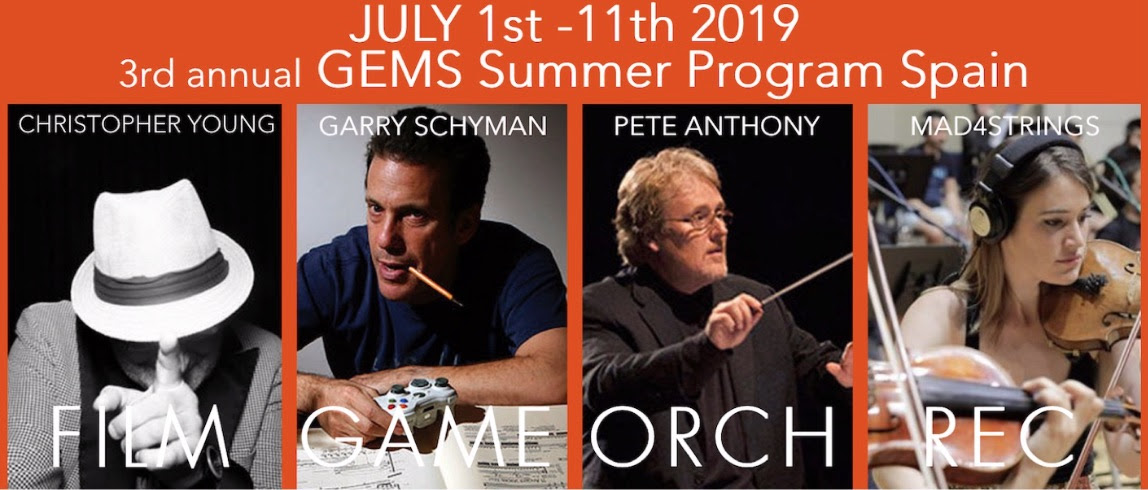 The GEMS Film & Game Scoring Summer Program, Spain, now in its third successive year, is a place where the contemporary composer can come to study, record, network, share, be mentored and afterwards, go to Hollywood! The program puts forward real world challenges to the participants and provides professional programs and facilities to help make it happen. 
They have created an environment where participants feel safe, supported and happy. Where they meet like minded people and realise that as a creative artist, they were not alone, that have a place, a purpose and a future where they can fully contribute.
Participants study with film scoring with Christopher Young (USC) and game scoring with BAFTA winner Garry Schyman, (USC), Orchestration with Pete Anthony (USC) and completed the program with a 50 piece orchestral recording of their own original composition, that will be orchestrated by award winning orchestrator Pete Anthony (USC) and GOYA winning producer Jose Vinader.
The program is spearheaded by Christopher Young, who has been with GEMS since the start, and teaches his brilliant and dynamic program on scoring for film. Christopher includes a mentoring one on one session for each individual participant, which has rapidly become the core of this program. https://www.youtube.com/watch?v=GKPNPl5nvsc .
Following on from Christopher is BAFTA winner Garry Schyman who will be teaching scoring for game, this will be Garry's second year with GEMS, previously invited over from LA for a GEMS masterclass there in Madrid, that concluded with a concert of his Bioshock Suite at the National Music Auditorio, with orchestra and choir.  https://www.youtube.com/watch?v=e2chV3u0JkM
Pete Anthony will take over and teach his orchestration program for the first year, which is great for composers, as it completes the cycle of composition, orchestration and recording. 
Finally we conclude the program and each participant gets the opportunity to record their composition with a 50 piece orchestra with GOYA wining producer, Jose Vinader and the Mad4Strings Orchestra. https://www.youtube.com/watch?v=J5k_6mzKaHM&list=PL4_4ZXlclD62OJppkQZJwtd0BIKokqXdj
The program has applied for and been awarded EU accreditation, with credits, as a stand alone program or with transferable credits for any diploma, undergraduate or MA degree within the EU framework. This will be launched in 2020.
Their visiting online and onsite tutors for the summer program to date have included, Eimear Noone, Richard Bellis, Andy Hill, Craig Stuart Garfinkle, and from USC Thornton School of Music, Christopher Young, Garry Schyman, Pete Anthony, Jose Vinader.  https://www.gems.courses/meetyourfacultyandtutors
Hollywood Composers Residency
The full program also includes the Hollywood Composers Residency with the Contemporary Women Composers Scholarship. Participants are invited to stay with Maestro Christopher Young in Hollywood. To date in the first two years of this program, 9 GEMS students have stayed with Maestro Christopher Young and have had experiences ranging from being invited to his lectures at USC, mentoring to discuss career development options such as living and working in LA, attending a gala event, the use of the studio, to joining and contributed to his production and composition meeting for his last film. Participants can also invite and stay with their partners, a family member or friend or fellow composer from the program. You can read some of these adventures on the GEMS blog here. https://www.gems.courses/blog
The GEMS Contemporary Women Composers Award
The award is to actively support the inclusion and support development of more young women composers to the program and the industry through these scholarships. Additionally, we will be aiming to organise and provide women composers the opportunity to meet with women lead film, game and music organisations in Hollywood and the EU, and be matched with a professional women composer to mentor, to guide, support and inform during and after the program.
The tuition fee for the full program is 3500€. The scholarship is for 1600€, just under 50% of the tuition fee, taking the tuition to 1900€.
The GEMS Contemporary Women Composers Award
The three step scholarship application: 
1 A link or download to 2 pieces of your original music 
2 Resume or Curriculum Vitae 
3 A brief statement about you, your music, your journey and future career direction. 300-600 words

Extended Scholarship Applications Deadline June 1st 2019
Applicants can email the supporting documents here and will be notified within 1 – 3 working day.