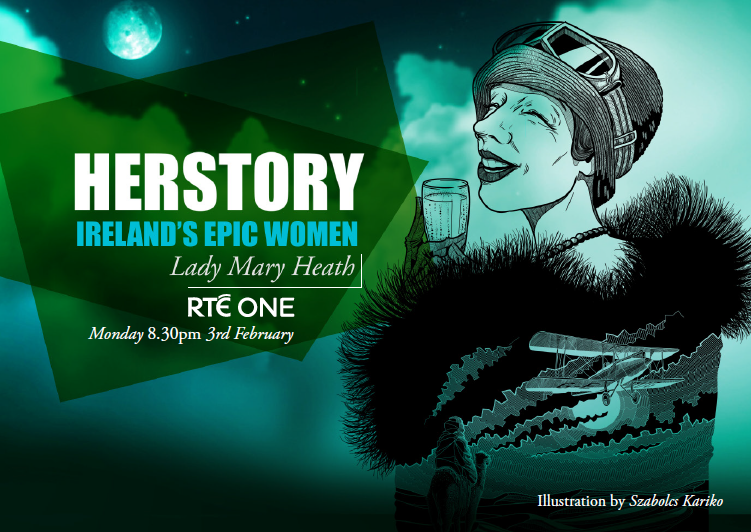 Starting last Monday (February 3rd), on RTÉ One Television, HERSTORY Ireland's EPIC Women is a 6 part TV series that tells the stories of some of Ireland's most remarkable pioneers in the fields of business, science, the arts, aviation, technology, power and revolution:
Record-setting and daredevil aviator Lady Mary Heath, a Limerick woman of many 'firsts' and one of the best known women in the world in the 1920s;

Groundbreaking computer programmer Kay McNulty, a Donegal Gaeilgeoir who was one of the six original programmers of the ENIAC, the first general-purpose electronic digital computer;

Pioneering Cork surgeon, Dr. James Barry, born Margaret Bulkley, who lived as a man, pursued a medical career and whose many achievements include performing the first successful caesarean section in the British Empire in which both mother and baby survived;

Cork-born activist and union leader Mother Jones ("the most dangerous woman in America") who founded the Social Democratic Party and helped establish the Industrial Workers of the World;

Dubliner Oonah Keogh a successful trader and entrepreneur who became the world's first female member of a Stock Exchange;

Wicklow-born choreographer, director and founder of the Royal Ballet Ninette de Valois.
To run alongside the TV series, Underground Films have also produced the HERSTORY: Ireland's EPIC Women podcast which will bring to light the stories of 18 more Irish female pioneers from history. Discoverable on any platform where you download your podcasts, they  will also be published each week on RTÉ's Herstory site – rte.ie/herstory.