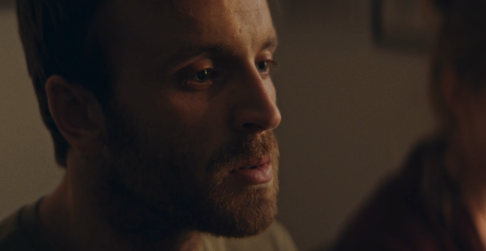 Following on from WFT Member Katie McNeice's ZeBBie win from the Writers Guild of Ireland, LAMBING has taken the top prize of Best International Short Film at the San Diego International Film Festival! 
The festival takes place annually in San Diego, California with a focus on global impact, complex diversity and environmental issues and more. The 22nd edition received over 3,200 entries from 85 countries.
LAMBING screened as part of the Global Consciousness line up, a collection of impactful shorts. This collection took the award for Best Shorts Track this year and also included Vincent Lambe's RTÉ Shortscreen project, EVERY FIVE MILES. 
McNeice also spoke on the festival panel titled, 'Unstoppable Women' moderated by Emmy-Winning Broadcast Journalist Sandra Maas in partnership with the Women's Museum of San Diego. Topics included gender-based discrimination in the film industry, filmmakers' experiences of attracting funding and Katie's experience as an activist through film for the queer community.
"Getting to attend both the Newport Beach Film Festival and the San Diego International Film Festival with LAMBING is one of the highlights of my career so far. It's so heartening to see major festivals not only programming Irish work but also supporting films which ask difficult questions of the audience. In LAMBING's case, the core question is why we are so afraid of gender diversity. To come home from San Diego with two awards was a totally unexpected honour and one the LAMBING team dedicates to intersex babies and their parents." – Katie McNeice, Writer Director
"Film allows you to walk in someone else's shoes. [You're] able to experience what they experience and come away with a sense of empathy for others. We need that more than ever right now." – Tonya Mantooth, San Diego International Film Festival CEO
Irish Films previously featured at the San Diego International Film Festival include Oscar Winning Short AN IRISH GOODBYE (Tom Berkeley, Ross White), BANSHEES OF INISHERIN (Martin McDonagh). Katie attended the Newport Beach Film Festival with the support of Kildare County Council and the San Diego International Film Festival with the support of Culture Ireland. 
About Lambing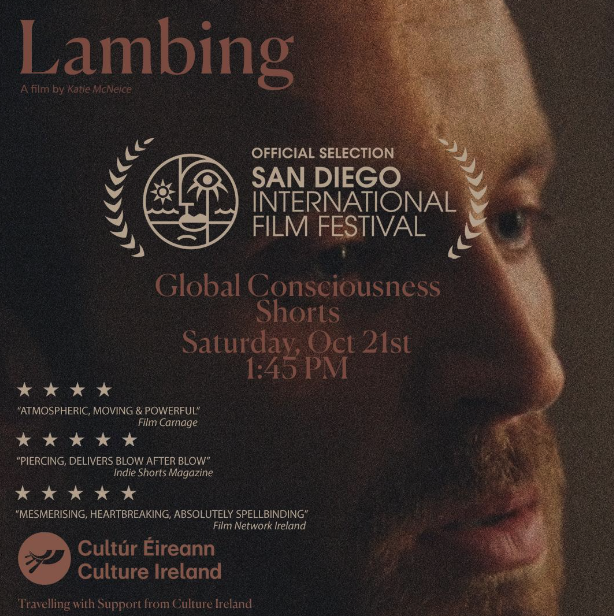 LAMBING stars Fiach Kunz (Game of Thrones) as shy young dad David, who must face his anxiety around gender and bullying when his baby is born intersex. Opposite Kunz is Johanna O'Brien (Foundation) in the role of expectant mother Caoimhe, and Pat Shortt (Garage, Banshees of Inisherin) as the ominous and forceful character of David's father, John. Supporting cast are Cate Russell, Joe McNeice, Rebecca Hickey and Gerry Cannon. 
The film is written and directed by Screen International Rising Star Katie McNeice; a multi-award winning Writer Director who crafts thoughtful identity-films with a particular focus on sexuality and gender. LAMBING is produced by WFT Member Mo O'Connell (HUM), shot by Emmy-Nominated Cinematographer Richard Kendrick (Song of Granite), edited by McNeice, and features an original score from Emer Kinsella (Sense8, In Orbit).
McNeice's other work includes feature film WHO WE LOVE which earned her an IFTA Nomination for Best Screenplay in 2022. Upcoming shorts include FOCAIL BAILE CROÍ (WORDS HOME HEART) funded by Screen Kerry and Comórtas Fisín. FBC is currently in post and is produced by Maggie Ryan of Escape Pod Media. She is currently in prep on Screen Ireland Focus Short THE QUIET OCEAN, written by new talent Barry Smyth and produced by Fiona Kinsella of Tile Media.
McNeice's upcoming features include coming-of-age drama TINY BLANKETS which is in development with Wild Atlantic Pictures. Katie is represented by Jasmine Daines Pilgrem of Lisa Richards Creatives.
REVIEWS FOR LAMBING
"Lambing is sublimely moving… Mesmerising, heart-breaking, absolutely spellbinding – Lambing is a film worth watching again and again." – Film Ireland
"Lambing is atmospheric, powerful and moving, exploring a necessary conversation about prejudice." – Film Carnage 
"The film delivers blow after blow" – Indie Shorts Magazine 
"In her early thirties, McNeice is someone we will definitely be looking out for in the future. Ireland may very well have a rising star in the filmmaking world." – Screen Critix