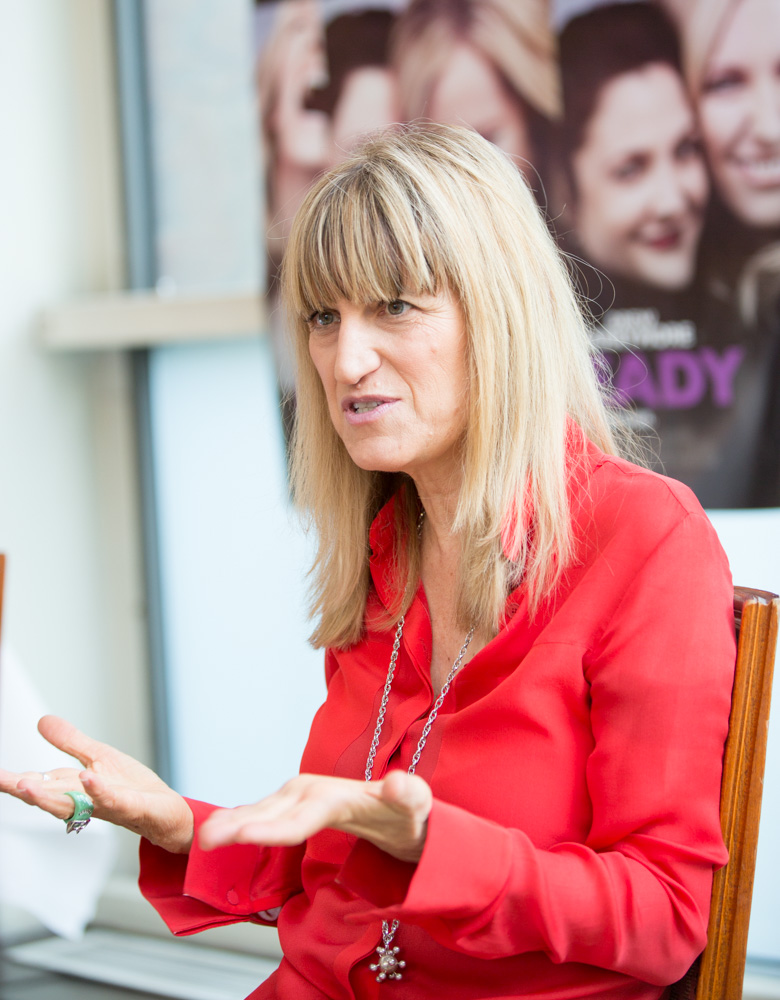 US movie director Catherine Hardwicke Comes to Town and Shares her Tips, Career Trajectory and insists women in the industry have to "Make Some Noise!"
by Kathy Rose O'Brien
Inspiring broadcaster Keelin Shanley interviewed Texan film director Catherine Hardwicke in an exclusive event for Women in Film and Television Ireland last week at O'Callaghan's St Stephen's Green Hotel.
Hardwicke (a former architect) was in town to promote her female-written, female-starring movie Miss You Already, which stars Drew Barrymore and Toni Collette and opened in cinemas that weekend. She pulled no punches about how difficult the business is for women. Even for successful directors like herself. She directed the first Twilight, which was a box-office smash that launched a franchise and reaped huge returns for the book's author, stars and film company.
Hardwicke is all charm and energy and her passion is infectious. She was open about her personal path into movie-making. Dismayed by the repetitiveness she was experiencing in her field of architecture, she went to grad school in UCLA studying film. Her start in the movie business came in the area of art direction and design which seemed an obvious fit with her skills honed in architecture. She loved the production side and worked her way up, watching the directors she was on set with: Richard Linklater, David O. Russell, Cameron Crowe.
Between jobs she took classes in everything going: acting, screen writing, making short films and teaching herself Final Cut Pro.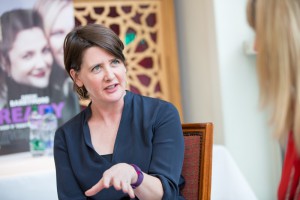 Catherine wanted to make her first small film but despite knowing the route that plenty of (male) first-time directors had gone down she repeatedly heard, "You're never going to get $9 million dollars for your first film". So she would scale down her expectations and then hear, "You're never going to get $5 million dollars"…
Simultaneously, both a protagonist and a story came to her. The genesis of her movie "Thirteen". Catherine knew she could shoot it in her own clothes and her own home if she had to and she had her lead actress.
She hustled to get Holly Hunter on board to play the mother. As a first-time director, she had an uphill battle to win someone of her stature over and Holly was open about being nervous about working with a first time director. Catherine saw what Holly was responding to when they met (and what she wasn't responding to!) and noted to the directors in the room that "actors love specificity and detail". Catherine listened to Holly's suggestions and didn't get defensive when questioned by the actress. Another tip for the directors gathered!
Hardwicke took on board her feedback and wove them back into her script on the plane straight after leaving the meeting. By the time Hardwicke got home Holly Hunter had read her changes and already replied:
"You heard what I said. I like that. I'm gonna do your movie"
The movie Thirteen put Catherine Hardwicke on the map but despite Twilight and now Miss You Already, it hasn't been a walk in the park. She still struggles to finance her projects and get meaningful, new work made.
Both Keelin and Catherine referenced The Sundance Institute study in association with Women in Film & TV looking at the progress of successful female directors over the last few years. Men who do well at Sundance are 6 times more likely to get signed up as directors onto a second film.
Horrifyingly, Hardwicke had a personal experience of a new (male) director selling his low budget film. Called Jamie, he has a gender-neutral name, and it prompted the sales agent in Hollywood to say to him "Go with James, it'll sell your movie better!"
Catherine Hardwicke said her days of keeping her head down and trying not to make a fuss are over. She talked about how she thought it was all in the works, that change would come and she didn't need to get involved. Not any more.
"We do have to make some noise and we all have to make a conscious effort.. Production companies have to start thinking, for every man I hire to direct this I'm gonna hire a female director"

"We have to make some noise or it is not going to change! Come on! Your country knows how to get up in arms!"
All photographs Karl Hussey