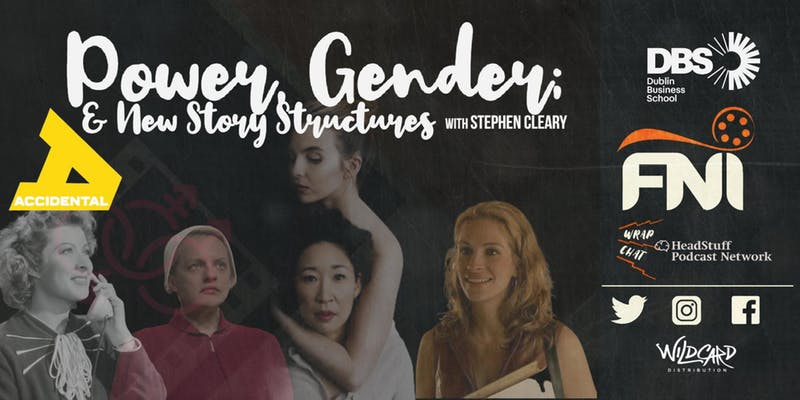 Power, Gender & New Story Structures: Stephen Cleary's two day workshop, run by FNI, investigates the role of gender in storytelling. Stephen devised this brand new programme  after working with female Scandinavian film and TV professionals on a number of diversity initiatives over the last 18 months. "This workshop is about characters who aren't male and powerful. How do you dramatise their stories, those characters, to make them compulsive?"
Cost: €107.61 – €161
Location: Dublin Business School Balfe Street
Time/Date: Wed, 23 Oct 2019, 10:00 – Thu, 24 Oct 2019, 18:00
About Stephen Cleary

Stephen Cleary has been a film and television professional for over twenty years, working in Europe, North America and Australasia, with occasional forays into Asia. He has worked as a feature producer, television producer/director, educator and screenwriter. He is a former head of British Screen and an accomplished Producer, Director and Dramatist.  He has developed many feature films from inception to production, and many have won international festival prizes. In recent years he developed the Venice Golden Lion winning feature Sweet Country from conception to production, and was lead consultant on the Emmy Award winning feature documentary What Happened Miss Simone?
With the South Australian Film Corporation, Stephen co-conceived and ran Filmlab, a program designed to develop a base of local production companies. The initiative resulted in five low budget locally generated features, all of which secured domestic distribution. Two premiered at the Sundance film festival, one at the Berlin film festival, one at SXSW. Three of the features secured a US theatrical release. Filmlab filmmakers won best international director at Sundance 2014, the Crystal Bear at the Berlin Film Festival and other international awards.
From 2016 to 2017 he ran a TV drama series development initiative for Canal Plus Europe, developing series from conception to final bible and pilot episodes with selected writers and producers from across Europe. And from 2015 to 2017 he was senior consultant of the Danish Film Institute and Nordic Film Fund's Polar Bear initiative, developing TV drama series with TV professionals from Scandinavia. Currently he is adjunct professor at the film school of the Victoria College of the Arts, Melbourne, lecturing and running seminars for students four weeks a year. He is a regular lecturer at the Danish Film School, the National Film School of the UK and AFTRS. All on aspects of story development. He is also a story consultant and occasional screenwriter.