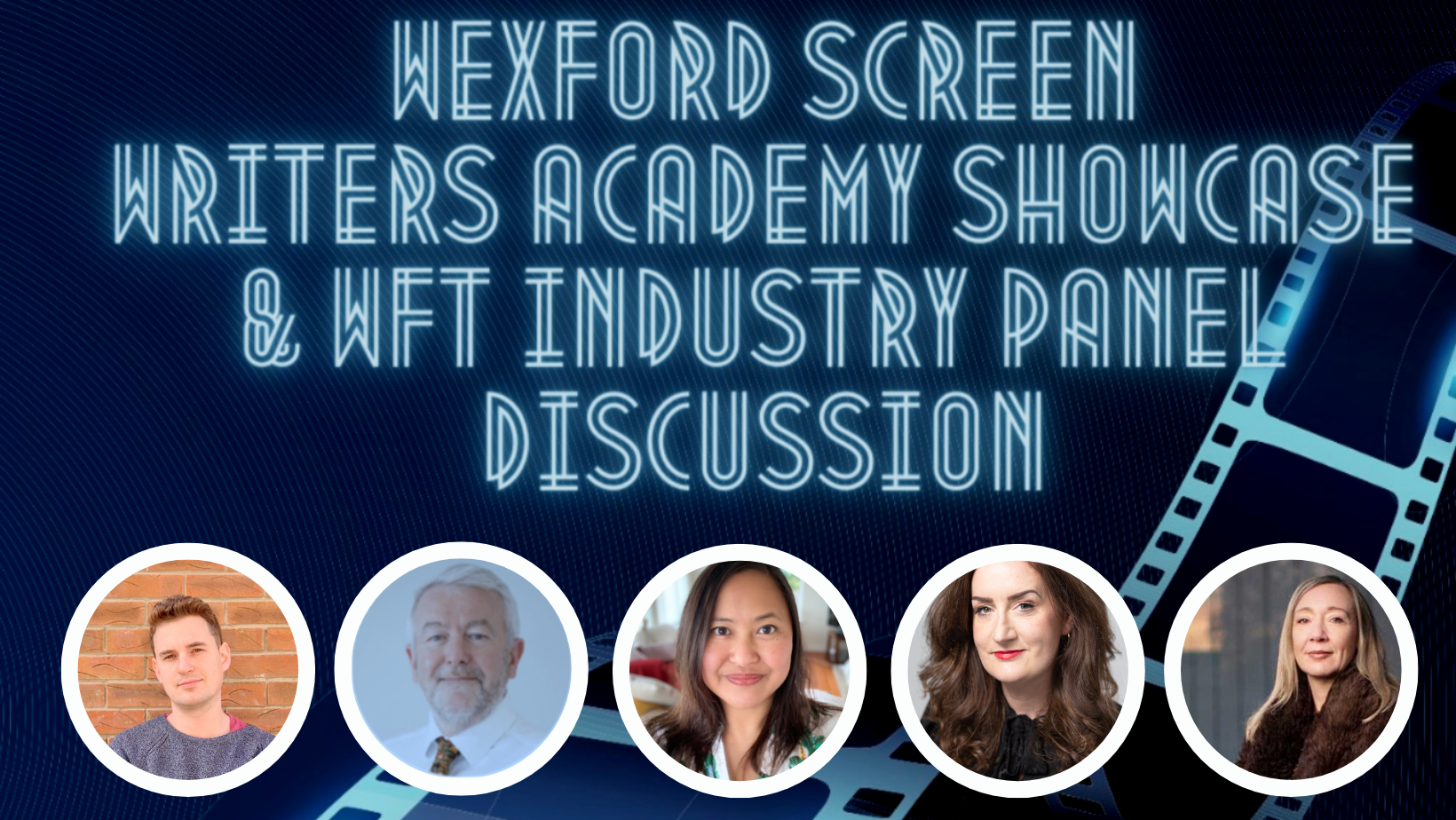 Is the future of film on the Island of Ireland decentralised? On Thursday 1st December, WFT Ireland in partnership with Wexford Screen Writers Academy and with the support of BAI presented Producing Beyond the Pale. This lively industry discussion took place in the National Opera House, Wexford and was followed by a showcase of selected scenes from the Wexford Screen Writer's Anthology Series Menapia. Watch this panel back here.
Panelists:
Ivan Dunleavy – Co Founder of Tara Studios
A career spent in in senior leadership roles in the film, video and music industries in both publicly quoted and private companies in the UK and internationally. CEO of Pinewood Studios Group for over 18 years and the co-founder of Tara Studios in Wexford.
Ann Mulrooney – Studio Manager
Cartoon Saloon is a five-time Academy Award®, Golden Globe®, BAFTA® and Emmy nominated animation studio founded by Paul Young, Tomm Moore and Nora Twomey. From award-winning shorts to feature films and TV series, Cartoon Saloon has carved a special place in the international Animation industry. Based in Kilkenny, Ireland the studio has a crew of over 200 artists and technicians in production and project development. Cartoon Saloon is the founder and host of Kilkenny Animated, an annual festival of visual storytelling incorporating exhibitions, talks and performances celebrating the creativity of the animation craft.  In 2010 the studio's first feature film, The Secret of Kells, was nominated for an Academy Award® and again in 2015 with Tomm Moore's follow up feature, Song of the Sea, Song of the Sea was also the first animated feature to win Best Picture at the Irish IFTA Academy awards. Directed by Nora Twomey, Golden Globe® and Academy Award® nominated The Breadwinner was released in November 2017 to huge critical acclaim. The studio had its first short film Academy Award® nomination in 2019 with Late Afternoon, written and directed by Louise Bagnall and produced by Nuria Blanco. Most recently in 2021, Wolfwalkers, directed by Tomm Moore and Ross Stewart was also Golden Globe®, Academy Award® and BAFTA® nominated. Cartoon Saloon's series like pre-school series Puffin Rock and comedies Skunk Fu and Dorg Van Dango are currently being broadcast around the world and upcoming series Viking Skool, pre-school series Silly Sundays and a Puffin Rock feature film are among the other projects in production at the studio. The film's most recent major animated feature production My Father's Dragon directed by Nora Twomey, was released globally on Netflix on November 11th. Cartoon Saloon's Studio Manager Ann Mulrooney has worked widely across the creative and cultural sector for over 25 years, including as an artist, curator, producer, programmer and director. She has directed significant cultural institutions including the National Craft and Design Gallery, the VISUAL Centre for Contemporary Art and the Science Gallery at Trinity College Dublin, before returning to her native Kilkenny three years ago to take up her current role, with a specific interest in the studio's engagement and sustainability planning.
Roisin Keown – CEO and Creative Director The Brill Building
Roisin Keown is one of Ireland's most awarded advertising creatives.  In 2019 she founded her own creative-led creative agency The Brill Building, where she serves as CEO and Executive Creative Director, now recognized as Ireland's most  awarded new creative agency, winning Gold at ICADS, EFFIES, AIMS, PRII and Grand Prix at APMC and Europe's IMC for the The Shop That Nearly Wasn't, the first shop 100% stocked and staffed by cancer survivors.  Roisin has co-directed and produced for The Brill Building in-house productions on campaigns for Breakthrough Cancer Research, Marie Keating Foundation and Riskeye.  Screenwriter of the 'The News', the short film about lung cancer for the Marie Keating Foundation, she also serves as Creative Producer of The Paddy Irishman Project, the fine art photography and videography project about Irish identity.
Marissa Aroy – Producer and Director
Marissa Aroy is a documentary producer and director. She received an Emmy award for her PBS documentary "Sikhs in America."  Aroy, a Fulbright Scholar, was the recipient of the first ever Hatsuye Yamasaki Award for Visionary Leadership from the College of William and Mary in the US. Until recently she was teaching filmmaking classes at Trinity College Dublin and The New School in New York.  She is currently the editorial director of Future Rising, a climate change initiative run by the organization Girl Rising. For 10 years she was deputy director of Irish Screen America, a screening series and film festival of Irish films in New York and Los Angeles. And before that worked for 7 years on the San Francisco Irish Film Festival.  She sits on the board of Women in Film and Television, Ireland and has been living in Ireland for the past three years with her husband and filmmaking partner Niall McKay. Together they are working on a historical documentary on the Philippine American War.
Robert Higgins – Producer and Director
Robert Higgins is an award-winning producer director, writer and co-founder of Harp Media. He recently co-wrote and directed his debut feature film 'Lakelands' which stars Éanna Hardwicke (Normal People, Vivarium), Danielle Galligan (Netflix's Shadow and Bone), Lorcan Cranitch (Bloodlands, The Dig), Dafhyd Flynn (Michael Inside), Dara Devaney (Arracht), and Gary Lydon (Calvary). It won the Bankside Award at the Galway Film Fleadh for best marketplace project and has been acquired for UK and Ireland release by Wildcard Distribution. It won Best Irish Film at Galway Film Fleadh and Kerry Film Festival. His second short film 'Drifting' starring Paul Mescal (Normal People) and Dafhyd Flynn (Michael Inside). The film premiered at the Galway Film Fleadh and has been picked up for worldwide distribution by Network Ireland Television. His first short film 'Angels Guard Thee' starred Brian Fortune (Game of Thrones) and John Quinn (Love/Hate) and premiered at the Cork Film Festival in 2018. It was broadcast on RTÉ in 2019. He was a participant on Screen Skills Ireland's Advanced Producers programme. He is represented by Curtis Brown Talent. Harp Media was awarded runner-up in the Best Idea category of the Longford final of Ireland's Best Young Entrepreneur in 2018 and Best Start-up category in 2019. Harp Media has received funding from bodies such as Screen Ireland, Broadcasting Authority of Ireland, Creative Ireland, Arts Council and Longford Arts Office
Moderator:
Fiona Kinsella – Head of Production Tile Media.
Wexford woman Fiona Kinsella is a Producer and Line Producer with over 25 years experience in the Irish and International Film and Television Industry. Her company Jumper Productions has produced branded content for the likes of Heineken, O2, Jameson, Renault and Skoda and provided production services for artists including Rihanna and One Direction. Alongside her branded work she has produced several highly acclaimed short films and more recently developed a slate of Feature Films and TV drama. In 2020 she joined Tile Media as Head of Production overseeing their slate of Feature Films and TV Series. She has also line produced feature films for Samson Films and Fantastic Films. From 2004 to 2006, she was Managing Director of Moonstone International, a development and training programme, for European Feature Film screenwriters and directors. A graduate of University College Cork. She has postgraduate diplomas from University College Dublin and TU Dublin. She is a Board Member of Women In Film and Television Ireland and was a founding committee member of the EDA Ireland. She is currently working with Laura Way and Paul Walker on the development and delivery of the Wexford Screenwriting Academy.