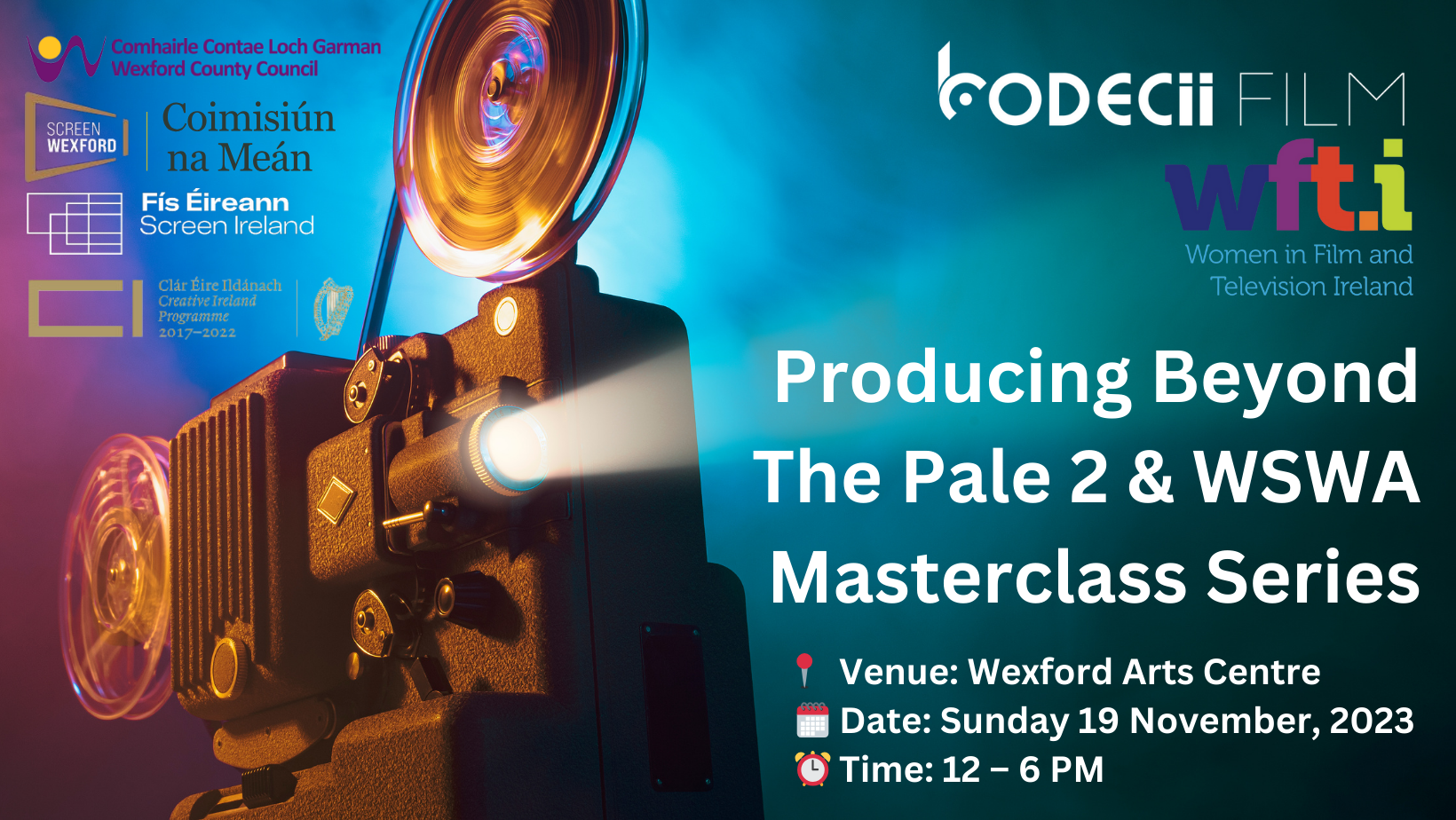 Following on from the success of last year's Producing From Beyond the Pale panel, WFT Ireland and Wexford Screen Writers Academy have come together once more to host the second iteration of the event. 
Venue: Wexford Arts Centre
Date: Sunday 19 November, 2023
Time: 12 to 6 PM
Admission is free but pre-booking is required from WFT Ireland. 
You can register your spot here!
The event will be streamed on the Screen Wexford YouTube Channel. The live stream is supported by the National Youth Film and Animation Network.
Producing from Beyond The Pale 2 will take place on the afternoon of Sunday November 19th  in Wexford Arts Centre and will also be streamed. The afternoon will begin with a series of Masterclasses and case studies, which are aimed at emerging writers but will be open to filmmakers from around the country. Each session will focus on exploring how different departments/film practitioners engage with a script, how they break it down and looking at how they approach new projects. The sessions will consist of Panel discussions and case studies.
The afternoon will culminate with Producing from Beyond The Pale 2. The last couple of years have seen a rising number of filmmakers move away from Dublin and other urban centres either for economic reasons or for a better life. Other filmmakers have successfully been working in the regions for years. Arguably one of the good things to come out of the last two years, has been the quick adaptation to remote working, this has undoubtedly helped filmmakers working in the regions.  Coupled with a Focus on Regional Production, this should be an opportune moment for Filmmakers based outside of the city centres. WFT will host a panel discussing the opportunities and obstacles for filmmakers working outside of urban centres. Celebrating Filmmakers who have been working successfully in this environment and looking at the difficulties that they have encountered over the years. This year's panel will focus on crews. We would like to examine what other steps can be taken to increase access to the Industry for talented Filmmakers who are not based in the Film Centres. 
Confirmed speakers include: Eimear Noone (Composer), David McLoughlin (Metropolitan Pictures), John Wallace (Cowtown Pictures), Chriona O'Sullivan (Element Post Production), Jon Beer (Production Designer), Hannah Quinn (Director), Jess Drumm (Screen Guilds), Mark Maher (Odyssey Studios), Fiona Lanham (Script Supervisor), Colman Farrell (Screen Ireland), Jac Kerrin (Ripple World), Darragh Moran (Editor) and Drew Maitland (1st AD). Full line up will be announced next week. 
Wexford Screen Writers' Academy is a Bodecii Film, Screen Wexford and Wexford County Council initiative funded by Creative Ireland and Screen Ireland. Producing from Beyond the Pale is a WFT Ireland event funded by Screen Stakeholders and Coimisiún na Meán. The event will be held in Wexford Arts Centre and streamed online supported by the National Youth Film and Animation Network.
The Panels will begin at 12:00 PM and Producing form Beyond The Pale 2 will take place from 5:00 PM to 6:00 PM.