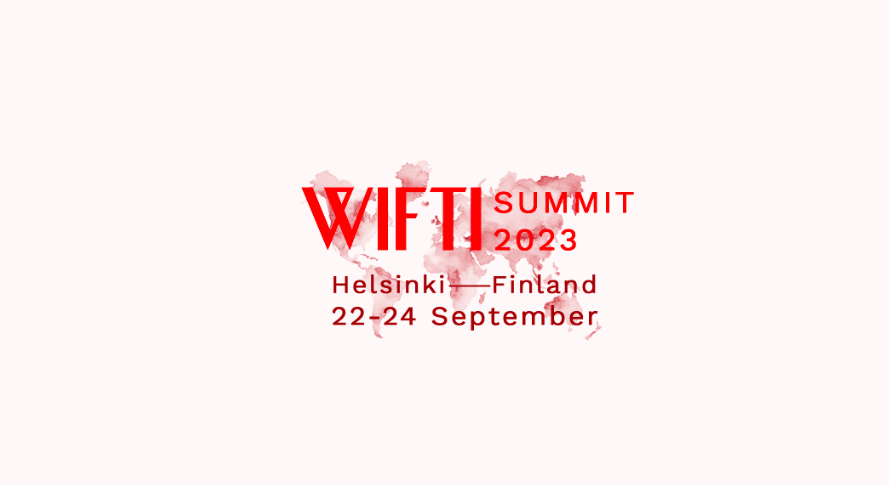 Taking place between 22nd and 24th September, 2023, in Helsinki, Finland, this is a weekend to look forward to – a 50-year anniversary celebration, creative exchange and the awarding of the WIFTI Peace Prize. 
Click here to know more about:
Prices and registration to the Summit

About WIFTI Helsinki Summit 2023

Program of the event

Prices and how to book a room on-site

Invitation letter

List of foreign embassies and their contact details

Travel

Helsinki region

Helsinki hotels for extended stay

Finnish Film Affair and Helsinki International Film Festival
Registration ends September 8th, space is limited.
About Wifti Helsinki Summit 2023 – Facing The Future
Women in Film and Television International (WIFTI) gathers participants from six continents, 40 member associations, to HANAHOLMEN Swedish-Finnish Cultural Centre and Hotel in Finland on September 22-24, 2023, to share ideas, working methods and solutions for the future of an equal audiovisual industry.
WIFTI organises the event in cooperation and by the invitation of WIFT Finland and WIFT Sweden with WIFT Finland in charge of the event production. The WIFTI Helsinki Summit 2023 is supported by Nordisk Film & TV Fond, the West Finland Film Commission, City of Espoo, Turku Business Region, the Finnish Film Foundation and by Hanaholmen Cultural Center.
The event opens a view to the global landscape of women in film, television and media, giving members a chance and means to learn from and support each other.
At the end of the summit, the change of guards will observe Helene Granqvist from Sweden ending her 5-year term with honours as WFT Ireland Chair Dr. Susan Liddy steps in with a warm welcome. A reception will be hosted by the Embassy of Ireland, Finland and will be attended by Ambassador Ruth Parkin.