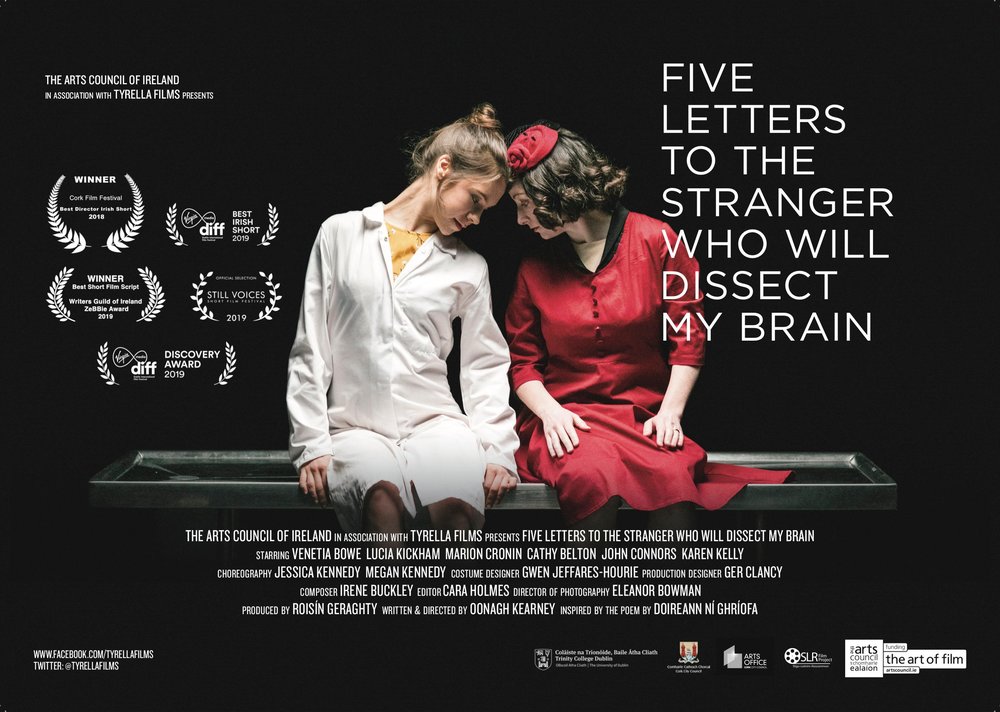 iffy, the short film festival on the Liffey has announced a dazzling array of short films for their 4th edition with six out of the ten films selected written and/or directed by women. The event takes place on Saturday 23rd of November at The Pearse Centre Theatre, Dublin 2 and tickets are now on sale here.
The bi-annual festival is known for its carefully created and easily digestible programme of short films and forging an intimate and relaxed vibe allowing the audience to mingle and chat about the films they have seen over a glass of wine. This edition sees a fascinating and eclectic selection of ten short films, eight of which are from Ireland.
From the USA, directed and produced by Emma Keehan, Ouroboros is a theatrical fantasy short film that addresses themes of connection, vulnerability, and courage. The film has no dialogue which serves to increase its universal relevance. Emma has won numerous awards in the US for the short.
Casual, written, co-directed by and starring Aoife Nic Ardghail and co-directed by Kate Dolan, is a comedic and musical tale about love and getting over a break up which has screened worldwide, winning Best Actress at the Moscow Indie Film Festival and an honourable mention at the Chicago Irish Film Festival.
Mother is a surreal comedy directed by Natasha Waugh and written by Jonathan Hughes which has recently won Best Short Film at the Clones Film Film Festival and was a runner up at the Dublin Feminist Film Festival.
Letters to the Stranger who will Dissect my Brain written and directed by Oonagh Kearney is an experimental film involving interpretive dance. It won Best Director of an Irish short at the Cork Film Festival in 2018 and Best Short Film at the Dublin International Film Festival this year.
Ma is a thought-provoking drama written, directed and starring  Anne Marie Kelly who won Best Actor for the role at the Disappear Here Film Festival. She has also starred in David Freyne's The Cured
Dead Run is an offbeat comedy by writer/director/producer team Emma Foley and  Tamryn Reinecke (Pale Rebel Productions)
Other films screening at iffy 4 are Michael Barwise's experimental film Legacy which was screened on Film 4 as part of the Troubles on Film Season. Teddy Bear Rescue by Louis is a French Canadian animation, Love Lane United is a concept short for a feature by Jack Thornton and Dark Corners starring Helena White is an arrestingly creepy tale by Shane Boyle
The selection isn't based on a specific theme; rather the theme emerges organically based on submissions. And this year it looks to be the most provocative yet.
"It's a very interesting lineup. Lots of interpretative dance and female writers & directors -selected without any express intention. We present a brilliant collection of strange and wonderful sights and sounds. From dancing with dead bodies to hiding them, November's show is going to be a wonderful mix of shorts that will entertain and delight in equal measure" says Duncan McKenna, Festival Organiser and Programmer.
The full programme can be found here :
https://iffy.ie/2019/10/iffy-4-selection-announced/
Tickets to iffy are €10 and include a wine reception preceding the screening followed by a networking evening.
Limited tickets available here: https://iffy.ie/tickets/