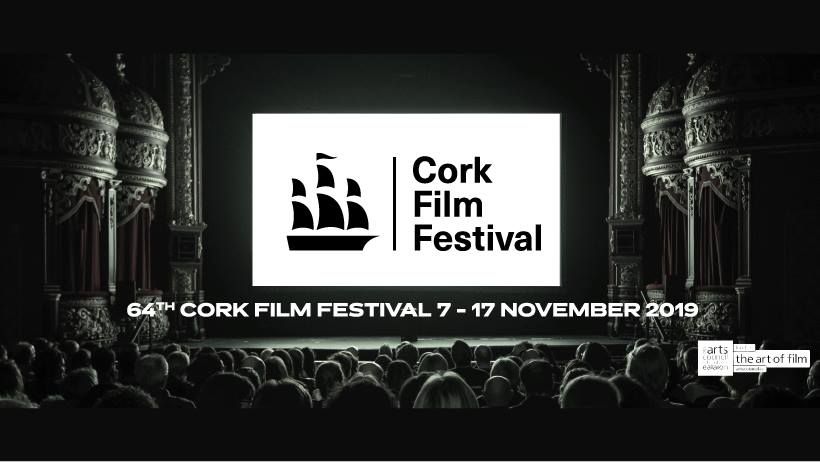 Cork Film Festival is Ireland's first and largest film festival. It is a local, national and international celebration of cinema running annually each November in Cork. The 64th edition of the Festival will take place from the Thursday 7th – Sunday 17th November 2019.
The Festival showcases over 240 of the latest and best international and Irish features, documentaries and shorts, and includes programmes for schools, families, classics, a focus on film and mental health (Illuminate) and specialist Industry Days, including Doc Day, cementing the Festival as the destination festival for documentary in Ireland.
64th Cork Film Festival
The Festival welcomes submissions of features and shorts, and all forms of film production – fiction, documentary, animation, experimental, etc. They look for interesting new voices and work that pushes boundaries and takes risks. They champion new voices and celebrate excellence in filmmaking throughout their programme, which features over 240 titles. they also recognise filmmakers' achievements through their nine Awards, three of which are Academy Award® qualifying.
Applicants to the 2019 submissions platform will be notified of the outcome of their submission in September 2019.
Cork Film Festival is accredited by the following Awards Academies:
Academy Awards®: winners of the Grand Prix Irish Short , Grand Prix International Short and Grand Prix Documentary Short categories qualify for the long list of the Academy Awards® for the Animated Short Film/Live Action Short Film and Documentary Short categories.
BAFTA (British Academy of Film and Television): filmmakers whose British shorts are selected for competition in the Festival's Grand Prix International Short competition may enter their films for BAFTA consideration
European Academy Awards: Cork Film Festival submits a short film nomination to the European Short Film Awards
Awards
In competition, Cork Film Festival makes the following awards:
Grand Prix Irish Short Award, with the winner eligible for the long list of the Academy Awards® for the Animated Short Film / Live Action Short Film category
Grand Prix International Short Award, with the winner eligible for the long list of the Academy Awards® for the Animated Short Film / Live Action Short Film category
Grand Prix Documentary Short Award, with the winner   eligible for the long list of the Academy Awards® for the Documentary Short category.
Gradam Spiorad na Féile / Spirit of the Festival Award, championing feature filmmakers who push boundaries and take risks – bold ideas, well told
Gradam na Féile do Scannáin Faisnéise / Award for Cinematic Documentary
Best Director Irish Short, Supported by Screen Directors Guild Ireland
Best Cork Short Award, with films chosen eligible to compete also for the Grand Prix Irish Short award
European Film Awards, Cork Short Film Candidate for European Short Film nomination, European Film Awards 2020
Out of competition, the Festival makes the following awards:
Audience Award for feature films, the shortlist nominated by the Festival's programmers
Cork Film Festival Youth Jury Award, with jury representation from University College Cork, Cork Institute of Technology, and St John's College
Submission Deadlines and Fees:
| | | | |
| --- | --- | --- | --- |
| | | Regular | Late |
| Cork Shorts | | 04 March to 28 April; $25 USD | 29 April to 30 June; $35 USD |
| Irish Shorts | | 04 March to 28 April; $30 USD | 29 April to 30 June; $40 USD |
| International Shorts | | 04 March to 28 April; $35 USD | 29 April to 30 June; $45 USD |
| Features and Documentary Features | | 04 March to 28 April; $55 USD | 29 April to 30 June; $70 USD |