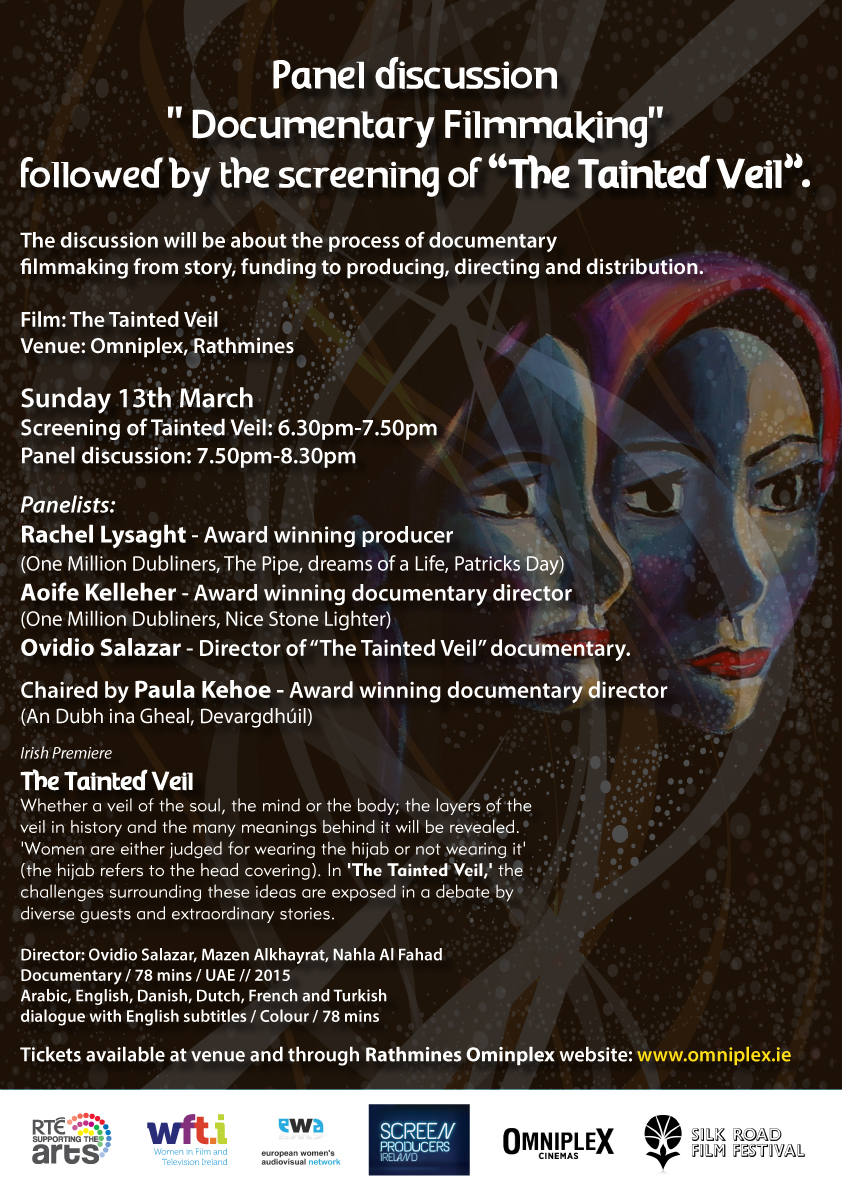 The Silk Road In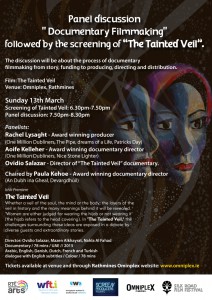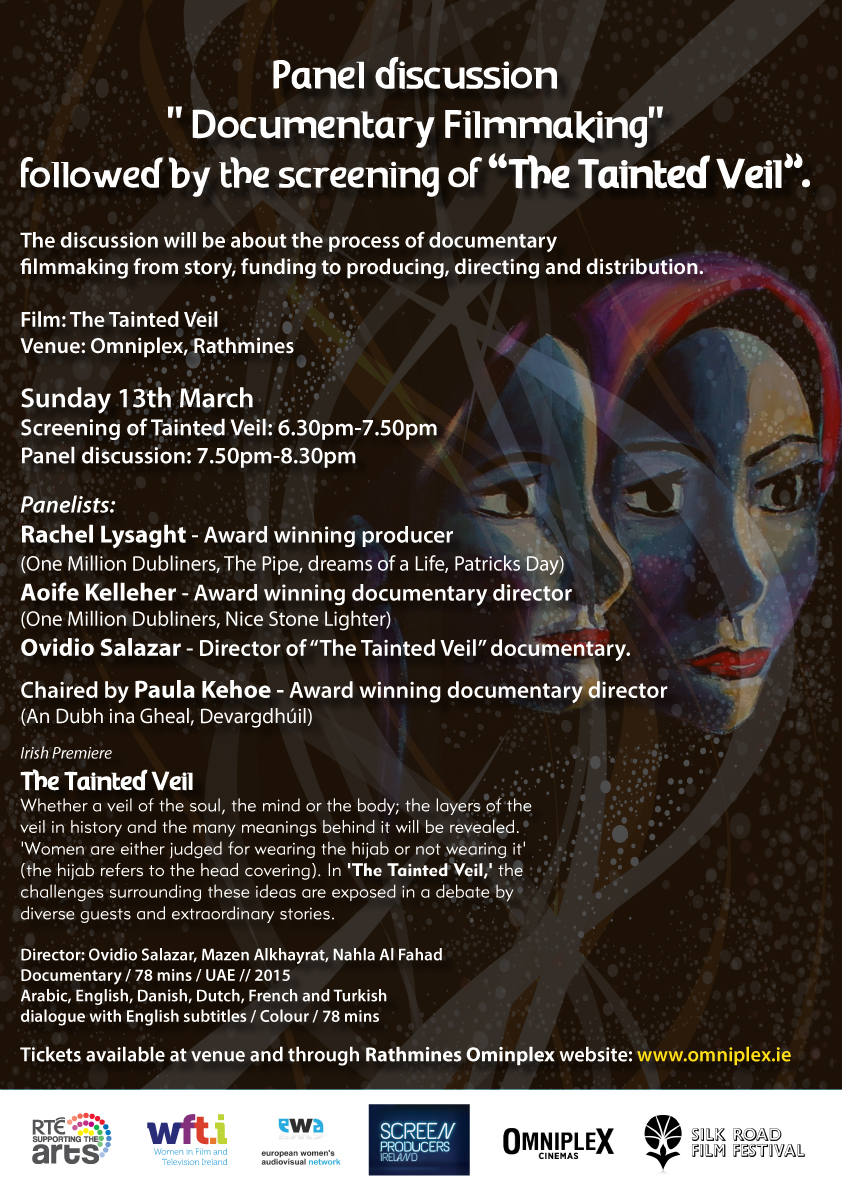 ternational Film Festival returns to Dublin, Ireland for its fourth edition.
Between 10th and 14th, March, the Silk Road Film Festival will screen over a hundred films for the fourth time across the city of Dublin – an exclusive array of Asian, Arab, Persian, Middle Eastern, African, Mediterranean and European cinema.
Inspired to forge connections between culture and facilitate international contact between filmmakers the Festival's directors, also filmmakers, Carla Mooney, Steinar Oli Jonsson & Delwyn Mooney founded the Silk Road Film Festival, striving to incite fruitful collaborations at the intersection of cinema, arts and business.
The Silk Road Film Festival (SRFF) welcomes productions from regions, which were once part of the historical network of ancient trade routes of the great Silk Road spanning from Europe – across to China. The 2015 edition will showcase a rich diversity of features, documentaries, animations, short and student films.
Apart from film screenings, the SRFF features premieres, chats with industry guests, seminars and masterclasses. During the 2nd edition of the Festival, the critically acclaimed Iranian cinematographer Mahmoud Kalari held a masterclass where he presented a scene by scene breakdown of the award winning films A Separation and Fish & Cat. At the 3rd edition, the three time Oscar award winning cinematographer Vittorio Storaro held a masterclass on the art of cinematography, discussing films from Bernardo Bertolucci, Francis Ford Coppola, Warren Beatty and Carlos Saura. (Reds, Apocalypse Now, The Last Emperor).
For this year's edition, there will be a after the Irish premiere screening of "The Tainted Veil" which discusses the veil in history and the many meanings behind it. The panel will include Rachel Lysaght – award winning producer (One Million Dubliners, The Pipe, dreams of a Life, Patricks Day), Aoife Kelleher (One Million Dubliners, Nice Stone Lighter) and the award winning documentary director, Ovidio Salazar-Director of "The Tainted Veil" documentary.
The discussion panel will be chaired by Paula Kehoe an award winning documentary director (An Dubh ina Gheal, Deargdhúil). The documentary panel discussion is Supported by Women in Film & Television Ireland (WFT Ireland), European Women Audiovisual Network (EWA) and Screen Producers Ireland. In addition, there will be a seminar on "Film Business in the Arab World" presented by Alaa Karkouti of the Arab Cinema Center. Karkouti will discuss opportunities between Ireland and the Arab world, with a special focus on co-production and distribution. Supported by Trinity College Dublin, Arab Cinema Center, the Arab Irish Chamber of Commerce and Cardel Entertainment.
In the lineup of films for the 4th Edition of Silk Road Film Festival the festival is celebrating many Irish Premieres which include multi awarding winning Turkish Film "Sivas" directed by Kaan Müjdeci, which was selected as the Turkish entry for the Best Foreign Language Film at the 88th Academy Awards and won the Special Jury Prize at the 71st Venice International Film Festival. Moroccan film "Starve Your Dog" directed by Hicham Lasri was nominated for the Muhr Award "Best Fiction Feature" at the Dubai International Film Festival 2015. "Golden Kingdom" directed by Brian Perkins is a Buddhists coming of age film which fuses docu-style observation with moving spiritualism. "Utopia" is an Afghan drama film directed by Hassan Nazer and was the official entry of Afghanistan for Best Foreign Language Film at the Academy Awards 2016.
Documentaries include Leonardo Cinieri Lombroso´s "Southeast Asian Cinema – When the Rooster Crows" is a voice of diversity reaching for change in the cinematic world of the smaller nations of Asia. Palestinian documentary ''Roshima'' – "an elderly Palestinian couple has a final standoff against Israeli authorities to maintain their natural lifestyle in Roshima; the last natural valley in Haifa."
A highlight of the short films is "Waves '98" directed by Ely Dagher, a Lebanese animation which was awarded Palme D'or at the 2015 Cannes Film Festival.
Besides creating a platform for international filmmakers to network and promote their work, the Festival's directors aspire to give student filmmakers an opportunity to showcase their work on an international scale and have thus established a student filmmaking competition as part of Film Festivals Cinergy. This is a union of film festivals around the world, aiming to promote talents in filmmaking and to foster cross-cultural collaboration. Each year Irish student filmmakers have an opportunity to win a prize to travel to Notre Dame University International Film Festival, Lebanon to screen their films in competition. In 2015, Rory Conway a student of Ballyfermot College of Further Education won for his animation "Shoot", which also won Best International Short at the NDU International Film Festival 2015. James Fitzgerald a student of Dun Laoghaire Institute of Art, Design and Technology won for his film "Skunky Dog".
Main sponsors of Silk Road Film Festival 2016 are RTE Supporting the Arts, Turkish Airlines, Trinity College Dublin, Dublin City Council, Arab Irish Chamber of Commerce, Belvedere Hotel, Silk Road ON DEMAND, Gudwrk Agency, Energanic, Cardel Entertainment, Barefoot Wine/E&J Gallo Winery, Screen Training Ireland, Chia Yum.
Other sponsors include: Banyi Japanese Dining, Silk Road Cafe, AV Specialists, Egg Post Production, Filmsaz Film School Iran
Other supporters: European Women Audiovisual Network, Women in Film & Television Ireland, Screen Producers Ireland, Navá, Turkish Embassy, Haghighi Persian Carpets
Main Venue Partners: Omniplex Rathmines, The New Theatre, Odessa Club, Oolong Flower House, Trinity College Dublin, Generator.
International special guest filmmakers and festival directors will attend from Iran, Egypt, United Arabs Emirates, Lebanon, United States of America, United Kingdom, Sweden, Turkey, Philippines and France.
For detailed information on participating countries, film selection and events throughout the Festival visit http://silkroadfilmfestival.com/
Like us on Facebook: www.facebook.com/SilkRoadFilmFestival
Follow us on Twitter: twitter.com/SilkRdFilmFest
Follow us on Instagram: http://instagram.com/silkroadfilmfestival