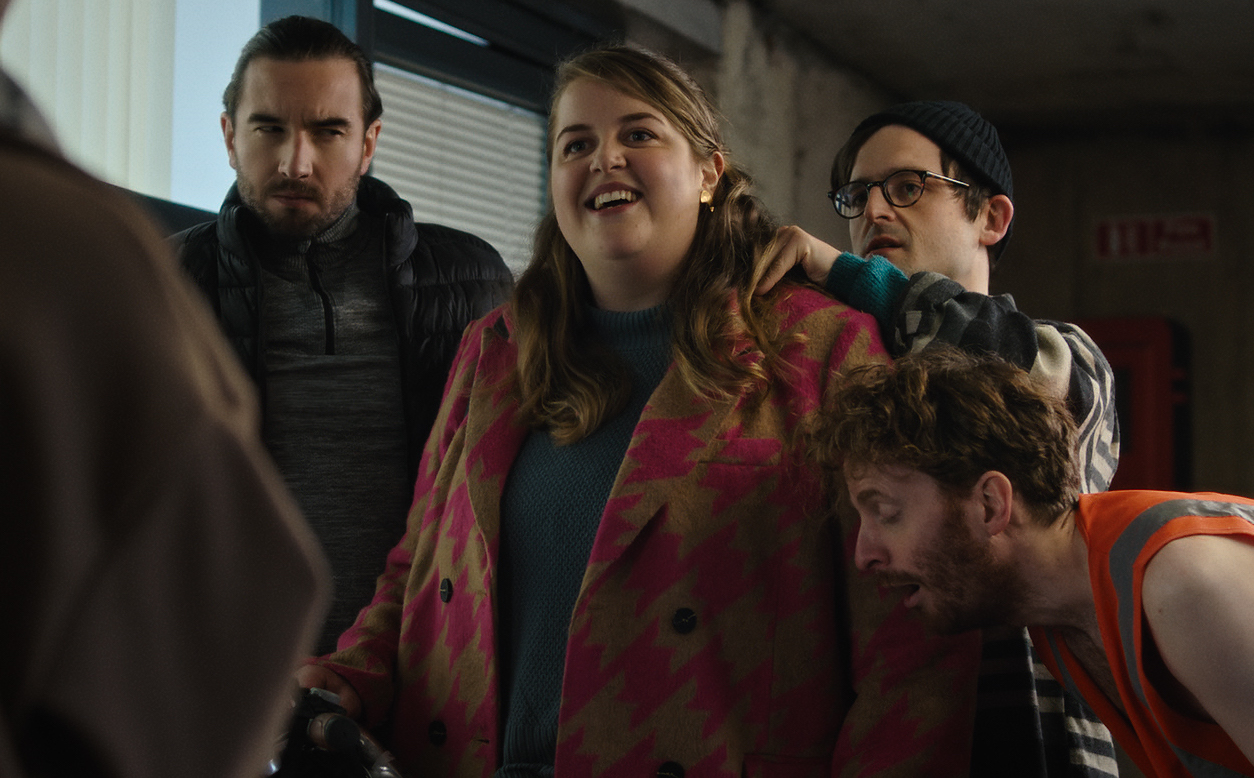 After a successful world premiere to a sold out audience at Dublin International Film Festival in February as part of Virgin Media Discover's Award with Fís Eireann/Screen Ireland, Unhinged  directed by WFT Member Zoë Brennan-Whitmore has its sights set on Hollywood and will be heading over to Newport Beach to screen on the 14th of October! 
Unhinged is the winner of the 2022 Virgin Media Discovers Award. The award was launched in 2020 and now in its third year has helped showcase new and established filmmakers in Ireland. The comedy short went through a lengthy pitching process in front of industry stallworths including Lenny Abrahamson and Clare Dunne, and was awarded the top prize of €30,000 to bring the script to life on screen. 
Written by Mary Kirwan and directed by Zoë Brennan-Whitmore, Unhinged follows the story of Sadhbh, a 20 something year old plus size woman who has just seen the love of her life and long-time office crush Darragh, on a dating app on the eve of his leaving party. Sadhbh must now battle her own insecurities in order to finally tell Darragh her feelings before it's too late but in a society awash with fatphobia, this quest is a bit harder than you might think.
Unhinged centers on the themes of self-acceptance and inclusion. It specifically examines these themes in relation to the experience of those in larger bodies and tells the story of a woman whose confidence has been eroded by societal fatphobia, offering a unique perspective on the experience of those living in larger bodies. Unhinged explores through the lens of comedy, how every day, plus-size people are subtly and not so subtly told that they are undesirable and for someone like Sadhbh, it can hold you back from the happiness you deserve.
Writer Mary Kirwan shares "I've always been interested in the messaging women receive about beauty. Our understanding of what is beautiful, I firmly believe, is strongly influenced by what we're told is beautiful.  You just need to look at one set of eyebrows from 2005 to know this is true. While I 100% believe this, I very often don't feel this. As a person in a larger body, sometimes the messaging can just be too overwhelming to 'positive-think' your way out of." Mary adds: "When writing Unhinged, I wanted to explore the effects this messaging has on people. How might this constant, subtle signaling from society manifest itself in someone?  Unhinged was written with the belief that what inhibits our protagonist Sadhbh, is not her body but instead how society makes her feel about her body."  
"Mary has an incredible way of creating characters that feel so tangible and relatable, they jump off the page," shares director Zoë Brennan-Whitmore. "When I read Unhinged of course I was instantly hooked in by Mary's ease in comedy writing but also the powerful message it holds beyond that. I could see myself in Sadhbh and her struggles, whether it be with body image or finding romance in the digital dating era. There is a whole generation of people now that are experiencing dating/romance almost exclusively online and there really is very little in film/TV right now that speaks to that experience. Online dating can be so isolating, so I hope this film shows people that they aren't alone in their experiences, good or bad."
"Getting to pitch in front of Lenny Abrahamson and so many industry greats for the Virgin Media competition was a proper pinch me moment. Lenny told us that he laughed out loud at our script, I kept looking at Mary like 'is this even real?' I have such admiration for Lenny Abrahamson, it really blew me away."
"Now fast forward almost a year later and we're having our US premiere at Newport Beach Film Festival! I used to dream about opportunities like this and I am so proud to bring our film to American audiences. Seeing a story like Unhinged on our screens is vital. There is still a severe lack of body diversity in TV & film and I hope seeing Unhinged will show audiences a different perspective on the experiences of people in larger bodies and how the language we use, even in the smallest exchanges, can affect people and the course of their lives."
Unhinged will have its North American Premiere at Newport Beach Film Festival on the 14th of October 2023. More information here.
About Zoë Brennan-Whitmore
Zoë is an award-winning director, producer and writer from Dublin, Ireland. Zoë has worked in the Irish production industry for a number of years, working as a director/producer alongside production companies such as Samson Films, Shinawil and currently at female lead production company Heritage, as their Creative Director. Zoë is a previous winner of the Virgin Media Discovers Award in 2022 and was named 'Best Producer' at the Emerging Director Awards 2022. Also in 2022, she produced Burna Boy & Ed Sheeran's music video 'FOR YOUR HAND' with Atlantic records, which has reached over 120 million views on Youtube. Previously in 2022, Zoë was winner of the DLR First Frames Short film fund, she was nominated for a 1.4 European directors award and she was selected for the Screen Ireland diploma in Advanced Producing which Zoë graduated with distinction. Zoë's debut short as a director UNHINGED premiered to a sold out audience at the Dublin International Film festival in February 2023 and will now have its North American premiere at Newport Beach Film Festival in LA this October. Zoë also has two other short films, SOULMATE WANTED and BABY STEPS which were also released in 2023, with Soulmate Wanted having it's premiere at the Oscar and Bafta qualifying Flickers Rhode Island Film Festival in the US and Baby Steps which she produced winning 'Best Debut Short' at Galway International Film Festival 2023. This autumn, Zoë has been accepted for a writers residency at the prestigious Tyrone Guthrie Centre to further develop her first feature screenplay and she is also working to develop Unhinged as a TV series with support from Virgin Media.