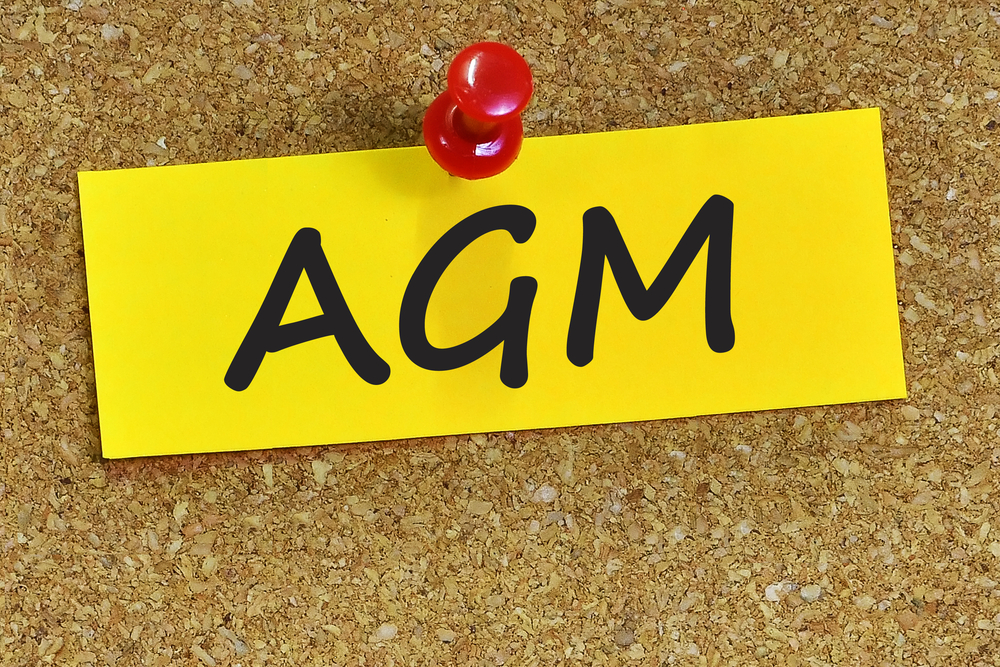 WOMEN IN FILM AND TELEVISION IRL COMPANY LIMITED BY GUARANTEE
Company Number: 568805
(the "Company")
Minutes of an Annual General Meeting of the Company
Held at
On the 24 day of May 2018
PRESENT
Aisling Lenihan, AnneMarie Naughton, Aoife McBennett, Aoife Nic Ardghail, Cherley Kane, Ciarin Scott, Dina Coughlan, Dorothy Laity, Edwina Casey, Jacqueline Kerrin, Jaro Waldeck, Jennifer Davidson, Jessica Gorman, Jessie Fisk, Johnny O'Reilly, Karla Healion, Lauren MacKenzie, Leticia Agudo, Lindsay J Sedgwick Liz Gill , Liza Bolton, Sarah Kieran, Sharon Lawless, Siobhan McIntyre, Emma Kelly, Trisha Flood, Vanessa Gildea, Vivienne Flood.
IN ATTENDANCE
Roisin Henehan X
Kate Bowe X
Lauren Mackenzie ✓
Susan Liddy X
Amy Rowan X
Ailish McElmeel X
Anne Marie Naughton ✓
Rachel Lysaght X
Neasa Hardiman X
Sarah Kiernan ✓
Katie Holly X
Lindsay Campbell X
CHAIR
It was agreed that Sarah Kiernan be appointed as Chair for the purpose of the meeting.
QUORUM
There being a quorum present, the meeting proceeded to business.
NOTICE
The Notice convening the meeting was taken as read.
CONSENT TO SHORT NOTICE
It was noted that agreement to the holding of the Meeting at short notice had been received from the auditors and all the members entitled to attend and vote thereat.
APPOINTMENT OF REPRESENTATIVE
It was noted that a form of representation had been received from nominating as their representative for the meeting.
Vivienne Flood for RTE
Aoife McBennett and Jessica Gorman for Philip Lee.
DIRECTORS' REPORT AND FINANCIAL STATEMENTS FOR THE YEAR ENDED 31 DECEMBER 2017
IT WAS RESOLVED THAT the Directors' Report and Financial Statements for the year ended 31 December 2017 as now submitted to this Meeting be received adopted.
AUDITORS' REPORT
The Auditors' Report on the accounts for the year ended 31 December 2017 was taken as read.
REVIEW OF THE AFFAIRS OF THE COMPANY
It was noted that the affairs of the Company had been discussed and that all the members were satisfied with the information provided by the board of directors in relation to the affairs of the Company.
ROTATION OF DIRECTORS
IT WAS RESOLVED THAT
Ailish McElmeel
Rachel Lysaght
Lindsay Campbell
Katie Holly
…retire from the board.
RE-APPOINTMENT OF AS A DIRECTOR
IT WAS RESOLVED THAT
Roisin Henehan
Kate Bowe
Lauren Mackenzie
Susan Liddy
Amy Rowan
Anne Marie Naughton
Neasa Hardiman
Sarah Kiernan
..who retire from the board following their co-option as a director of the Company in the period since the last annual general meeting, be re-elected a director of the Company.
IT WAS RESOLVED THAT
Vanessa Gildea
Liz Gill
Jacqueline Kerrin
Jaro Waldeck,
…be appointed new members of the Board via majority vote.
RE-APPOINTMENT OF AUDITORS & AUDITORS' REMUNERATION
IT WAS RESOLVED THAT the Company's auditors, OCC, Registered Auditors, would continue in office in accordance with Section 383 (2) of the Companies Act, 2014 and the directors be authorised to fix the remuneration of the auditors for the coming year.
CLOSE
There being no further business, the meeting then terminated.