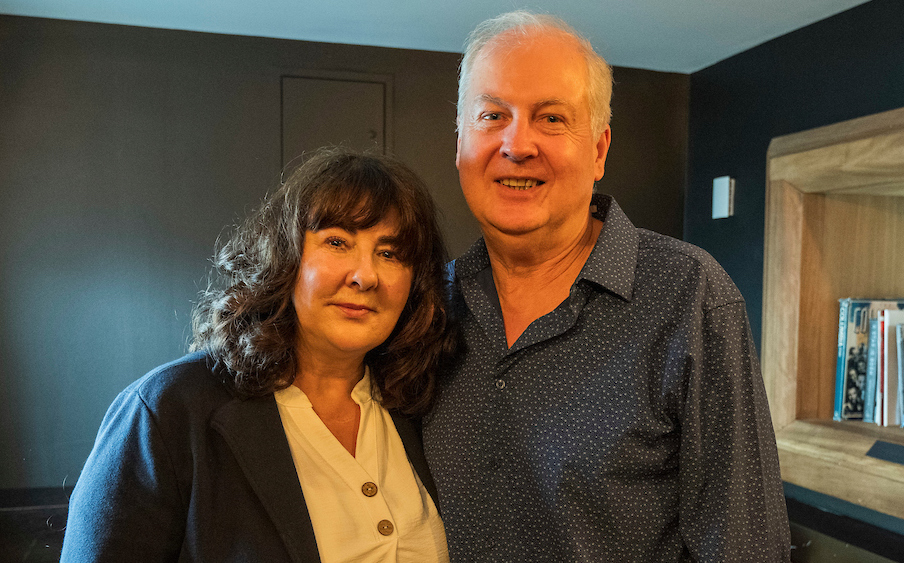 Women in Film and Television Ireland are delighted to announce a new partnership with TG4 at this year's Galway Film Fleadh. This coincides with the premiere of two TG4 feature documentary films screenings at Galway Film Fleadh directed by female creative talent. Ó Bhéal is directed by Ciara Nic Chormaic and produced by Mind The Gap Films and had it's Irish premiere in Pálás Cinema on July 14th. Croíthe Radacacha is directed by Ciara Hyland and produced by her company Wonder Pics and had it's world premiere at the Galway Film Fleadh on July 15th. 
Dr Susan Liddy, chair of Women in Film and Television Ireland and incoming president of Women in Film and Television International, is enthusiastic about WFT Ireland's new partnership with TG4. "I'm delighted to welcome TG4 to 'Women in Film and Television Ireland'! TG4 has long been committed to gender equality, in front of and behind the camera as well as in its workforce and leadership. We wholeheartedly support Irish language filmmaking and have been exceptionally enthralled by recent successes including 'An Cailín Ciúin' and 'Róise & Frank'. We know that TG4 is working with exciting Irish female talent and we look forward to spotlighting the great work that is being done."
Today in the Pálás cinema TG4 hosted an event to celebrate female creative talent at this year's Film Fleadh. Director General of TG4 Alan Esslemont said that "TG4 is delighted to enter this new partnership with WFT Ireland.  I have long made the parallel between the vision for gender equality and the vision for language equality in Ireland.  TG4 stands for an Ireland in which both women and Irish speakers are enabled to play their full role in a diverse and pluralistic society.  Since our launch in 1996 strong female role models for the audiovisual industry have emerged from our staff and from our broadcasts.  By working closer with 'Women in Film and Television Ireland' we intend to ensure that TG4 continues to innovate and pioneer in order to establish the conditions needed to enable female creative leadership to flourish in Ireland".
Director Ciara Nic Chormaic : Ó Bhéal
Ciara Nic Chormaic is a filmmaker based in Dublin. Her most recent feature documentary Ó Bhéal looks at how hip-hop artists are drawing on the rich tradition of sean-nós, poetry and the Irish language as a source of inspiration. The film is produced by Mind the Gap Films for the ILDÁNA scheme, co funded by The Arts Council, An Chomhairle Ealaíona.  In 2022 Ciara directed Clouded Reveries/Aisling Trí Néallaibh, an intimate exploration of acclaimed writer Doireann Ní Ghríofa's world and creative process. The film was funded by The Arts Council and TG4 through the Ildána Award and was screened in cinemas throughout Ireland. In 2020 her debut feature documentary on the life and work of the iconic fashion photographer Perry Ogden, entitled Skin+Soul was the recipient of the Reel Art Award and premiered at the Dublin International Film Festival in 2020. Fashion as art, is a theme which she returns to again and again in her work and prior to making Skin+Soul she wrote, directed and produced a documentary series entitled Snáithe (Threads) for TG4 exploring identity, patronage and perception in the story of Irish fashion, which featured as part of an exhibition in the Fashion and Textiles Museum in London in Summer 2018. Prior to becoming a director she was an award-winning producer for over fifteen years.
Director Ciara Hyland: Croíthe Radacacha
Ciara Hyland is a highly experienced writer and filmmaker. She is passionate about the visual, cinematic telling of stories that impact emotionally and tell us something about the world we live in today. Her feature documentary Croíthe Radacacha/ Radical Hearts focuses on several same sex relationships between radical women and celebrates the 'love that dares not speak its name' found at the heart of the Irish Revolution. In 2021 she made Forgotten: The Widows of the Irish Revolution on the wives and children of the leaders of the 1916 Rising and what happened them after their husbands and fathers were executed. Women hold up half the sky and yet they are often forgotten about when it comes to history. Ciara's interest in uncovering forgotten voices from the past also led to her writing and directing Cogadh ar Mhná/ a War on Women in 2020 . It broached a taboo topic for the first time – the issue of sexual abuse during the Irish Revolution. Using the witness testimony that women who experienced it left behind, it showed that this was perpetrated by all sides in the conflict. Other documentaries that she has directed for TG4 and RTÉ cover topics as far ranging as hunger strikes, epidemic diseases and political history. She writes fiction whenever she can and in a previous life was a Script Supervisor on drama productions.
Feature image credits: Andrew Downes