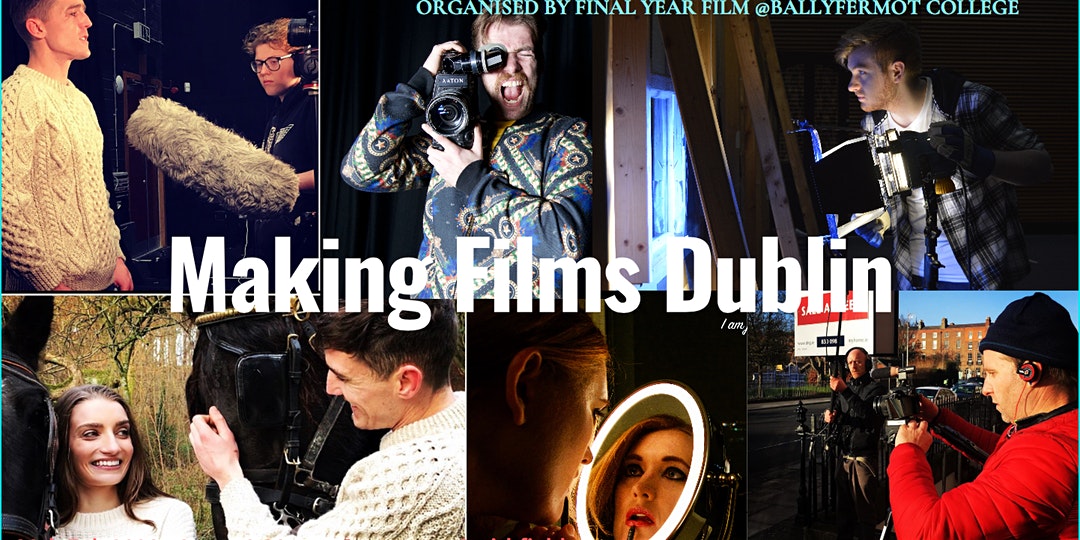 Making Films Dublin is a special event for anyone seriously interested in Filmmaking, current film students, and independent filmmakers. During the course of the afternoon, you will hear from a panel of experts  –  including our very own Board Member & DOP, Jaro Waldeck – about their own filmmaking journey.
There is a really substantial line up of expert filmmakers who are extremely vital and active in Dublin today, three of the first guests to be confirmed are:-
Liam McGrath, Scratch Films:-
Liam is one of the Executive Producers on a big 2 part series that will be broadcast on RTE ONE Monday March 2nd 9.35pm and Tuesday March 3rd 9.35pm followed by a Primetime special on the Tuesday evening after Ep.2. The 2 programmes are called REDRESS:Breaking the Silence
Liam McGrath is the Founder of Scratch Films, a Director and Producer, known for Southpaw: The Francis Barrett Story (1999), Blood of the Travellers (2011) and Dolores Keane: A Storm in the Heart (2014). Liam is a graduate of the  National Film School of Ireland (IADT). He has won awards for film and documentary making and is available to share his experience and knowledge with the audience.
Robert Fitzhugh, Dublin Smartphone Film Festival:
Director of the Dublin Smartphone Film Festival, founder of Filmsmart productions. Videographer, director, and speaker. Robert is very active in spreading the work of smartphone filmmakers with his very successful workshops and annual smartphone film festival which is always sold out. He's an experienced trainer and speaker and will give vital tips to any filmmakers working in this medium.
Aoife Thunder, Talking about the Role of Assistant Director
Aoife has worked on an array of well known Feature Films made on location in Ireland is an extremely experienced Assistant Director. Her body of work includes credits for Neil Jordan's Breakfast on Pluto (2005), Joel Schumacher's Veronica Guerin (2003), Neil Jordan's Michael Collins (1996) and TV Series including Into the Badlands (2015) – 2019) and Penny Dreadful (2014-2016). She is joining the expert panel of speakers to give up and coming filmmakers the inside track on working as an AD on feature films and TV series on location in Ireland.
PAUL WEBSTER – Filmmaker
Paul Webster is an award-winning writer and director of both documentary and drama. He studied in GMIT and NUI Galway before going on to work in production for one of Ireland's leading production companies, Element Pictures. He later worked as a script editor on Fair City and he is now a regular writer on the popular soap. Paul has directed several short films, including Borderland, a 26-minute documentary exploring the refugee crisis along Europe's Borders. Under the 2018 Real Shorts scheme, Paul received €20,000 from the Screen Ireland for his docu-drama – The Vasectomy Doctor, produced by Carbonated Comet Productions. The film premiered at the Cork Film Festival in November 2018 and has gone on to win numerous awards at home and abroad.
FILM NETWORK IRELAND – Paul Butler Lennox and Ray Mongey
Ray Mongey and Paul Butler Lennox established Film Network Ireland in 2010 as an aide to the independent Filmmaking environment in Ireland. What was initially a Facebook group of a handful of professionals and a few friends around a table in a pub has grown to a fully fledged organisation with a large social media presence and subsequently has resulted in many classes, events and upskilling initiatives in Dublin and Film Festivals across the country in the intervening years. FNI also established Fni WrapChat, a popular Film and TV podcast as a support platform and topical film and TV discussion resource to encourage filmmakers of all levels. For more information on FNI: https://linktr.ee/Fni
ACTORS' PANEL
There will be a panel of actors working in Dublin discussing their experiences on the other side of the lens and giving tips to filmmakers on how to deal with actors for film. The Actors' Panel includes:
NINA DONNELLY – 26 – PERSIAN
Nina started acting back in November 2018 and so far has been involved in 33 short films along with other projects such as music videos, TV productions, documentaries etc.

Éamonn Ignatius Elliott
Eamonn is classically trained in the Stanislavski studio attached to the Focus theatre. He also studied phonetics and accents under Derek Chapman. Éamonn has played a variety of roles over the years as an actor. Working mostly in Independent films on the Film Festival Circuit. He has appeared in quite a few award-winning films and music videos. He is most often recognised as "Big John" in the Skoda advert. On stageÉamonn had the wonderful privilege of working with the late great Irish Tony award-winning Actress Anna Manahan. He has performed as Maisie (a Granny) for 7 years on the Irish Comedy Circuit. Éamonn is looking forward to the premier of Wormhole in the Washer directed by Paireac Keane in March 2020 where he plays the arch-rival of the main character. He is presently writing a one-man show loosely based on a Shakespearean Character which he hopes to perform next year.
WOMEN IN FILM & TV IRELAND: Jaro Waldeck

DOP Jaro Waldeck will be speaking on behalf of WFT Ireland. discussing the role of women in the film industry.
Jaro earned her Bachelors degree in film and video from Columbia College Chicago and then went on to pursue Masters degree in cinematography from FAMU Prague. She graduated in 2011 and became a member of Czech Society of Cinematographers the same year. Jaro has shot number of narrative and documentary shorts, music videos, commercials, TV reality and documentary series, and contributed to feature length documentaries and experimental films. To date, she has received three Best Cinematography Awards for her work.
The workshop will be divided into talks, practical tips, Q&A and networking at the end.