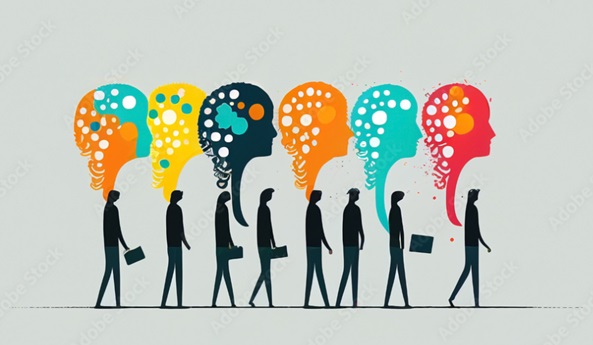 WFT member and University College Cork Lecturer Eleanor McSherry is set to present at the British Academy Symposium on a unique, first of its kind neurodiversity course she designed for the screen industry with Screen Ireland, this July!
This is a full-day, Hybrid Symposium on 19th of July 2023 at De Montfort University, titled Addressing Mental Health 2023. If you wish to know more, you can register here.
Why is there such a demand for this type of talk or information, Eleanor explains:
"To begin with, Neurodivergent people are already working in the industry with little support or understanding. They are afraid to declare that they are neurodivergent in case they lose their job or get side-lined. The 'Creative Equals' Equality Standard data (2019) asserts that the creative industry has twice the percentage of neurodivergents, as the standard population. Neurodiversity is a sociological concept that is emerging in academic discourse and research, predominantly in the fields of psychology, sociology and others. It is also one of the fastest growing civil rights movements, since the disability rights movement in the late 1970's."
Eleanor will be facilitating a workshop to highlight the Adult Continuing Education (ACE) at UCC's new CPD Cert in Neurodiversity in the Screen Industry that she designed in conjunction with Screen Ireland. AMH23 forms part of a British Academy Innovation Fellowship project that examines inequality in the UK's creative sector. This new collaboration with Screen Ireland and ACE is intentional in designing and delivering ground breaking, internationally recognised, innovate short courses specifically built for the screen industry – the fastest growing industry in Ireland.
In October 2021, WFT member Eleanor McSherry, head of Autism Studies at UCC, was invited by screen writer Lindsay Sedgewick and Grainne Bennett, Skills Development Executive – Creativity and Creative Collaboration with Screen Ireland, to advise on a seminar on neurodiversity for Screen Ireland. Impressed with her expertise and key speech on the seminar, they invited her to design a short course on Neurodiversity for the Screen Industry, in collaboration with Screen Ireland. A pilot of the course was run in March 2022, which was a big success, with students from all over the screen industry, broadcasting and film. The course then went through academic board November 2022 and is now a fully accredited, level 6, 10 credit continuing professional development short course.
Since this first-of-its-kind course ran in 2022, Eleanor is being invited to give workshops, write articles, collaborate with, also to give talks with groups and for them, to colleges and organisations internationally and locally, some of these groups are: European Broadcasting Union's Equality, Diversity and Inclusion Steering Group and their Human Resources Steering Group, Cartoon Saloon, Lighthouse Studios, TG4, RTE, IMD College (Switzerland), Screen Northern Ireland, Advance HE, the British Academy, Media Cymru, Ulster University, DuMonfort University, the Television and Film Charity, UCC Human Resources and Film and Media Department at UCC. This collaboration with Screen Ireland has led to the development of another pilot programme, which is in wellbeing coordination, a new role in the screen industry, and these programmes are just the beginning!