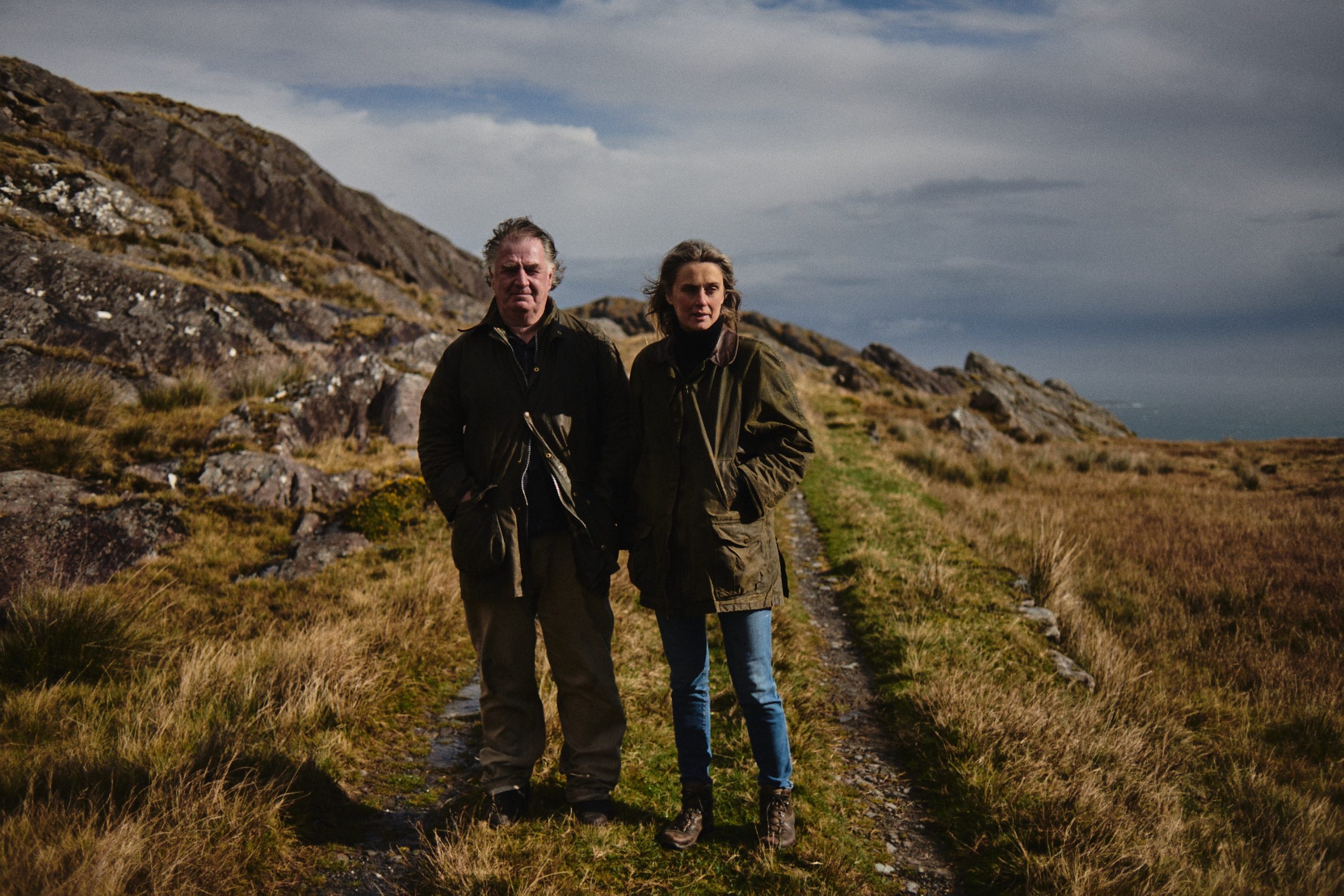 WFT would like to share that WFT member Mieke Vanmechelen's new non-fiction feature film which explores the lives of sheep farmers on the stunning yet challenging terrain of the Beara Peninsula is set to have its world premiere next month! Hungry Hill, directed by Mieke Vanmechelen and Michael Holly, is due to be shown at the esteemed Galway Film Fleadh on July 15th.
About the film
The thought-provoking production documents a community of sheep farmers living around Hungry Hill, the highest peak in the Caha Mountains on the Beara Peninsula in southwest Ireland.  It explores their daily struggles, the impact of globalisation and the evolving societal attitudes that shape their way of life. The core of the film revolves around the lives of brothers Connie and John Doyle, whose experiences provide valuable insights into the joys and challenges faced by the sheep farming community in the area.  It also looks at three generations of the Vanmechelen family, who migrated from the Drowned Land of Saeftinghe in Holland/Belgium in the 1980s.
Directors Mieke Vanmechelen and Michael Holly bring their distinct perspectives to Hungry Hill, resulting in a balanced blend of narrative and experiential elements.  Michael's background in contemporary installation art and documentary filmmaking informed his approach to capturing the visual and narrative elements of the film.  He particularly focused on filming the mountain, showcasing its grandeur and power. Speaking about the premiere, Mieke said; "We are thrilled to present this captivating production at The Galway Film Fleadh as it reveals the truth and resilience of hill farmers and the stunning landscapes that surround them.  Through this film, we provide a platform for voices to express an insider perspective.  The inclusion of an archival element, interwoven with personal stories, establishes a link through time and serves as a warning about the challenges we face.  Audiences can expect a compelling cinematic experience that provokes reflection and inspires action for a more sustainable future."
A unique soundscape, composed by Tony Langlois, serves as an auditory thread that weaves together the different temporal layers within Hungry Hill.  By harmonising archival audio and field recordings with visuals of the mountain, Langlois created a sense of continuity and resonance. Hungry Hill addresses personal, political and environmental themes, delving into the consequences of industrial expansion, lost traditions and urgent concerns about humanity's impact on the environment.
About Mieke Vanmechelen
Mieke, a local artist and hill farmer, infused her personal connection to the subject matter, employing performance, place, animals, and people as investigative tools to capture the essence and lived experiences of the community in an evocative and intimate manner.
The premiere screening takes place on July 15th at the Pálás Cinema at The Galway Film Fleadh which also serves as a platform for Hungry Hill to be discovered by industry professionals, film enthusiasts, and potential distributors.