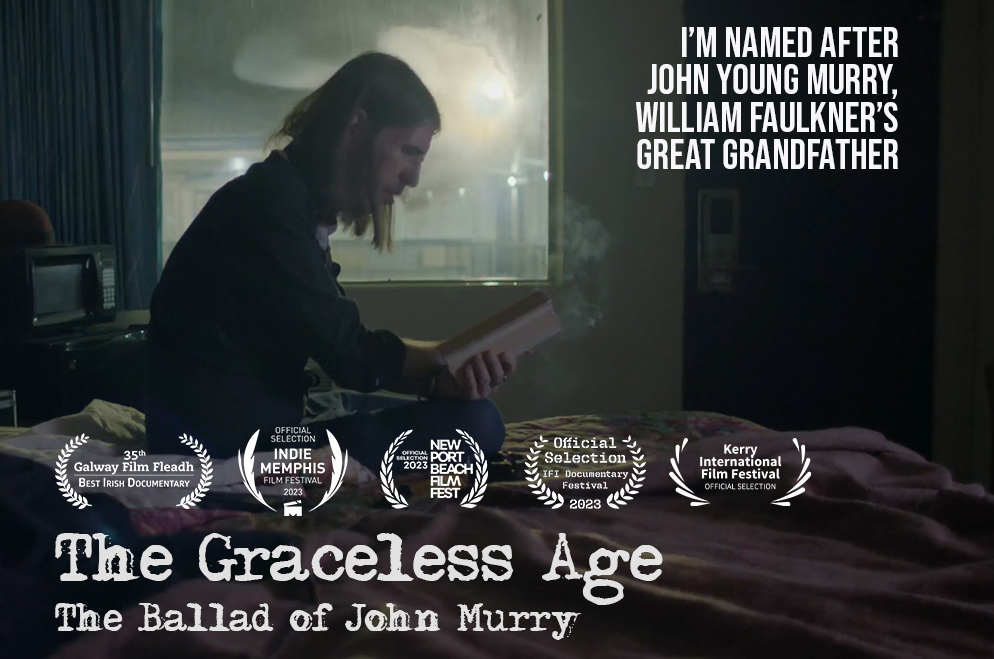 WFT is delighted to share that Member and Director Sarah Share's documentary The Graceless Age is being celebrated across film festivals and winning several accolades! The Graceless Age won the Best Irish Documentary award at the 35th Oscar-qualifying Galway Film Fleadh, and also won Best Documentary Feature at the Irish Film Institute's 2023 Documentary Festival last week. Additionally, if you're in the States you can catch the documentary on the big screen! The film is making its way to the Newport Beach Film Festival for its US Premiere on 18th October 2023, followed by a screening at the Indie Memphis Film Festival on October 25th.
About The Graceless Age
The Graceless Age is a story of family dysfunction, of a literary giant and of fundamentalist religion, of sexual abuse and heroin addiction and of what humanity must endure to survive in a brutal world. This is the story of American singer songwriter John Murry who was on the cusp of greatness after the release of his highly acclaimed album Graceless Age (2013) when his world fell apart. Addicted to heroin and creatively exhausted, he washed up on the shores of Ireland a broken man. Now, he retraces his steps back to Mississippi into the dark heart of American life and face his demons – a neglected childhood, traumatic assault and resulting years of opioid addiction.
In this haunting film John also explores his family links to the Nobel Prize winning author William Faulkner. His adopted grandmother Mimi would tell him if anyone was imbued with the spirit of Bill Faulkner, it was John. She also told him that his
famous ancestor was also addicted to opiates…
John's struggle with addiction began with prescription medications as a teenager. Worried about their depressed son, who was increasingly reliant on benzos, John's parents sent him to a fundamentalist rehab institution. There, instead of finding support, John was horribly assaulted. Upon leaving the institution, John journeyed from Memphis's punk scene to marriage in San Francisco, all the while, descending from taking prescriptions for his acute anxieties to a full-blown heroin addiction.
Yet, throughout his long period of substance abuse he was constantly writing and performing. Like Faulkner, Murry's lyrics embrace the dark side of American life – an anger that is born in the rotting underbelly of Mississippi history. Reminiscent at times of Neil Young or Wilco, Murray's music is classic Americana. This film chronicles his efforts to put it back together again after finding solace in Ireland and come to terms with his turbulent early years. John embarks on a road trip that takes him from his haven on the cliffs of Co Clare, Ireland to his native Mississippi and then his strung-out days in California. The film culminates with John travelling to Toronto to rekindle his creative collaboration with Canadian music legend Mike Timmins, who produced his album "A Short History of Decay". Mike helps John express himself the best way he can – through his outstanding music.
This beautiful documentary charts his journey from near death to redemption and a new zest for life and art.
In one sense the themes of the film – drug addiction (particularly opioids), institutional abuse and a search for one's identity in the modern world are very much of the moment and yet equally there is a timelessness to the treatment of those themes.
We are looking at how those themes existed throughout time such as Faulkner's addiction and the isolation of the America's Indigenous peoples. Equally it would be reductive to call it an American film as John himself is processing his art through his relationships with Ireland and Canada. It is these collaborations which are allowing him to break through the cycles of trauma and to seek a creative way out of the mire.
You can watch the trailer here.
About Sarah Share
Director Sarah Share has extensive experience and over 20 years of documentary filmmaking across a range of genresincluding the multi award winning 'If I Should Fall from Grace' – the Shane MacGowan Story which had a theatrical release by Buena Vista Ireland. Won audience prize at New York Film Fleadh and played at numerous other festivals around the world. Sundance Channel US, DVD / Video for US, Europe and Australia. Sarah works regularly with Ireland's foremost Producers and has just finished a recent 3×1 hour documentary series for Tile Films on Ireland's lost DNA. The series has been picked up for International distribution by Off the Fence.