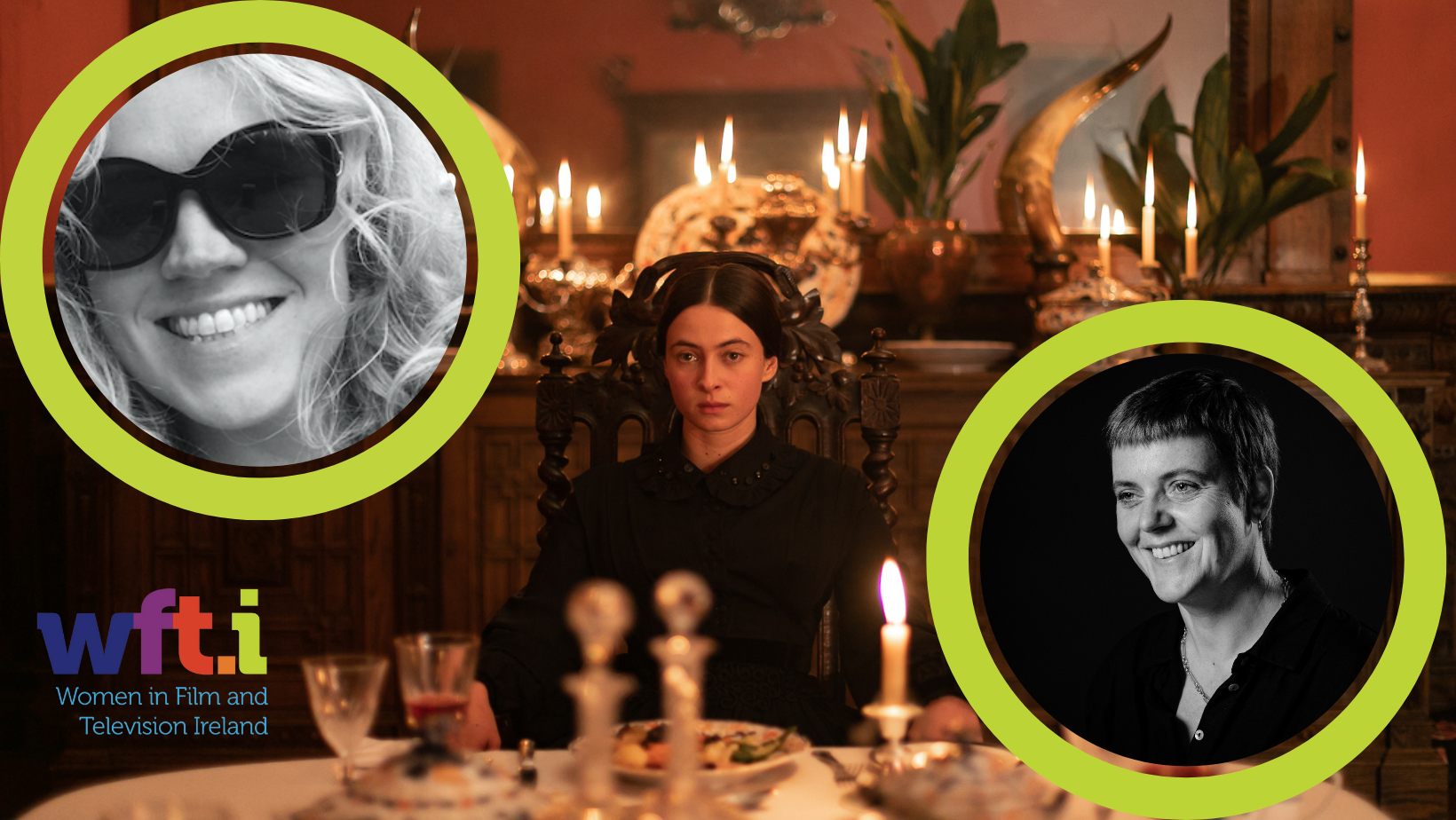 Listen in on this WFT Webinar as WFT Members Director Lisa Mulcahy and Producer Ruth Carter share insights on their collaboration on their Film Lies We Tell hosted by WFT Board Member Fiona Kinsella. 
The Webinar takes place on October 10th at 12pm over Zoom. You can register here. 
This webinar has been made possible with the support of Coimisiún na Meán.
In an isolated manor, an orphaned heiress must fight her guardian for her inheritance— and her life.  Lies We Tell  is a contained psychological thriller about a gaslit girl's break for freedom. Stripped-down, gritty, and all-too-contemporary: this is not a frocks-and-bonnets period picture but a taut, propulsive, fight to the death. Directed by Lisa Mulcahy, starring the great granddaughter of Seán O'Casey, Agnes O'Casey (Ridley Road), David Wilmot (The Wonder), Holly Sturton (Smother) and Chris Walley (Young Offenders). 
About Lisa Mulcahy
Lisa has just completed two episodes of season 2 of THE TOURIST for  BBC1, starring Jamie Dornan and Danielle McDonald. She was lead  director on SANCTUARY – A WITCH'S TALE for AMC which aired in  October 2023. Her Screen Ireland funded feature film LIES WE TELL,  written by Elisabeth Gooch, produced by Ruth Carter with  EMBANKMENT FILMS as sales agents, opens in Cinemas in Ireland  on October 13th and in Spain on October 20th 2023. A psychological  thriller set in Ireland in 1864, it's a subversive take on the original  book written by Sheridan Le Fanu.  
Prior to that, she directed the four-part BBC/PBS/Studio Canal  drama series RIDLEY ROAD, for which she was nominated as BEST  DIRECTOR/DRAMA at the 2022 IFTA awards. Written by Sarah  Solemani and produced by Red Productions, the series aired on BBC1  in October 2021 and in the US in May 2022. 
Previous to that, she directed the final 2 episodes of YEARS AND  YEARS for BBC/HBO, written by Russell T Davies.  
She was lead director on series 1 of BLOOD, another psychological thriller for Virgin Media One/Channel 5 for which she was nominated  as Best Director/Drama at the 2020 IFTA awards. The series won  Best Drama series.  
In 2017 she completed WASTELAND, a contemporary feature film  shot in Bradford starring Laurie Kynaston and Esme Creed-Miles and  available on iTunes.  
Her episodes of HOLBY CITY were broadcast in May 2017 and  previous to that, she directed all five episodes of THE MOONSTONE, a  period drama based on the Wilkie Collins book, for BBC 1, which was  broadcast in October 2016 and repeated over Christmas 2016.  
She co-wrote and directed the children's feature film THE LEGEND OF  LONGWOOD released in 2015. The film sold to many territories worldwide and in April 2016, won the Celtic Media Award for Best  Children's Programme. It was also runner up at the Giffoni Film  Festival.  
In November 2015, she won an IFTA award for Best Director for her  work on RED ROCK, the critically acclaimed Irish series which sold to  Amazon and the BBC. She was nominated for an IFTA again, for Season 2, in 2016. 
About Ruth Carter
Ruth has vast experience in TV and film development and production with  credits in development for Oscar nominated Glenn Close film Albert Nobbs,  Byzantium starring Saoirse Ronan, Triage starring Colin Farrell and many  more. Primarily focusing on developing and producing low budget, high  quality comedy with one of RTE"s biggest rating comedy series Damo & Ivor  Series 1 and 2, she then launched her own production company Blue Ink Films.  
With Blue Ink Films she's produced contemporary Greek Tragedy Antigone set  in Dublin called Twig written and directed by Marian Quinn (32A) starring  Sade Malone (Tin Star, Pistol) and Brían F. O'Byrne (Little Boy Blue, Million  Dollar Baby). A psychological thriller Lies We Tell with Embankment Films  attached as Sales Agents. Written by Elisabeth Gooch, directed by Lisa Mulcahy (Ridley Road, Years & Years, Blood, Undercliffe) starring Agnes O'Casey (Ridley Road) and David Wilmot (Calm With Horses, Ordinary Love). As well as a slate of comedies from Damo & Ivor – The Movie (picked up by Carnaby international, Netflix), two comedy pilots called Bump and Dad  starring diverse cast like Charlene McKenna (Peaky Blinders) and Paul Mescal  (Normal People) and financed by RTE and Screen Ireland. She also produced RTE's first animation comedy series for adults Ends Meet as well as producing  7 shorts for the RTE online player.  
A writer/ producer herself Ruth has worked alongside many writers over the  years developing their ideas and moving scripts from development into production. Ruth's own screenplay Riley – A Complicated Truth has been supported in development by Screen Ireland. She was also selected for the Red  Rock Writers academy in 2016. Ruth is also an alumni of the Rotterdam Producers lab in 2015.  
Ruth is working on a slate of projects across television and film in both comedy and drama.