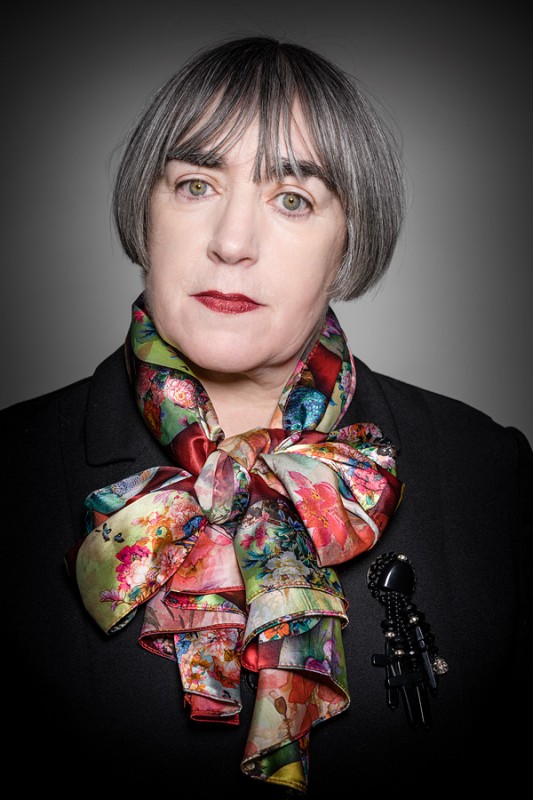 Massive congrats to Irish director/writer Aisling Walsh (Maudie, Song for a Raggy Boy) who has been invited to join Oscar-granting body The Academy.
Amazing to see Walsh recognised and it's also great news that forty-nine percent of the 2018 invitees are female. 
>>>>
This article has been taken from The Hollywood Reporter, first published on 25/6/2018 by Gregg Kilday:
The Oscar-granting body has made a concerted effort in recent years to diversify its ranks.
The Academy of Motion Picture Arts and Sciences has issued 928 invitations to new members, the Oscar-granting body announced Monday.
That number is higher than the 774 invitations sent out in 2017. As the Academy has sought to diversify its ranks, it invited in 683 new members in 2016 and 322 in 2015 in an effort to include more women, people of color and international filmmakers.
The massive list of new invitees ranges from actress Quvenzhane Wallis, an Oscar nominee for 2012's Beasts of the Southern Wild, who, at age 14, is the youngest, to composer Sofia Gubaidulina (The Killing of a Sacred Deer, Mary Queen of Scots), who, at 86, is the oldest.
Forty-nine percent of the class of 2018 are female, and, should all accept membership, that will bring overall percentage of women in the Academy to 31 percent. Thirty-eight percent of the new invitees are people of color, which, should they all accept, would bring their overall percentage of the Academy to 16 percent.
Among the new members, 17 are Oscar winners, while 92 are Oscar nominees, including recent acting nominees like Call Me by Your Name's Timothee Chalamet and Get Out's Daniel Kaluuya.
The actors branch alone invited in 168 new members, the most of any branch. The eclectic list includes lots of relative newcomers, such as Taron Egerton of Kingsman: The Secret Service, Tiffany Haddish of Girls Trip, Trevante Rhodes of Moonlight and Daisy Ridley of Star Wars: The Force Awakens. But it also includes such veteran performers as Jennifer Grey, who made her mark in 1987's Dirty Dancing; Ann Dowd, the Emmy winner from The Handmaid's Tale, who currently is appearing in Hereditary; and Wendell Pierce (Selma, The Wire).
Their film credits notwithstanding, a number of the acting invitees have names that are more associated with the theater, such as Eileen Atkins and Audra McDonald, or television, such as Christine Baranski (The Good Wife) and Randall Park (Fresh Off the Boat).
When it comes to winning Oscars, comedies often face an uphill battle, but this year the Academy is welcoming several comic performers to its ranks, including Dave Chappelle, Mindy Kaling, George Lopez, Amy Schumer and Sarah Silverman.
Other famous names that picked up invitations include Melissa Etheridge and Kendrick Lamar, who were both invited to join the music branch, and Harry Potter creator J.K. Rowling, who was invited by the writers.
The list also is a potential gold mine for trivia buffs. For example, at least four actors who regularly lend their voices to The Simpsons made the cut: Yeardley Smith, who voices Lisa; Julie Kavner, aka Marge; Harry Shearer, aka Ned Flanders and Principal Skinner; and Hank Azaria, who plays everyone from Apu to Moe.
Ten of the invitees were invited by more than one branch and can decide which one to affiliate with. For example, The Florida Project's Sean Baker was asked to join both the directors and writers branch. Kumail Nanjiani of The Big Sick got tapped by both actors and writers — his wife and co-writer Emily V. Gordon got a writers invite, while Zoe Kazan, who plays Nanjiani's onscreen wife, is an acting invitee. And Swedish filmmaker Ruben Ostlund (The Square) scored directing and writing invites.
Other newly invited members of the directors branch include I, Tonya's Craig Gillespie; Call Me by Your Name's Luca Guadagnino; Amelie's Jean-Pierre Jeunet; and Alice Rohrwacher, who won the best screenplay prize at the recent Cannes Film Festival for her new film Happy as Lazzaro.
Meanwhile, the executive branch sent out 41 invitations, which include offers to Tony Vinciquerra, Sony Pictures Entertainment chairman; Wang Zhongjun and Wang Zhonglei, founders of China's Huayi Brothers Media; Tessa Ross, who left her post as head of Britain's Film4 in 2016 to create her own company, House Productions; and Diane Nelson, who recently stepped down as president of DC Entertainment and Warner Bros. Consumer Products.
The Academy's current diversity push began even before the nominations were announced in 2014 for the 86th Oscars, when the lack of people of color among the acting nominees led to the protest hashtag #OscarsSoWhite. But the resulting outcry, which only grew louder when the situation repeated itself in 2015, put added pressure on the organization to redouble its efforts. In an interesting side note, Jada Pinkett-Smith, who called for a boycott of the 2016 Oscars, was invited to join the actors branch this year.
At the beginning of 2016, the Academy's 6,241 voting members were approximately 92 percent white and 75 percent male. Cheryl Boone Isaacs, who was then the Academy president, backed by the board of governors, vowed that the organization would double its number of women and diverse members by 2020, and in order to meet that goal, the Academy has stepped up the number of new members it invites each year.
Each of the Academy's 17 branches draws its own list of new members, and candidates must be sponsored by two members of the branch they will be invited to join. The general requirement is that a candidate must have "demonstrated exceptional achievement in the field of theatrical motion pictures," although each branch has its own specific requirements. Actors, for example, must have a minimum of three theatrical features under their belt, while directors must have a minimum of two helming credits. Academy Awards nominees are automatically considered for membership, although an invite is not guaranteed.
See the full article and complete list here.