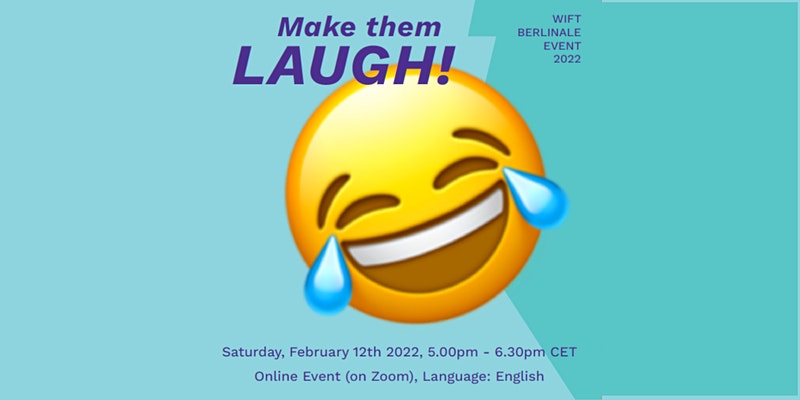 On 12th February, Producers and WFT Board Members Liz Gill (Deadly Cuts) and Fiona Kinsella (Tile Media) are hosting a special local session at the WIFT Germany Berlinale Event 2022. They will be joined by Deadly Cuts Actor Eriicka Roe and Producer Ciara Appelbe to discuss the industry, their fantastic hit feature, Deadly Cuts, as well as all things comedy!
About this event!
Humor is an essential part of the most successful content of the film and TV industry.
To laugh is a lot of fun. It unites people, it gives audiences a great time. However – to create great humor isn't always a walk in the park. To be funny can be a serious and challenging business.
Time to look into the roles of women who create the things that brighten our days with laughter and fun.
Meet comedy experts for a personal conversation with you!
At this annual Berlinale event, WIFT Germany and many international WIFT Chapters are hosting sessions with small groups featuring their local talent and experts on anything comedy in our industry.
Starting with quick keynotes by our inter/national experts from different fields in our industry: writing, directing, composing, acting, casting etc., you will have the opportunity to discuss your most pressing questions with them directly.
You are cordially invited to join us to expand your personal network and to have a good time!
Saturday, February 12th 2022, 5.00pm-6.30pm
PROGRAM:
Opening note
Nicole Ackermann – Chairwoman of the Board WIFT Germany, Member of the Executive Board WIFT International
Helene Granqvist – President WIFT Sweden & WIFT International
Welcome note
Mariette Rissenbeek – Executive Director, Berlin International Film Festival
open to all Berlinale & EFM attendees and global WIFT members (free admission, registration required)
PANEL
Acclaimed industry professionals both in acting and in creating successful features and series will join us for a conversation about comedy – what goes into creating funny characters today, and how comedy connects us all.
Sofia Helin – Actress, Producer from Sweden, known for The Bridge and Lust (Berlinale Series 2022)
Alice Gruia – Actress, Producer from Germany, known for Lu von Loser
Paola Minaccioni – Actress, Writer from Italy, known for Don't stop me now
Kissy Dugan – Writer, Producer, Stand-up Comic, Co-Founder of WIFTM Italia
QUEEN'S TABLES
Each Queen's Table will be hosted by a WIFT Chapter presenting a special guest acclaimed in the field of comedy and a moderator. The audience at each Queens's Table is cordially invited to be part of the conversation.
Two Sessions à 25min – exclusively for WIFT Members from all chapters globally (free admission, registration required)
The Line Up:
Petra Hengge (Head of Scripted TV, Amazonstudios Germany)
Lucia Haslauer (Commissioning Editor ZDF)
Minttu Mustakallio (Actor)
Elina Vitkala (Producer, Journalist, IhmeFilmi ry)
Shirel Peleg (Director, Screenwriter)
Osnat Bukofzer (Director of International Affairs and Co-Production, Israel Cinema Project, Rabinovich Foundation)
Azra Djurdjevic (Producer Filmgerberei)
Rebecca Scott Lord (Comedian, Writer, Scenic Painter)
Sally Philips (Actress, Television Presenter, Comedian)
Nisti Sterk (Actress, Comedian, Writer)
Elžbieta Latėnaitė (Actress, Comedian, Writer)
Rita Stanalytė (Communication professional, MATA HARI COMMUNICATION)
Caprice Crawford (Agent at CRAWFORD TALENTS – International Actors Management Agency)
Leslie Malton (Actress, Chairwoman of the BFFS – Bundesverband Schauspiel e.V., Ambassador for children with RETT syndrome)
Ivana Kvesic (Festival Director of Fantoche – International Animation Film Festival)
Hanna Sophie Lüke (Composer, Music Journalist (M.A.), Presenter for Music and Science)
Ciara Appelbe (Producer)
Liz Gill (Producer)
Fiona Kinsella (Producer, Head of Production Tile Media, Executive Producer Jumper Productions)
Eriicka Roe (Actor)
Barbie Heusinger (Head of Acquisitions & Development Sola Media GmbH)
Dagmar Niehage (Producer, Owner of the Cologne-based production company dagstar film)
Jana Filmer (Lawyer, Producer)
Iva Zabkar (Composer)
Natalie Hausmann (Composer, Musician, Songwriter)
Vanessa Donelly (Film Composer)
Annegret Richter (Managing Director AG Animationsfilm- German Animation Association)
Teresa Grosser (Costume Designer)
Sophie Seifried (Co-Founder Equality Media)
Vanessa Eichholz (Actress, Host, Co-Founder Equality Media)
Christiane Herzog (Executive Producer & Key Account Management, Bavaria Communications)
Ariana Gansuh (Actress, Author)
Nancy Bishop (Casting Director, Producer)
Luise Brinkmann (Director)
Mara Luka (Actress, Presenter, Speaker)
Judith Gridl (Writer)
Lea Ævars (Film & TV producer, Screenwriter, Festival Director RVK Feminist Film Festival)
Ditte Hansen and Louise Mieritz (Actors, Writers)
Nanna Frank Rasmussen (Film Critic and Journalist)
Lydia Richter (Actress, Presenter, Author, Designer, Podcaster)
Lena Kettner (PR and Marketing Manager for Prokino, a German distributor of international and national independents)
Temilola Akinmuda (Co-Founder/ CEO PICHR)
Inya Lawal (Producer, CEO Ascend Studios Foundation,, president WIFT Africa, executive board member WIFT International)
Gunhild Enger (Writer, Director)
Nina Barbosa (Talent Advisor at Norwegian Film Institute)
Caroline Rosales (Author, Journalist)