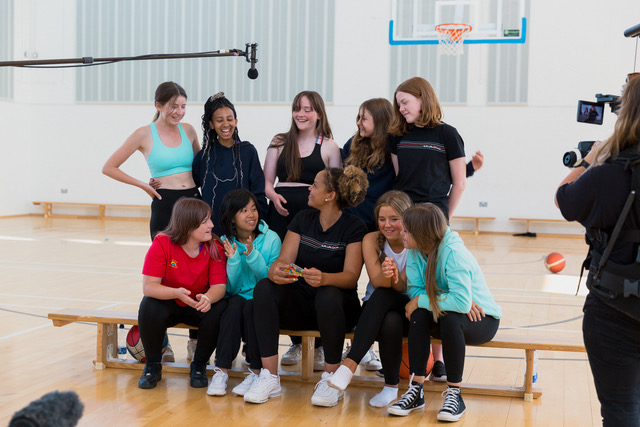 "You throw like a girl! You hit like a girl! You run like a girl…"
Why do teenage girls give up sport? Why do they often feel excluded from physical activities? Why are these girls bullied – sometimes by other girls – if they play sport?
Emer O'Neill, basketball star and PE teacher, thinks she knows why.
In this 6-part docu-series directed by WFT Member Roisin Kearney, Emer's theory is put to the test as she brings together 9 teenage girls who have either given up sport or never played. Keep It Up follows their complex journeys as they go in search of the answers. The results are explosive. Is Emer right? The girls will share their answers. And even with her support, will they Keep it Up?
Keep It Up Series
In this series, Emer O'Neill brings together this varied group of teenage girls. As viewers, we follow them as they explore the complex relationships many young girls have with sport.
Puberty, bullying, crop tops, cliques, team sport versus singular sports, smelly dressing rooms, spray tans – everything is discussed. This series will follow this group of teenagers as they re-engage with sport to see if they can Keep it Up. We follow their success and their failures over the course of an intense two-week period as they prepare to take on a "proper" basketball team in the National Basketball Arena. Will they be humiliated? Will these strangers gel… on and off the court?
But more importantly, will they have fun?
A Nationwide Issue
In 2018, over fifty thousand people attended the All-Ireland Senior Ladies' Football Championship Final, making it one of the highest attended female sporting events in the world. A wonderful achievement highlighting the appetite for female sport and yet there is a problem at the root of female sports in the country, participation numbers, once girls reach adolescence, are abysmal.
At present in Ireland, studies show that half of girls participating in sport drop out by the time they are 14 and they are three times more likely to quit than boys. These statistics aren't just alarming in terms of their physical health but also in terms of their mental well-being.
Two-thirds of girls in Ireland experience peer pressure every day, often about their appearance, and we all know the damage that this can cause. Girls who keep up participation in sports are not only healthier but they have higher levels of body confidence and report higher rates of positive mental wellbeing.
In Search of a Solution:
So how do we get girls to re-engage with sports and stop them from becoming just another negative statistic? You provide them with positive role models, as the 20×20 slogan goes: "If she can't see it she can't be it" and this series lets the adolescents of Ireland "see it". They get to see their peers coming back to sport and share in their journey, step-by-step, kick-by-kick and point-by-point.
A New Way of Thinking
'Keep It Up's all-female crew allows the girls to be as comfortable as possible when talking to camera. The "If you can see it, you can be it" philosophy runs deeper than just physical activity. With this group of girls, many of whom were on a set for the first time, looked around during filming, they saw all women: as presenter, producer, director, as well as HOD's and production. Their first impression of a crew was – women do that! We cannot underestimate the importance of visibility in either sport or media. That visibility will change perceptions for the next generation of girls and boys entering the industry,' says WFT Member and series director Roisin Kearney.
We, as the audience, share in the laughs, the tears and the rollercoaster ride that is teenagehood. We are present for the training sessions, from the first day to the last and get to watch those candid home interviews about the difficulties they face throughout the process. We see the ups; the downs, the joys, the camaraderie and bonds that team sports can create.
But it won't be easy: research shows that 71% of girls feel they are more likely to give up because they are not as encouraged as much as their male counterparts.
Catch KIU on the Player Now
This series is humorous, empathetic, fun and full of heart and compassion. It's time to shift our perceptions about women's sports and get girls to re-engage with sports again and to Keep It Up.
If you don't have fun while doing it, what's even the point?
Keep It Up is airing Tuesdays and Thursdays at 5pm on RTÉ2 / RTÉJr.
About Roisin Kearney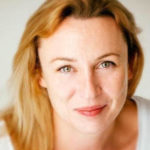 Roisin is a multi-award-winning writer/director/producer in film, TV and theatre. After 10 successful years working nationally and internationally, she took time out to raise her three children and continued at the periphery of the industry in script development and discovering new talent. She returned to film in 2014 with her short film The Love Agency and since has worked on a number of short films including The Family Way (writer/producer), No Dogs (writer/director), Algorithms (writer/director), Prodigy (producer), and We Have Each Other (producer). The Academy Award longlisted The Ferry (co-producer) and RUN (writer/director) both premiered at Galway Film Fleadh in 2019, while her short PADDY (director) premiered at Galway Film Fleadh in 2020.
Roisin is the Associate Producer on Gamer Mode (8 x 20m format) for Roundstone Media and RTÉ as well as working on casting and production radio series Adventures Of A young Pirate Queen for RTÉJr Radio. She directed the documentary series Keep It Up for Macalla Toe which is presently airing on RTÉ. Roisin was the director for the Blooms Day shoot on the documentary series Remarkable Women as well as the director on Ode to a Coolock Queen (film) for SmashingTimes Theatre Co.
As a writer, Roisin is in development with her comedy-drama RIP with Babyjane Productions supported by Screen Ireland. She is writing her theatre play Moon Walk with the support of the Arts Council of Ireland. She also is working on a number of scripts, including teen feature film Spoke and the psychological thriller series Patrius.