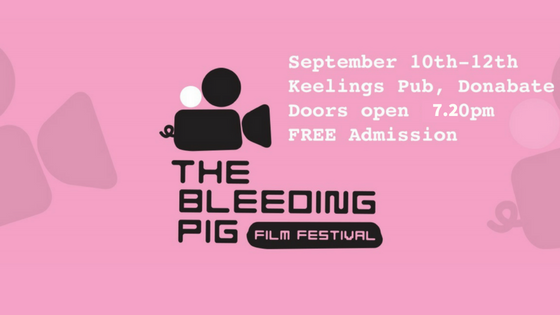 'Fillum' along with the Bleeding Pig Film Festival have teamed up with FilmBath and introduced the F-Rating to their programme. This rating was developed by Holly Tarquini, Director of FilmBath and it is now expanding across the UK and Ireland. Any film that is written and/or directed by a woman is awarded the F-Rating stamp of approval. If a film answers yes to BOTH these questions AND features significant female characters on screen in their own right, then it is awarded a Triple F-Rating.
'Women in Film', which runs on Tuesday 11th September, is a fully F-Rated programme; all films screening have been written and/or directed by women, with some even sporting a Triple F-Rating. In total, over the course of three nights, almost 70% of the films have been awarded the F-Rating.
About the Bleeding Pig Film Festival
The Bleeding Pig Film Festival is back for its third edition Monday 10th – Wednesday 12th September in its usual venue, Keelings Pub of Donabate. The film festival is facilitated and supported by the Bleeding Pig Cultural Festival, and managed and programmed by Emma Fagan who runs 'Fillum', a company which promotes Irish independent filmmakers.
As in previous years, there are a diverse range of themes, mostly from Ireland but with a taste of the Netherlands, Spain and the USA. The narratives touch on serious issues, balanced with edge-of-the-seat thrills, animation and comedy. Doors open each night at 7.20pm with screenings kicking off at 7.30pm sharp. Each screening will be followed by an informal Q&A with the filmmakers.
All screenings are free.
For more information on times and line-up, check out their website.