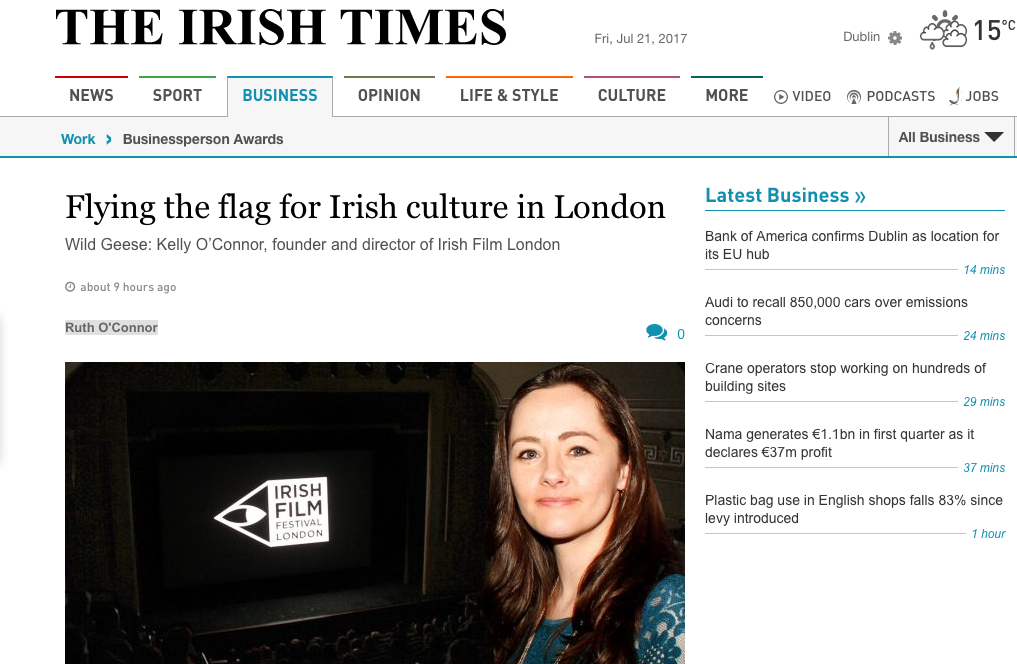 Wild Geese: Kelly O'Connor, founder and director of Irish Film London
by Ruth O'Connor for The Irish Times (taken from irishtimes.com)
21st July 2017
When we speak by phone, it is the day after the London Bridge and Borough Market terrorist attacks and Kelly O'Connor, founder and director of Irish Film London, is speaking from her quiet home in New Malden around 25 minutes by train from the city.
She admits that events like these, particularly for someone involved in festival organisation, do make her think of her home in Howth where her parents run the well-known Summit Inn. However, after eight years in London, she says she has no intention of moving home, particularly as her two brothers live in the city and help form part of her social network.
O'Connor studied design and then fine art (video and sound) at the Institute of Art, Design and Technology in Dún Laoghaire. After university, she co-founded Sprawl Studios in Dublin and worked for the Dublin City Council arts office's residential artist studios and gallery in The Red Stables in St Anne's Park, Raheny.
Moving to London, O'Connor did gallery internships, did a stint with the National Health Service, then at the Irish Cultural Centre in Hammersmith where manager Catherina Casey gave her the opportunity to first explore the idea of an Irish film festival in London. She now runs Irish Film London – a not-for-profit organisation which champions films with Irish connections through its year-long programme and which culminates in a five-day festival each year.
O'Connor is also a board member of the mayor of London's St Patrick's Day festival community advisory board, a board member of the Women's Irish Network, a member of Women in Film & Television and of the London Irish Business Society.
Most of O'Connor's week is spent travelling for meetings in the city, carrying out site visits to cinema venues, meeting partners, curators and programmers, and going to see as many films as she can. Seven years on from her first film screening (The Guard), it is the biggest international Irish film festival in the world.
"It's become quite a big monster at this point," says O'Connor, who works with festival manager Eibh Collins, who is based in Ireland and also works with the Galway Film Fleadh and various other Irish film festivals. "I couldn't do it without her and my amazing board of directors," she says.
Well-known patrons include film director Lenny Abrahamson and London-based casting director Ros Hubbard.
"Funding from Culture Ireland means we are able to support the travel and accommodation for directors and actors to come over and present the films. That is a big plus for us," says O'Connor. "At the moment we are funded through the Film Hubs at the BFI, the Irish Film Board, the Irish Film Institute, the Irish Government Emigrant Support Programme and the Irish Youth Foundation in the UK."
The rest of the funding comes through ticket sales and through sponsorship.
"Ideally we want to align ourselves with Irish brands. We want to support Irish as much as possible. Most of the companies that we have worked with have either been Irish companies with a UK presence or have been headed up by an Irish person."
Film festivals are a great attraction for sponsors, she says, because "they're a bit glitzy and they can treat their staff or clients to something a bit different – have dinner, meet directors and watch a movie. It's quite attractive for sponsors."
Her work with the St Patrick's Day festival involves monthly meetings where the board comes together to discuss the parade and how "we can develop it into the future. Part of that is the family slant that we have in the film festival as part of the celebrations".
O'Connor says she gets involved willingly in such things because she is "genuinely passionate about Ireland and promoting Irish culture and making sure that we still have a presence wherever we settle around the world".
"For me it's always been about flying a big flag and enabling people to continue to engage in their heritage. Here, second and third generation Irish kids are so into their Irish culture," she says.
"I think for the Irish people who came over here in the 1950s and 1960s – even up to the 1980s – it was very different to what it's like now," she says of the city. "I think the main difference is that we have integrated. There's no ghettoisation. The people who came before us paved the way. They created a community whereby we are seen as positive, hard-working people. So when we arrive in London, we have a great reputation. We are very fortunate that those people came before us and paved the way for us."
In terms of the film industry in London she says it's important to be open but not naive.
"It's very competitive here, but it's creative as well. Film is a collaborative process so people have to be open to working in teams. You have to be competitive but don't burn bridges – make contacts and spend time with people.
"You can't go wrong with being kind and open and honest. Treat people well but keep your wits about you. Be tough but don't forget your humanity too."
www.irishfilmfestivallondon.com