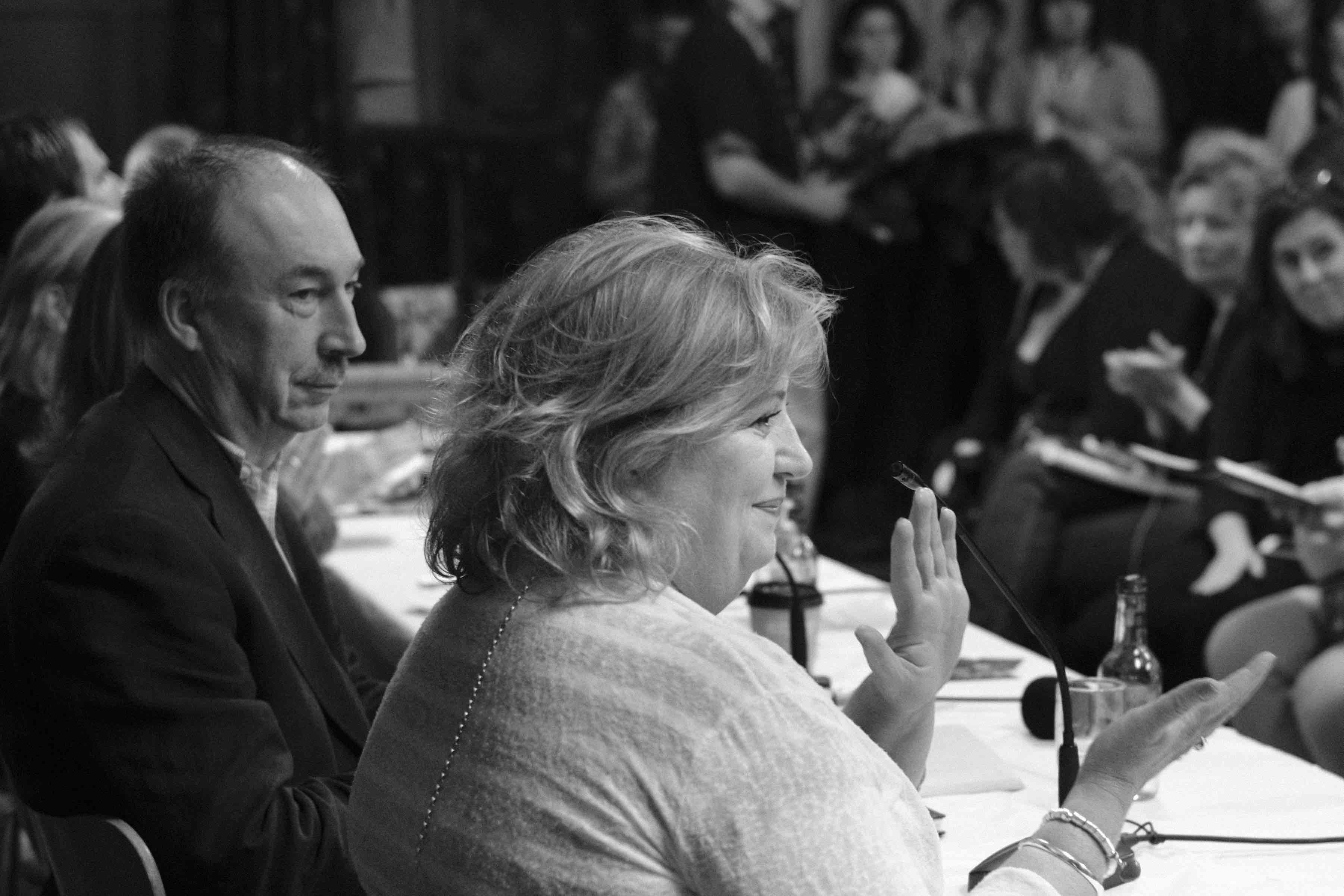 The IFB to Introduce Ground-Breaking New Funding Initiatives for Female Writers and Directors as part of Ongoing Commitment to Gender Equality in the Irish Film Industry
This exclusive announcement was made at our Galway Film Fleadh panel event 'Building Momentum: The Road to Gender Equality' on 15th July 2017, co-hosted by the SDGI and the WGI.
Photos from the event by Tommy Weir. Credit www.tommyweir.net
16th Jul 2017 
Bord Scannán na hÉireann/the Irish Film Board (IFB) has announced a number of new funding initiatives at the Galway Film Fleadh specifically targeted at incentivising female writers, directors and producers, in order to directly increase female representation in the Irish film, television and animation industry.
Since the IFB announced it's 'Six Point Gender Plan' in December 2015 aimed at addressing the under-representation of women in Irish film, considerable progress has been made in terms of encouraging female writers, directors and producers into the sector through training initiatives and through the IFB short film schemes. The commitment of the IFB to gender equality has been acknowledged nationally and internationally, and 70% of the IFB short films funded under the IFB Short Stories and Frameworks schemes which premiered at this year's Galway Film Fleadh, have female directors attached.
The IFB stated its intention in the 6 point plan to achieve 50/50 parity of funding within three years. However, the actual number of funding applications received by the IFB on an ongoing basis, with female writers and directors attached remains relatively low. Therefore, the IFB will roll out a number of ground-breaking funding initiatives focused on increased production and development funding for female led projects and a female focused low budget production funding initiative. These initiatives are aimed at incentivising female talent into the sector and encouraging Irish production companies through the provision of additional funding to develop Irish female talent.
Commenting on the new initiatives Dr Annie Doona, IFB Chair said "These initiatives represent the continued commitment of the IFB to achieving gender parity within the film, television and animation sector. We are of the view that whilst a lot of been achieved in developing the careers of female writers and directors, not enough has been achieved in relation to increasing the actual funding applications received by the IFB, with female talent attached. I believe these direct funding initiatives will incentivise an increased number of applications from female led talent and will support, empower and elevate Irish female talent working within the Industry. 50/50 parity of funding remains our goal."
The new funding initiatives are:
➢ Low Budget Film Production & Training Scheme for female talent
In the coming months, BSÉ/IFB will launch a new low budget production programme aimed exclusively at emerging and established female Writers and Directors. Following tailored workshops, mentorship and training, talent will have the opportunity to apply for support to produce a feature film with a budget of up to €400,000 fully funded by BSÉ/IFB and S481.
➢ Enhanced Production Funding for female initiated and driven feature films
Increased support of up to €100,000 (subject to meeting BSÉ/IFB prescribed criteria) will be made available for projects under BSÉ/IFB's Fiction: Irish Production funding for feature films that are creatively lead by an Irish female Writer(s), Director(s) or Writer/Director with effect from September 2017.
Across all other BSÉ/IFB funding schemes, including the BSÉ/IFB Short Film schemes, gender parity across all creative roles will be monitored and encouraged within any applications for support.
➢ Development Focus for female initiated feature films
The IFB has recently appointed a new team of project managers who have taken up their positions in the Production & Development team at the IFB. The team is currently reviewing the Screenplay Development scheme for writers, writing teams and writer and director teams, and amendments to the scheme will be announced shortly. As part of the planned amendments to this scheme, all efforts to ensure gender parity across funding awards will occur. In addition, the IFB plans to pilot one round annually available to female applicants only.
The team is also discussing the introduction of a supplemental funding award for feature films originated and written by Irish female writers with effect from September 2017.
In terms of BSÉ/IFB's other development funding schemes gender parity across all creative roles will be monitored and encouraged within any applications for support.
➢ Establishment of the Gender Equality and Diversity Subcommittee
A new Gender Equality and Diversity Subcommittee will be appointed by the IFB board, who will consult with external bodies, will be introduced with effect from September 2017. The Subcommittee will establish ongoing policies and guidelines in relation to the application process and funding arrangements and will be responsible for their implementation and delivery.
➢ Promotion and dialogue focused on female talent
BSÉ/IFB will continue to monitor our progress on gender equality and to conduct our dialogue with the relevant stakeholders and partners including RTÉ, the BAI, SPI, Directors Guild, Writers Guild and Animation Ireland. Particular attention will be given over the coming period to dialogue with the major Irish production companies to discuss actions they could take to increase gender equality within the industry.
IFB will introduce a targeted strategy to promote female talent in the sector increasing their visibility, celebrating achievements, supporting their work and promoting gender equality widely to new and existing practitioners as well as the public.
➢ Note that comprehensive information on each of these Initiatives (the exact details of which are subject to change) will be announced in the coming months and will be made available on the IFB website.