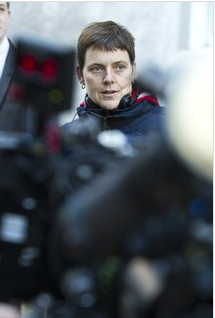 In Conversation with Lisa Mulcahy and Emer Reynolds
Women in Film and Television Ireland is delighted to be working with Film Ireland to record, archive and share our WFT Ireland monthly events.
Emer Reynolds – Editor and Director
Emer Reynolds, multiple award winning Film Editor, and Grierson-nominated Director, is based in Dublin, Ireland. Her feature editing credits include I Went Down, The Actors, The Eclipse, Patrick's Day, My Name is Emily and the recently completed adaptation of the Carol Shields novel, Unless. Her documentary work includes One Million Dubliners, We went to War, Broken Tail and the multi-award winning series The Secret Life of the Shannon. TV Drama includes the opening two series of C4's groundbreaking drama Shameless. Emer has written and directed four short films and directed the RTÉ drama series Trouble in Paradise. Her feature documentary on the Cuban Missile Crisis, Here Was Cuba, also her documentary directorial debut, was screened in festivals worldwide, on More4 and was nominated for a Grierson Award 2014. She is currently directing The Farthest, a feature documentary space opera, featuring the plucky Voyager spacecraft.
Lisa Mulcahy – Director
Lisa has recently been IFTA nominated for Best Director – Soap/Comedy for her work on Red Rock the critically acclaimed ensemble drama for TV3. She has completed 16 episodes (including the season 1 finale) and is about to shoot the first four episodes for Season 2. Her award winning feature film The Legend of Longwood which she directed and co-wrote will be in Cinemas in Ireland from October 23rd 2015 and was released in the US and Holland in June 2015 and Germany in September. Her first feature film Situations Vacant, a comedy shot in Dublin, was released nationwide in Ireland in December 2009. Her Hallmark Movie Gift of the Magi was broadcast over the 2010/2011 Christmas season in the US. Her short movie Coming Home has received thousands of hits on the internet. She was the lead director on the award winning RTÉ drama series The Clinic and directed twelve episodes in total over five seasons. She also directed episodes of On Home Ground, another RTÉ drama.
She has directed documentaries and short films as well as numerous commercials for Television and cinema. In a previous existence she was a first Assistant Director on many films and television dramas in Ireland and abroad and began her career in the industry as an assistant film editor in Dublin and then London.