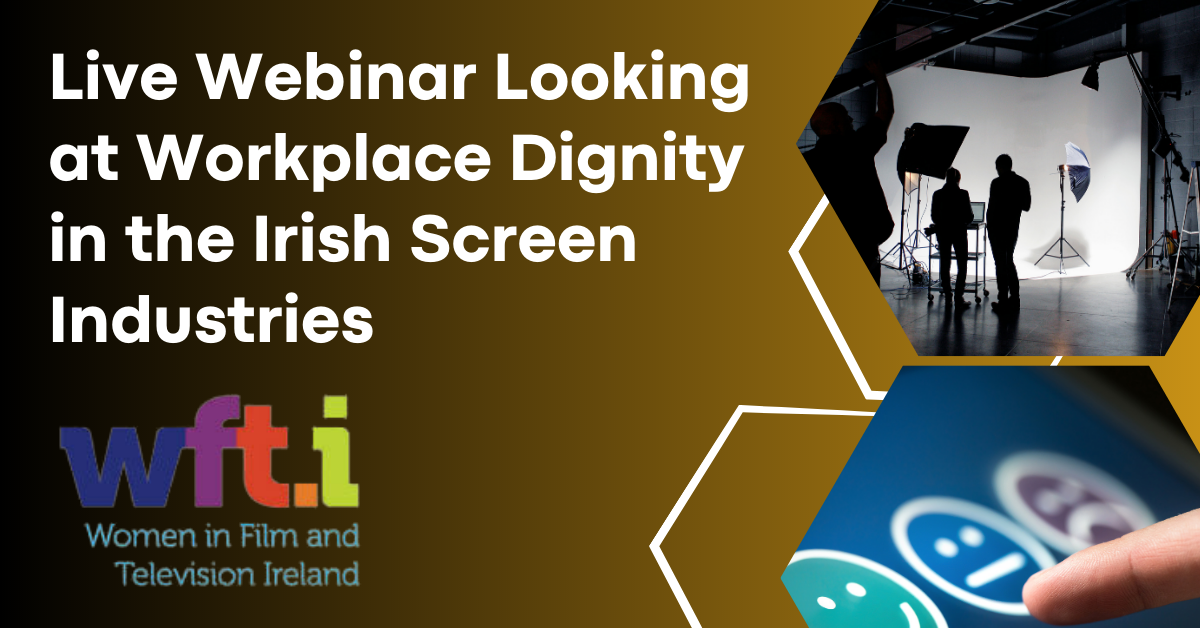 🗓️ Date: Tuesday, 5th September
⏰ Time: 6:30 pm
📍 Platform: Zoom
Join us for an impactful webinar hosted by Women in Film and Television Ireland (WFT Ireland), as we address the vital theme of workplace dignity within the Irish screen industries with WGI Chair Jennifer Davidson, researchers Olwen Dawe, Dr. Fergal Rhatigan as well as WFT Chair and incoming president of WFT International Dr. Susan Liddy. 
This panel discussion is supported by Coimisiún na Meán. 
About the Webinar:
In this discussion, we will explore insights into the prevalence of harmful behaviors in the Irish screen industries, such as bullying, harassment, sexual harassment, humiliation, victimization, assault, and sexual assault. This webinar sheds light on our ongoing research, supported by Screen Ireland, aimed at understanding and combatting these issues as well as the Safe to Create reporting tool and survey, empowering individuals to address harassment.
If you haven't already, make sure to have your voice heard and complete our Survey on Dignity in the Workplace here. 
Dr. Susan Liddy
Dr. Susan Liddy is chair of WFT Ireland and incoming president of Women in Film and Television International (WIFTI). Her formal inauguration will take place in Helsinki in September, 2023 at the WIFTI Summit. In addition to her work with WFT she is a board member of the Writers Guild of Ireland, Raising Films Ireland, the Irish Film Institute and a member of the Steering Committee of the National Talent Academy for Film and TV Crew, South. 
Susan lectures in the Department of Media and Communication Studies in MIC, University of Limerick. Her work includes Women in the Irish Film Industry: Stories and Storytellers (ed. 2020); Women in the International Film Industry: Policy, Practice and Power (ed. 2020). Media Work, Mothers and Motherhood: Negotiating the International Audio-Visual Industry (co-ed. 2021) and Women, Ageing and the Screen Industries: Falling off a cliff? (ed. 2023)
She has co-authored two industry reports: for the BAI and Raising Films Ireland and is currently working with Dr Fergal Rhatigan on a research project exploring harmful behaviours in the Irish Screen Industries which is funded by Screen Ireland's Stakeholder Fund. Susan is the founder and director of Catalyst International Film Festival, Limerick – a festival that prioritises films from underrepresented groups, in front of and behind the camera.
Olwen Dawe
Olwen is a leading Policy Analyst and Consultant, with an established track record in developing and implementing equality, diversity and inclusion projects, and since 2017, a number of policies and strategies in the arts and culture sector.  Notably, this has included the Arts Council / An Chomhairle Ealaíon Equality, Human Rights and Diversity Policy and the National Library of Ireland's Diversity and Inclusion Policy. Olwen is an Associate Consultant of the Institute of Public Administration, and guest lectures on their Professional Diploma in Human Rights and Equality.  Olwen also advises on, and facilitates in the development of organisational and advocacy / policy strategies.  A graduate of the Whitaker School of Government and Management (IPA), and NCI (formerly the National College of Industrial Relations), Olwen holds a BA (Hons) in Industrial Relations, a Postgraduate Diploma in Economic Science, Public Policy Analysis, an MEconScience in Public Policy Analysis and a Professional Certificate in Governance.  Olwen was awarded joint-first in class for her thesis which examined social justice advocacy in public policy through the prism of the #MarRef and #WakingTheFeminists movements; she regularly gives public talks and lectures on both her work and research. In late 2017, and in response to the revelations of harassment in Irish theatre, the #MeToo and #IrishWeinstein hashtags, Olwen co-authored the Amplify Women toolkit with Dr. Brenda Donohue and colleagues from across the legal, workplace relations and representative / advocacy communities.  Olwen was the Project Advisor for the Speak Up: A Call for Change report, published in October 2021.
Fergal Rhatigan
Fergal Rhatigan is a freelance researcher with a PhD from the Department of Sociology, Maynooth University with extensive working knowledge of quantitative and qualitative research methods, and experience working in the Survey Unit of the Economic and Social Research Institute from 1993 – 2004. Additionally, Rhatigan worked on a number of survey research projects, the most recent of which is the 'The Pursuit of Change: Issues affecting parents and carers in Ireland's screen industries' (Published by Raising Films Ireland, March 2022). Other research projects include: "New Deals in the New Economy", Department of Sociology Maynooth University and the 2007/08 survey on pluralism and diversity in Ireland.
Jennifer Davidson
Chair of the Writers Guild of Ireland since 2020, Jennifer writes for Ireland's national soap opera, Fair City, having been a core member of the writing team since 2012. Jennifer is an experienced screenwriter with a background in television production and development. Having spent over twenty years working for a number of Ireland's top independent production companies, securing commissions for a wide range of programmes, her years spent encouraging other people to have their stories told on screen informs the ethos at the heart of her own production company HeartFelt Drama. A fierce advocate for Irish writers, through her work with the Writers Guild, she has also originated and run a wide number of training and development initiatives for new writers.