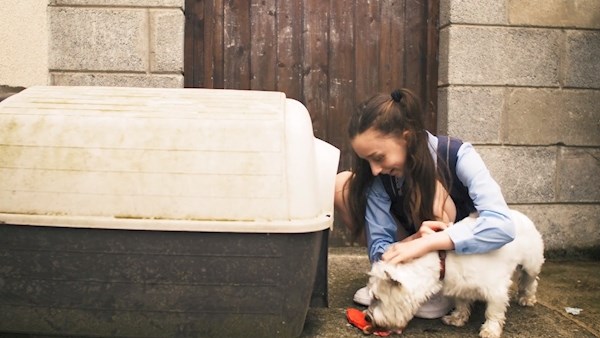 Written and Directed by WFT member Roisin Kearney, 'No Dogs' will next screen before the opening film 'Shelter Me: Apollo House' at The Chicago Irish Film Festival in February. This timely short was produced by Alan Joyce and fellow WFT member, Lynn Larkin.
Roisin on 'No Dogs':
'I wrote 'No Dogs' over 3 years ago when the child homelessness figures stood at 1318 children. It was shocking, I didn't make the film at the time because there was so much outrage I thought something would have to be done, but it only got worse. In the three years since, the number of children homeless has tripled. My friend and colleague Alan Joyce knew I had the script and encouraged me to just make it, so thats what happened.
'It is a one minute short so I knew I would need incredible all female cast of actors who could tell a story with a look. Having seen Caroline Grace Cassidy's short film 'Reach', I contacted Sarah Flood who is superb in it and asked her if she would play the Mother character and was delighted when she agreed. Isabelle Daly is my daughter's school friend and I knew she would be able to play the daughter – she did so brilliantly. Geraldine McAlinden and Hillary Vesey generously gave their time and talents to the project.'
'A fantastic crew came on board, most of whom I'd worked on other projects before. Again, they gave their time energy and equipment for free to try and help highlight the issue of child homelessness. I'd like to thank the festivals who have screened it so far, Kerry Film Festival, Cork Indie Film Festival, Underground Cinema Film Festival, Bow St. Film Festival, Berlin Flash Film Festival, and Waterford Film Festival.'
Watch this film now:
No Dogs – Short Film from Roisin on Vimeo.
Read more about this short at www.irishexaminer.com.