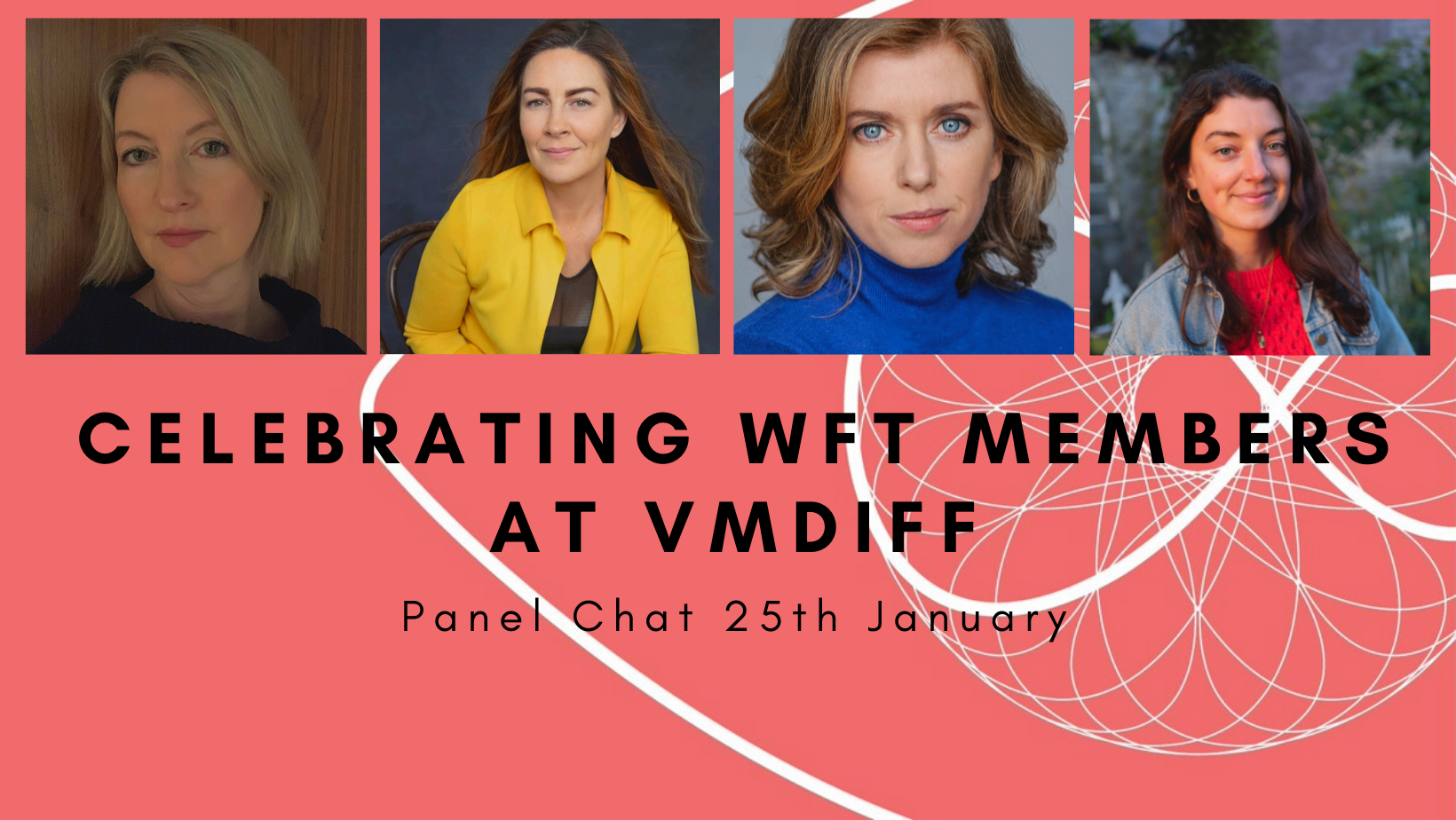 Every year the Virgin Media Dublin International Film Festival brings a wealth of inspiring films, local and international, to Irish screens. The stories being told and the unique voices in this programme are as bold and impressive as ever. Here at WFT, we are hosting a special panel to spotlight the vibrant work of some of our members, Writer/Performers Lesley Conroy and Andie McCaffrey Byrne as well as Director Claire Byrne and Producer Martina McGlynn. Join us on Tuesday 25th January at 6:30 pm, where we chat with these talented women about their films and careers to date.
Panelists
Lesley Conroy is an IFTA award nominated actor, award winning writer and advocate for parenting artists and DEI in the creative sector. Over the course of her 25-year career she has worked with The Abbey, Corcadorca, Loose Canon, Fíbín & Decadent. Screen highlights include work with Merman, Samson, Sally Lindsay/Dermot Boyd (Madame Blanc Mysteries), Neasa Hardiman (School Run), Declan Recks (Eden, The Running Mate), Thaddeus O'Sullivan (Citizen Lane) and David Freyne (The Cured). Turning to writing during lockdown her monologue CLEANER won the 2020 Scripts Ireland Competition and a place on Screen Ireland/Bow Street's Actor as Creator scheme. On its premiere outing at the Cork International Film Festival it won the Best Cork Short Award and continues its festival run at VMDIFF in February 2022. MY CONNECTION IS UNSTABLE, her Jane Anne Rothwell Award funded short, premiered at the 2021 Cork Midsummer Festival and also screened at the Waterford Film Festival and the WFT 2021 Showcase. She is grateful for supports from the Arts Council's Agility Award, Adam & Ed Creative, The Corps Ensemble, residencies from The Mill Theatre's Mavens Programme, Axis Assemble, and ITI's Accelerator playwriting programme with Javier Daulte. She is currently developing a slate of female driven narratives for TV and Film with mentorship and guidance from Eleanor Yule's Writer's Factory 22-Week Screenwriting Programme and script editor Colin McKeown, and looks forward to collaborating with like-minded creatives in 2022 and beyond.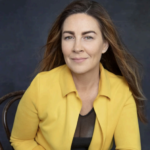 Andie McCaffrey Byrne – Sparkle
Andie plays the role of Irene Carr in self-penned film Sparkle. A child of the 1980s, the lure of spandex and aerobics was ignited when she stumbled upon the true story of the 1980s Irish government's ban on aerobics. Her film is part of the Actor As Creator scheme 2021 funded by Screen Ireland and Bow Street Academy. Andie's recent roles include Lisa in BBC TV Pilot Paramedics. Jane in South RTE, Abbie White in Fair City RTE and Stephanie in RTE/BBC awarding winning TV series drama Love/Hate. Andie has recently been awarded funding through the Community Foundation & is also in development for her next project Golden, another female-led comedy through her new production company Shine Bright Productions.
Claire Byrne is a Writer, Director and Editor based in Dublin, Ireland. She graduated in 2013 with a masters degree from Screen Academy Scotland in Directing for Screen and spent the years following, working in the industry in both production and post-production. Her Screen Ireland funded short film Sister This has had huge success over the last two years, winning 'Best Irish Short' at Fastnet Film Festival, and the Shark Awards 2021 and getting nominated for a 2020 IFTA. In 2020 she was chosen for The Voice Fund; Director's Conceptual Fund, alongside established directors like Dearbhla Walsh and Paddy Breathnach, and was granted development money through the scheme. Later in the year she was chosen as a mentee in the first round of the Screen Skills Ireland Mentorship Program and was assigned director Paddy Breathnach as a mentor. Claire was also successful with a project she put forward for the X-pollinator Incubator scheme where she secured funding to write a treatment and subsequently a commission to write a feature film with her writing partner Karen Healy from Blinder Films. Her brand new short film Hello? premieres at Virgin Media Dublin International Film Festival in February.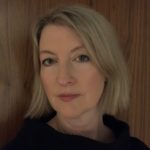 Martina McGlynn – Nothing To Declare
Martina Mc Glynn is an IFTA nominated producer/director. She has an extensive film and documentary career including the award winning Who is Dervla Murphy, The Secret Market and A Nightingale Falling.  Her latest project Nothing To Declare will screen at DIFF 2022 after an incredible festival run including wins at The Galway Film Fleadh 2021, IFI Documentary Festival, Louth and Clones film festivals. Nothing To Declare was selected for DOC NYC's prestigious short-list in November 2021 and resulted in an acquisition of the film by The New Yorker magazine in Jan 2022.   Martina is a music producer with RTE Radio and last year dipped her toes in to the world of the music video by directing a video for Irish singer/songwriter Tolu Makay. She holds a MA in Film and Television from DCU and her next project which is in development with Screen Ireland is an Irish Gothic Horror written by Aoife Bradshaw. Nothing to Declare will screen at The Dublin International Film Festival and the inaugural Mayo Film Festival on February 26th.

Credits as TV Director/Producer include:
Nothing To Declare (short documentary) Producer
You Are Enough Music Video Tolu Makay  Director
The Secret Market (IFTA nominated short) Co–Director
Striking Out TV Series Shadow Director
A Nightingale Falling, Feature Film, Co-Director
Babble' TV series for RTÉjr Television Director
A Grand Experience' (Arts Documentary RTÉ) Producer
Bogman (Short Film) Producer
The Road of Souls' (short film) Producer 
Who is Dervla Murphy?' (Award Winning Documentary) Producer/Director
Rental Boys' (RTÉ Storyland Series) Producer
Grassroots of the GAA' (Documentary Series on Virgin Media TV) Producer
Grassroots of the GAA Specials' – TV3 2 x 50 mins Producer
Hoodwink' (Short Film) Producer
Limerick You're A Lady' (Short Film) Producer 
Moderator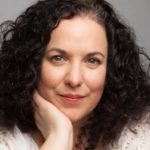 Fiona Kinsella, WFT Board Member & Producer
Dublin-based producer Fiona Kinsella has over twenty years of experience in the Irish and International Film and Television Industry. Over her career, she has worked with some of the leading Irish Directors. She established Jumper Productions in 2009. Fiona has produced an array of commercials and online content for brands including, Carlsberg, O2, RTE, Jameson, as well as a number of award-winning short films, and has provided production services for artists including Rihanna and One Direction. Fiona's heartfelt passion for film, coupled with her extensive experience in film industry training and development in the UK, gives her an instinctive ability to bring out the very best in the many talented people with whom she works. She has recently become Head of Production with Tile Media and oversees a slate of feature films and TV Drama.