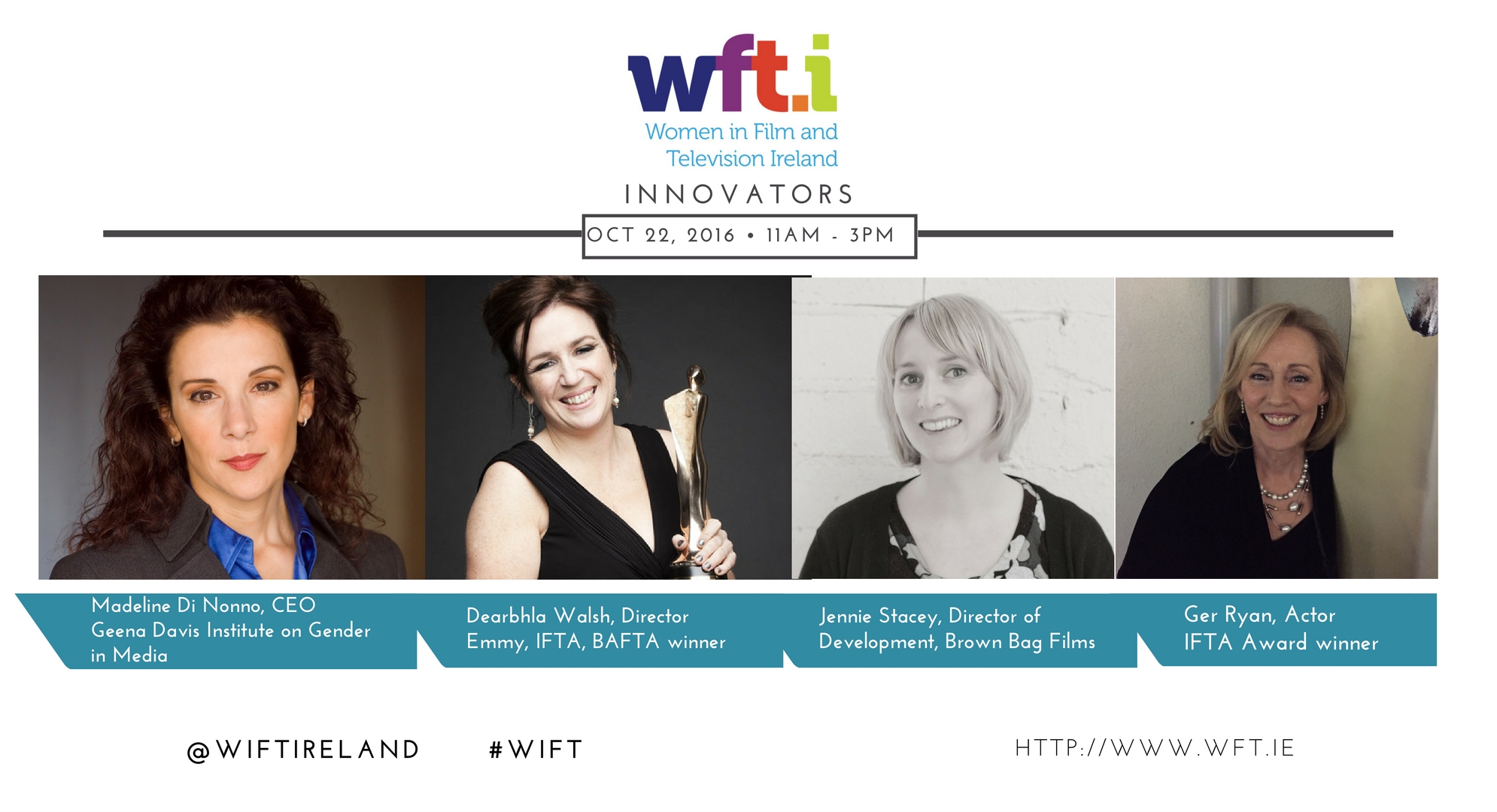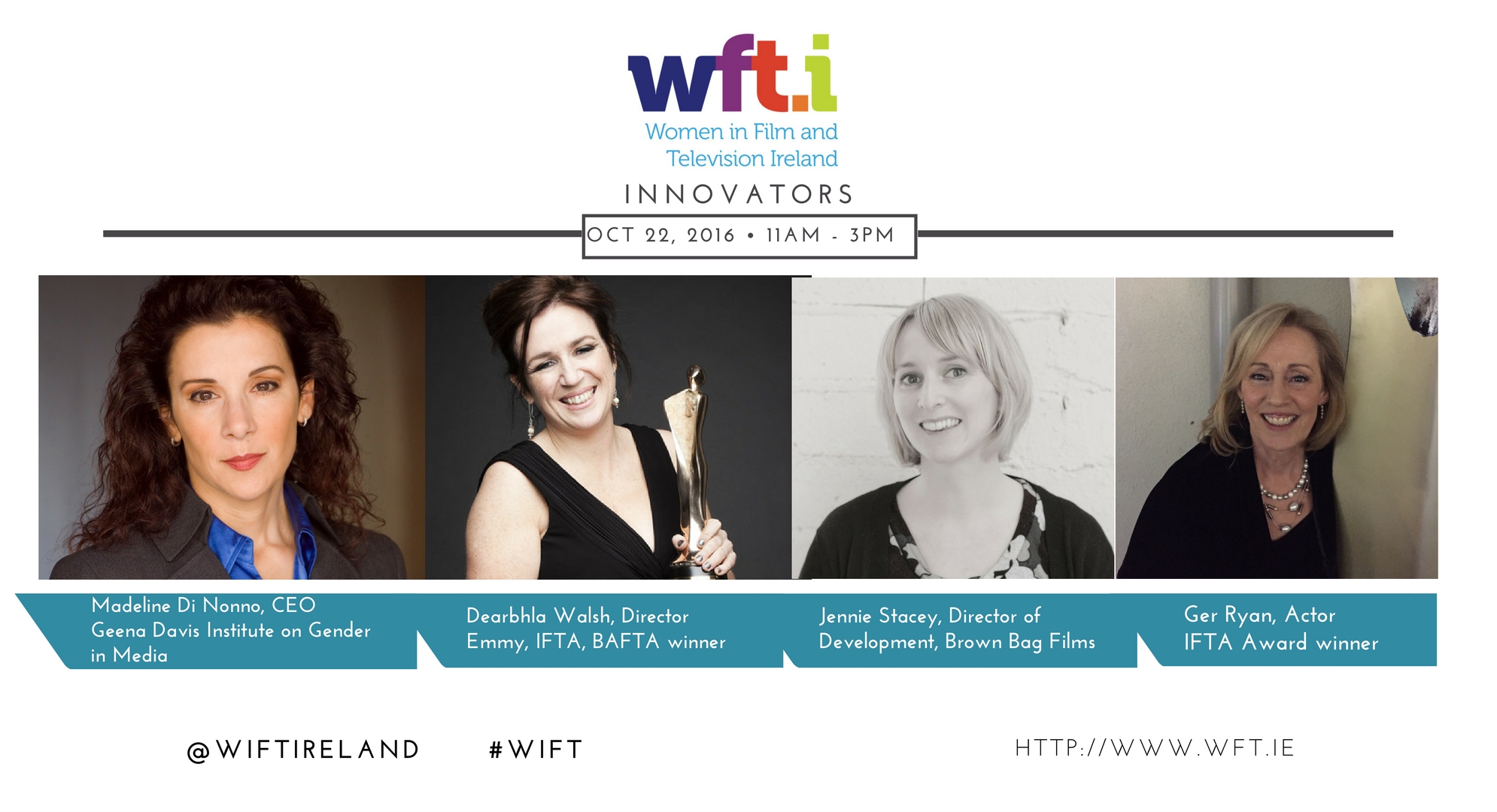 What: Innovators – Creative, Technological And Business Innovations In A Changing Media Landscape
Where: Lighthouse Cinema, Smithfield Square, Dublin 7
When: 11am – 2:30pm Saturday 22 October 2016
How: Book your seat here!
Women in Film and Television Ireland (WFT.I) in collaboration with the U.S. Embassy in Ireland, present their October event INNOVATORS with a particular emphasis on creative, business and technological innovations in an ever-changing media landscape.
Reserve your seat here: https://www.eventbrite.ie/e/women-in-film-and-television-innovators-tickets-28639028104
The event includes the European Premiere of GD-IQ, a a tool that employs video- and audio-recognition technology, along with algorithms, to identify gender, speaking time and additional details about characters presented in films, television shows and other media. For the first time this tool will be used to analyse an Irish film and results will be presented at the event.
The software, called the Geena Davis Inclusion Quotient (or GD-IQ), will speed up and automate the painstaking data-collection process that researchers use to study representation, a key initiative in recent years as the entertainment industry has begun to focus on equity onscreen.
Premiering the software is Madeline Di Nonno, the Chief Executive Officer of the Geena Davis Institute on Gender in Media, the only research based non-profit working with the entertainment and media community to improve gender diversity in children's entertainment through research based programs.
Madeline Di Nonno leads the Institute's strategic direction and brings over thirty years extensive experience in media, marketing and business development in the entertainment, non-profit, digital media and consumer packaged goods industries. She has led global brand marketing, branded franchise development, acquisitions, digital media initiatives for home entertainment and limited theatrical releases in North America, United Kingdom and Australia.
"The GD-IQ research is a tool to help inspire change," said Di Nonno, "It's not meant to criticize; it's meant to have the facts so that content creators can be aware and learn from it."
Joining Di Nonno is Dearbhla Walsh, the EMMY, IMMA and BAFTA Award Winning Director and Jennie Stacey, Director of Development at the multi-award-winning animation studio Brown Bag Films.
Director Dearbhla Walsh will speak to the different directing and storytelling approaches she takes when it comes to engaging audiences for drama, to those who are watching in a traditional episodic TV format, to those who want to binge watch online.
Dearbhla Walsh's portfolio includes Little Dorrit (for which she won her Best Director Emmy),  The Silence,  Shameless, Penny Dreadful, The Tudors  and Borgia. She directed  Dustin Hoffman, and Dame Judi Dench in Roald Dahl's Esio Trot, and recently directed as well as executive producer and lead director of  The Collection. Dearbhla directed Hozier's Cherry Wine promo video starring Saoirse Ronan.
Jennie Stacey is Director of Development at award-winning animation studio Brown Bag Films, where she develops their slate of original children's television series for international broadcast. Jennie began her career in 1997 in independent film production in London, before joining Universal Pictures International as Programming Manager of their Children & Family Programming division. In 2005 Jennie joined Irish national broadcaster RTE as Development Executive, commissioning and developing programming for their Young People's and Entertainment departments, before joining Brown Bag Films in 2008.
Jennie Stacey will speak about Brown Bag's innovations in storytelling, featuring their award winning work on titles including Doc McStuffins, Anya, Octonauts, Noddy in Toyland and more, and also in relation to the use of technology in animation, including the rabbit-rig used for the BBC CeeBeebies series Peter Rabbit.
We also have IFTA winning Actor Ger Ryan as our Panel Moderator.
Ger Ryan is one of Ireland's most gifted and respected actors.
She began her career with the Passion machine in Dublin and has tread the boards with Rough Magic, Druid Theatre, The Abbey The Gate Theatre. TV roles include the ground breaking Family, Amongst Women, Queer As Folk, Clocking Off, Oliver Twist, and "Stardust" for which she won best acting IFTA. Ger's film performances can be seen in the beloved The Commitments, War of the Buttons,The Van, Intermission, Moll Flanders and A Love Divided.

The event will include presentations, panel discussions and Q&As and refreshments will be provided.
Reserve your tickets here: https://www.eventbrite.ie/e/women-in-film-and-television-innovators-tickets-28639028104