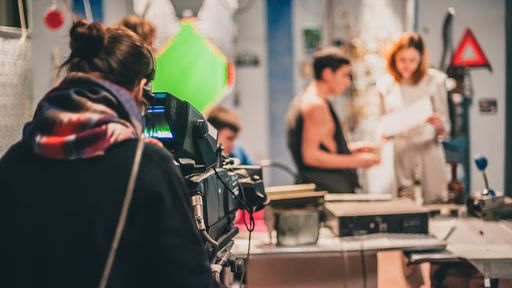 In these strange times, a bit of escapism is exactly what we all need, and a good story well told reminds us why the medium of film is so important. Here at WFT, we've compiled some of our talented member's work for you to peruse and enjoy. And please, spread the love: like, share, and if you see something that speaks to you, then why not reach out and let these filmmakers know?
Vittoria Colonna: Sandboy
VITTORIA COLONNA is a multi-award-winning Filmmaker, Performance Artist, and overall Seeker. Growing up between Ireland and Italy, Vittoria studied fine art painting in Rome's L'Accademia di Belle Arti, trained as an Opera singer in Tuscany and then continued in the performing arts, completing her studies at the Gaiety School of Acting in Dublin 2004. Later she turned to directing and visual storytelling where she found her niche and continues to explore dramatic film themes with honesty and dark humour.
Weird figures made of sand dot the scorched earth of an abandoned junkyard. Heaping on a last fistful of dry, red earth, Grace asks for forgiveness. Set in the Californian desert, *Sandboy* is a tale of loss and redemption.
Deirdre Mulrooney: 1943 – A Dance Odyssey
Deirdre is a writer,  film-maker, radio documentary maker and dance historian.  Films include Lucia Joyce: Full Capacity, Dance Emergency, True North and 1943 – A Dance Odyssey.  Books include Irish Moves, and The Nomadic Work of Pina Bausch (her PhD).  She is currently an inaugural UCD Arts and Humanities Creative Fellow.  For more info see www.deirdremulrooney.com.
Once upon a time, during World War Two (or "The Emergency", as it was known in Ireland), enigmatic Irish-German woman Erina Brady brought cutting edge Modern Dance to Ireland, from Germany. A forgotten reel of film by Irish film industry founder Liam Ó Laoghaire immortalised the mysterious modern dancer teaching her tiny pupils in her Harcourt Street Studio and dancing freely in the open air in his 1943 gem of a film, "Dance School".
Website / Facebook / Twitter / IMDB
Maureen O'Connell: PROCLAIM!
Maureen O'Connell is an actor and filmmaker from Dublin, Ireland. Maureen's short films are award-winning PROCLAIM!, YDA Award-nominated GIRLS, award-winning Thespish, Missed…, Tom Foolery and her newest short that screened at the Catalyst International Film Festival 2020, Meitherhood. And Maureen's feature film is award-winning slacker comedy, SPA Weekend. Maureen's next short, HUM, written by Ivan Cush and commissioned by Screen Ireland, will have a Cork Film Festival premiere in 2020.
Dublin, April 1916: three Printers to turn out 2000 copies of an Irish Proclamation – in one night and in secret- to be read by Padraig Pearse at the GPO Easter Monday 24th April 1916. They don't have enough type. They don't have enough wax. They don't have enough paper. Can they do it? This film is based on the actual characters & events surrounding the secret printing of the first Irish Proclamation.
Film Site / Company Site / Twitter / Facebook
Geraldine Creed: Documentary Showreel
Geraldine Creed is an Irish filmmaker and writer. Her most recent documentary Mercury 13, was made for Netflix in 2018. She has written numerous screenplays, two of which she directed. She is also a short story writer, and her published works include Fuel for the Fire winner of Redline literary magazine's Short Story Award, An t-Aiseiri (The Resurrection) in 'New Planet Cabaret' by New Island and Out of Sight broadcast on RTE Radio as part of the Francis McManus Short Story Competition. Geraldine is currently working on a novel, The Adding Up of Little Things.
Laura O'Shea: Hold the Line
Laura is an award-winning actor, writer and director from Limerick City. Her latest short, Match is currently on the festival circuit having recently won 'Best Irish Short' at the Catalyst International Film Festival.
Em works in a call center. She faces a day that's more stressful than the usual 'customer care queries' and is on the brink. That's until she picks up the phone to Patsy…
Facebook / Twitter / Instagram
Watch this space as next week, we'll be featuring even more work from our members!