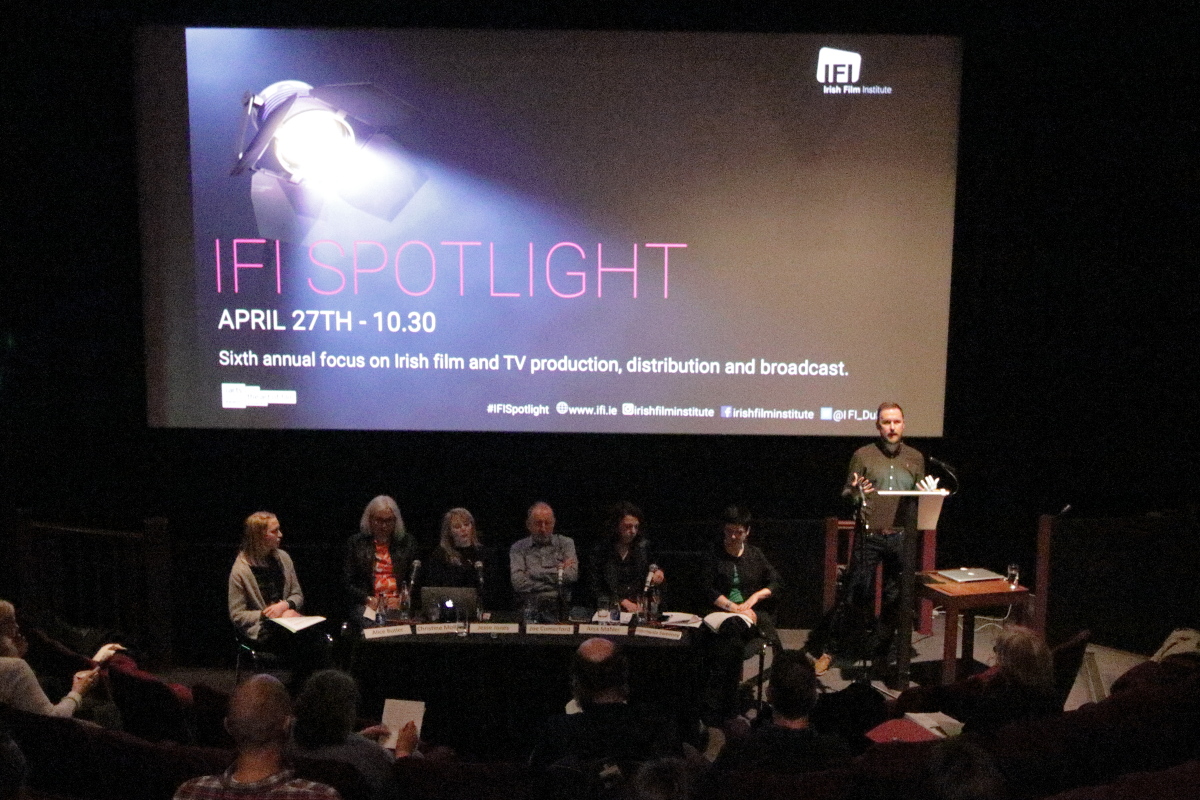 WFT Chair Dr. Susan Liddy will host a panel for the 11th IFI Spotlight, an annual review of Irish film and television production –providing a forum for new critical perspectives on the landscape from film and TV practitioners, funders, academics and others.  IFI Spotlight will identify new trends in production allowing a reflection on industry strengths and weaknesses which will aid future policy-making in respect of the arts.  This year, IFI Spotlight is structured as an intensive morning of panel discussions and presentations – with ample time for audience feedback.
IFI SPOTLIGHT 2023 WILL INCLUDE:
A YEAR IN REVIEW
Dr Tony Tracy (University of Galway) and Dr Roderick Flynn (DCU) present their invaluable, annual survey of what has been produced for big and small screens, notable trends, and outstanding achievements.
CREWS CONTROL? – EMPLOYMENT STANDARDS IN THE IRISH SCREEN INDUSTRY
This panel will discuss employment quality within the Irish screen industry, drawing on academic research and the industry survey published in the recent report, The Cultural Dividend Generated by Ireland's Film and Television Incentive, commissioned by Screen Ireland from Olsberg SPI.
The panel will be moderated by Vanessa Gildea (IADT), and led by Dr Denis Murphy (TCD), who will be joined by Martin Mannion (SIPTU); Kayleigh Hughes (Olsberg SPI) and Emer McAvin (Screen Ireland's Skills Development Team)
SOMETHING'S GOT TO GIVE: OLDER WOMEN AND THE SCREEN
Dr Susan Liddy (editor of the forthcoming Women, Ageing and the Screen Industries: Falling off a Cliff?) will host a conversation with female actors and creatives to consider challenges faced by women on screen beyond middle age who are traditionally cast as mere foils to younger, more complex, usually male, characters. Research findings provide evidence of gendered age bias in onscreen representation and the gradual reduction of meaningful storylines and central roles available to women over the age of 45. This session will consider correctives to such exclusionary practice and will celebrate the achievements of mature female practitioners who resist restrictive social and cultural barriers in their work.
Dr Susan Liddy will be joined by Louise Kiely (Casting Director), Fiona Bergin (producer/writer of Barber) and actors Carrie Crowley (An Cailín Ciúin) and Bríd Ní Neachatin (Róise & Frank).