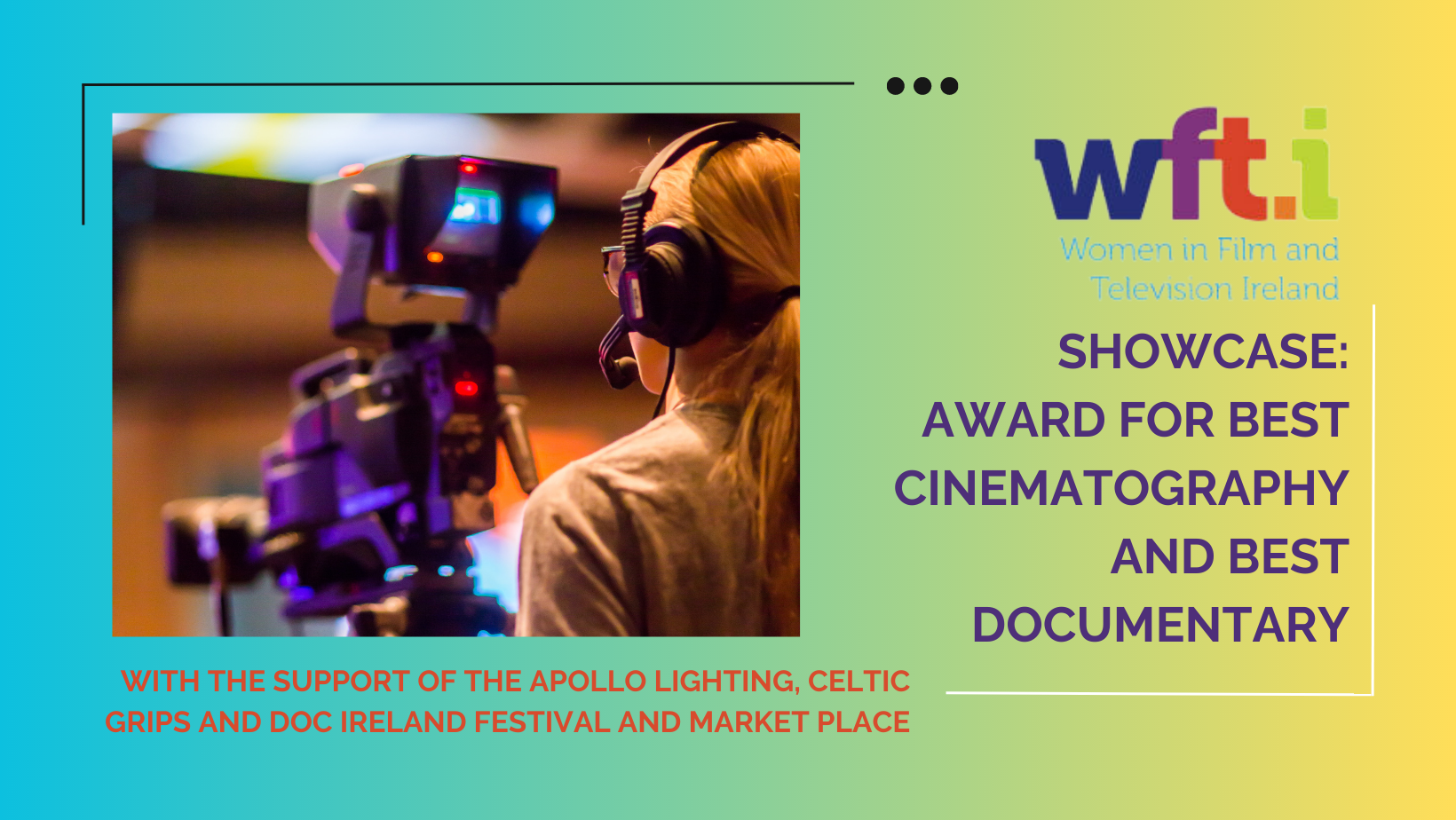 WFT Ireland members and DOPs – we know you love being behind the camera, but we want the keylight to be on you! WFT Ireland is delighted to announce the prizes for the Best Cinematography Award as well as the award for Best Documentary Short Film at this year's WFT Short Film Showcase. We are grateful for the support of the Apollo Lighting, Celtic Grips, Doc Ireland Festival and Market Place.
This annual event, in partnership with the IFI and supported by CNAM and Screen Ireland, is followed by an awards ceremony, celebrating the talent of our members, and providing a platform for both emerging and established women's voices in the industry.
The submission deadline for films is set for 1st September. We encourage all women members to submit their films by this date for a chance to win these career-advancing awards. There are a number of restrictions when it comes to eligibility – so read the instructions carefully before you submit your film. Also, please note – for a film to win Best Cinematography, the DOP must be a woman. 
Save the Date
The WFT Ireland Showcase will be hosted at the Irish Film Institute on 30th November. Make sure to subscribe to our newsletter and keep an eye on your inbox for updates and announcements regarding this exciting event.
The WFT Ireland Showcase Prizes
The Awards for Best Cinematography and Best Documentary offer a prize package designed to support and nurture the winner's career.
The WFT Ireland Best Cinematography Prize
Lighting Package for your next Short Film from Apollo Lighting

Grip Package for your next Short Film from Celtic Grips

One year of WFT Membership
The WFT Ireland Best Documentary Prize
One year of WFT Membership

Entry for the Docs Ireland Festival and Market Place 2024

A Feedback Session with WDM's Head of talent initiatives and Lead producer of the Netflix's Documentary Talent Fund – Elisabeth Hopper
About Docs Ireland
Docs Ireland is an industry focussed, all Ireland international documentary festival that celebrates documentary filmmaking and provides a platform for both national and international industries. It is a hub for cross-border collaboration, international co-productions and sales and distribution with their full day one-to-one pitching forum, Docs Ireland Marketplace. 
About Apollo Lighting
Apollo Film Lighting is an independent, professional lighting rental house based in Co, Limerick, Ireland. They supply the latest lighting solutions for film, television, and commercials throughout Ireland, and their collection of lights, lighting equipment, and accessories is constantly growing and evolving. 
About Celtic Grips
Celtic Grips is Ireland's leading grip service. 
About Netflix Documentary Fund
The fund to date has championed filmmakers from across the whole of the UK and Ireland, with Netflix supporting talent from Wicklow to Hackney and the Midlands to Bristol this year. The Netflix Documentary Talent Fund was created to break down barriers of access for filmmakers.
About Women in Film and TV Ireland
About Women in Film and TV Ireland: Women in Film and TV Ireland is a dedicated organisation empowering and supporting women in the film and television industry. Through various initiatives, events, and networking opportunities, WFT Ireland strives to foster a more inclusive and diverse industry landscape.