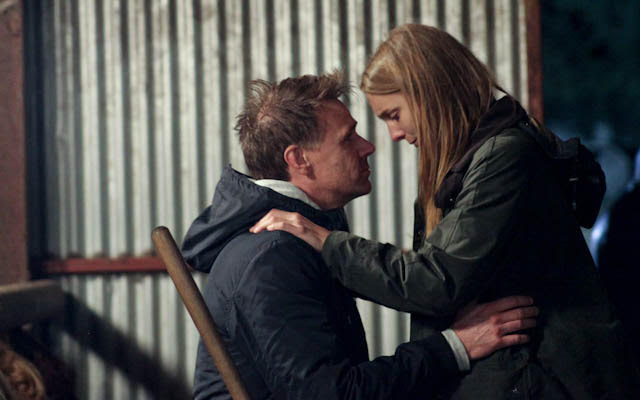 Producer and WFT Member, Emma Owen's award-winning short Taking Stock, will have its US premiere at the prestigious Newport Beach Festival this week. This female-led Irish drama was written and directed by Siobhán McMahon and produced by Galway-based production company Babyjane Productions.
Starring Kelly Gough, Michael O'Kelly and Rachel Lynch, the film tells the story of a farmer who battles through the aftermath of a cattle raid. It explores the affect this has on him and his family and how one copes in tough circumstances.
This ambitious project was funded by Kildare Short Grass Films; an initiative of Kildare County Council headed by Lucina Russell Arts Officer. Lucina brings together both professional and aspiring film makers in Kildare to create a film cultural legacy that will hopefully continue for many years to come.
'We couldn't have done it without the support of all the cast, crew and the locals – they are the ones who deserve all the credit' says Emma Owen from Babyjane Productions, 'the significant grant-aid awarded from Kildare County Council was further enhanced by sponsorship from Crean's Restaurant Killculllen, Ashover Lodge Killcullen, Cine Electric, Ardmore Studios and Element Post Production. We owe them our sincerest gratitude.'
Producer Emma Owen commented further on the making of the film, 'We are excited to take the next step with Taking Stock. Siobhan's stunning directorial is a beautiful, poignant and a searingly honest portrayal of marriage and human emotions in a difficult time.'
'We also want to thank our relentless crew who worked tirelessly throughout the project. We were extremely lucky to have IFTA winning Burschi Wojnar, award-winning sound designer Paul Rowland and two-time Emmy-nominated composer Joseph Conlan on our team… we are excited to see how the film performs on the festival circuit both nationally and internationally. It's a story that will resonate with all audiences throughout the world as it's a real human story.'
Find out more about Taking Stock by following the official Facebook page.
About Babyjane Productions
An independent production company based in Galway City with a focus on film and television drama. They specialise in long form tv series and feature film dramas within the psychological thriller, procedural, crime and horror genres. They can provide co-producers with the full range of production services, managing all stages of production process including scouting, scheduling, budgeting, casting, crewing and post-production. Their purpose is to push the boundaries of the imagination through gritty, dynamic and thought-provoking content. To give a voice to various stories throughout the world; to help create strong visual imagery that will stimulate and encourage people to take empowered risks.