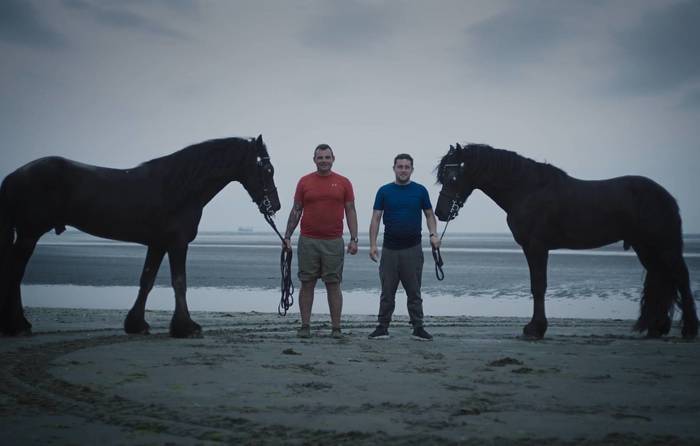 WFT Member Marion Bergin's powerful documentary Saoirse will screen is part of the official programme for the St. Patrick's Day Festival and will be available to watch digitally via https://stpatricksfestival.ie/ 
Saoirse Short Film
Dublin is a city in the midst of a property development boom and with the gentrification of the inner city, working-class horse culture is being marginalised. It's something unique to the city and likely won't exist in fifteen years. Found in the margins of society in the centre of the city, Saoirse, the doc film and photography project explores a culture struggling to stay alive in the midst of a building boom.
The photography and video project started with a 35mm photographic exploration of Dublin's horsemen from fairs in the countryside to yards on the outskirts and stables in the city centre.  There's a fascination in Ireland and abroad with the subculture of Dublin Horses, a nostalgia for days gone by and old traditions disappearing fast. It's part of the folklore of the city, visible on the streets and disappearing down alleys accessible to very few except those in search of it.
A repatriation project of sorts, photographer and filmmaker Marion, returning from 15 years in London felt drawn to the unseen and less well documented aspects of her culture. It started with childhood memories of boys in sportswear riding bareback on the local beach and led her to horse yards in areas such as Finglas and Cabra. Having spent most of her adult life inspired by the vibrant mix of culture in the capital Saoirse represented a reconnection with her Irish roots and cultural heritage. The film premiered on digital platform https://www.nowness.com/
About Marion Bergin
Marion is an emotive storyteller whose work lies at the intersection of art, fashion and documentary.  She has a gift for finding the beauty in the benign and uses a combination of cinematic and mixed media for a highly visual, engaging and compelling style of storytelling.
She approaches projects with an innate desire to understand and to connect. She crafts her work from a place of compassion to inspire, excite and break down barriers.  Her interdisciplinary work is highly varied and includes commercial, documentary and music videos as well as fashion, documentary and fine art photography, the common thread being the universal language of beauty.
She's collected a number of awards along the way, most recently winning a Gold Shark at the Kinsale Shark awards last year for her breakout documentary short Saoirse and also being nominated in two categories at the Cannes YDAs.