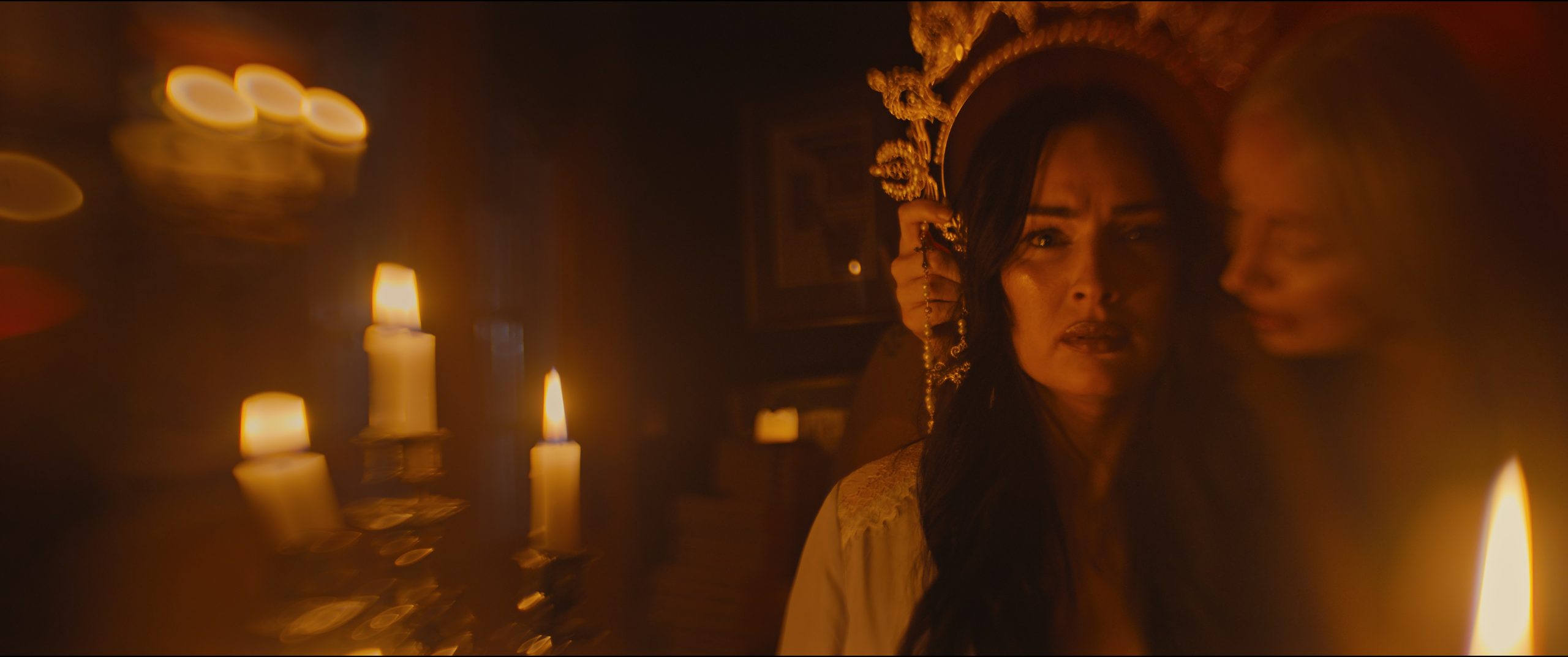 Written and directed by WFT Member Tania Notaro, Postpartum – now available on the Virgin Media Player – is a Lynchian-inspired psychological short film that explores the struggles of women who experience postpartum depression/psychosis. In the film, life takes a dark turn when a young woman is faced with the realities of motherhood. Postpartum explores the detrimental and unrealistic expectations which are set upon women especially when it comes to motherhood. And how, due to stigma, many women when struggling are afraid to ask for help. We spoke with Tania about shooting Postpartum, the winner of the Sharp Short Award which was made in association with Virgin Media and Screen Ireland.
As a filmmaker, can you talk to us about your influences and your own background? 
I started out as an actor and it just progressed from there. I still find it quite strange as I never thought of or wanted to be a filmmaker. But I am extremely impatient and was saddened by the fact whether I worked or not was a decision made by other people. So I ended up learning how to write, did a master's in screenwriting, and now here I am. My influences come mainly from my love of European cinema, socialism and feminism. Fellini, Noe, Varda, Almodovar, Arnold, Östlund, I could go on. The is a bold truth to their work. But I always say my love of film comes from David Lynch. Erasurehead was one of the first films that hooked me on the possibilities and the psychological madness of cinema. 
Where did you come up with the idea for Postpartum? 
It started when I watched a Louis Theroux documentary on the subject which I found harrowing. I became interested in the psychology of women being caught in this psychosis. And as I researched the subject more, I realised that these strange occurrences and apparitions weren't isolated episodes. Many women's testimonies all had similar experiences. And their lives truly became a psychological horror playing out in their heads. If you think some of the stuff in the film is over the top it's nothing compared to the testimonies I read. Some women wanted to kill their babies believing they were actually saving them. And it begged the question from me, how do you ask for help when you want to kill your child?
When it comes to directing a piece you star in, how do you change hats? 
It's insanely difficult because you're juggling so many balls. Trying to focus on the character while simultaneously focusing on directing is one thing, but then there are all the costumes, make-up, hair changes etc and with shooting this in two days we were under a serious amount of pressure in regard to time. Your mind becomes a bit of a muddle, but thankfully, I had good people around me. Our DP Colm Whelan for example, not only was his cinematography incredible, he saved my ass on more than one occasion. My co-producer Johnny Elliott is a phenomenal actor and has a great ability to take me out of director mode and into actor mode in seconds. My sister Alanna was on hair, make-up and costume and my friend Aoife Hendricks on art department, so I had an incredible quilt of support surrounding me.
Social media and religion are themes that run through the film, what was the inspiration for those? 
The social media element is all about perception. The idyllic perception of ourselves that we're all guilty of engaging with on some level, contrasted with the reality of trauma, mental health etc. Most of it is a lie. The religious imagery is the projection to the world of the epitome of the perfect mother, the Virgin Mary, similar to celebrity and influencer photos I've seen post-birth. This too is a fallacy. And I'm aware there are probably many people who have had nothing but amazing experiences with motherhood and childbirth so I'm not saying their experiences are a fallacy. But the social media perception of happiness, success, beauty etc is very often at odds with the reality of our lives and mental health.
Thanks so much for chatting with us. Written & Directed by WFT Member Tania Notaro, Postpartum is produced by Tania Notaro and Johnny Elliott of Chickentown Productions and stars Tania Notaro, Johnny Elliott, and Irene Kellegher. It is now available to view on the Virgin Media Player for a short period of time before its festival run!
About Tania Notaro – Writer, Director, C0-Producer, Lead Actor
Tania Notaro is an actor and screenwriter from Dublin. She has appeared in TV shows such as AMC's Into The Badlands, CBS' Evidence of Evil and feature films such as Mark O'Connor's Cardboard Gangsters, along with a plethora of award-winning short films and theatre shows. She is a graduate of Bow Street Actors Academy, The Gaiety School of Acting and Momentum Studios where she studied Meisner. She was recently nominated for Best Actress at the 12th Underground Cinema Awards for her performance in Mark Dollard's Hunger. As an actress, she became incredibly disappointed with the lack of diverse roles for working-class and LGBTQ+ women so she wanted to create her own. She has a 1st class Master's degree in Screenwriting for Film & TV from The National film school, IADT, and Warner Brothers offered her a scholarship to do so inaugurating her into the Warner Brothers Creative Talent team as an exceptional artist and one-to-watch. Her first script Boxed won her the John Boorman Scholarship at Irish Film School and she got to direct with Boorman himself and is the winner of The Ronan Phelan Writers Award at IndieCork, 2019. She is the recipient of the Dublin Artist Award from The Dublin Arts Council, The Artist Resilience Award, and The Agility Award from The Arts Council, 2021 & 2023. She received a special mention for her script An Timire at the 2020 Comortas Fisin and another special mention for her script Postpartum at The Catalyst Internation Film Festival last year. Her feature screenplay Elephant earned her one of 10 places on the Nostos Screenwriting retreat in Italy and on X-Pollinatros' Elevator scheme. Tania was one of the participants in Screen Ireland's Spotlight Scheme for emerging TV writers for her TV show Cabaret Cartell. She was one of 12 writers chosen from all over Europe for the Series Mania Institute Eureka programme for TV writing created by HBO and spent last autumn studying in France. She is the recipient of the Actor As Creator award by Screen Ireland and Bow Street Acting Academy and recently made her directorial debut with her short film Glitterbug which she also wrote, and starred in. She has recently made her second short film Postpartum which she wrote, directed, co-produced and starred in, in association with Virgin Media and Screen Ireland which is now available to view on the Virgin Media player. She is hoping to make socially conscious films from a female perspective.