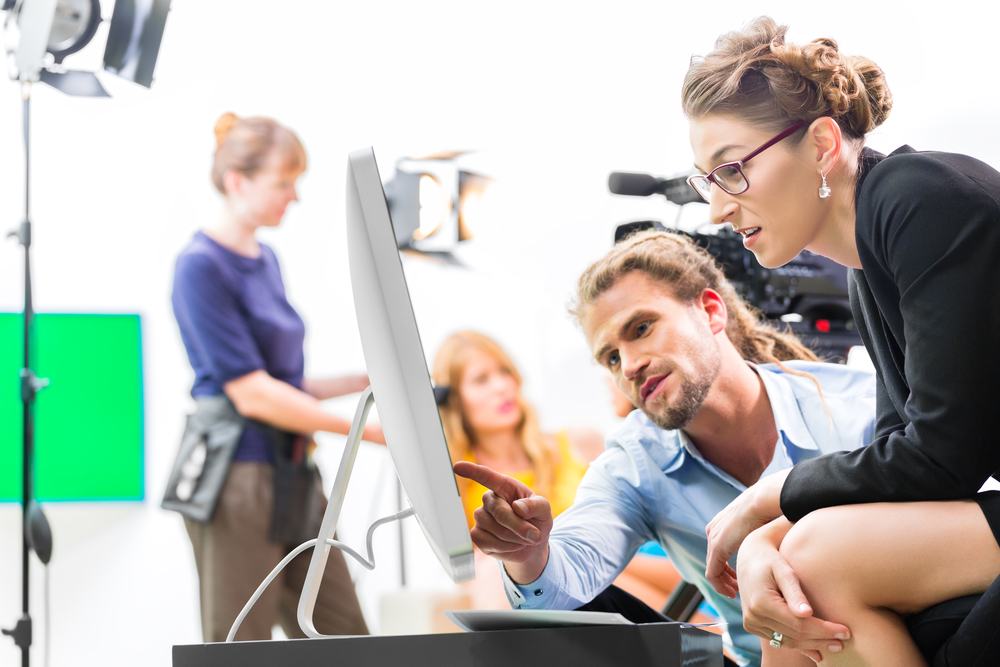 Another week in lockdown, and the end isn't in sight just yet. Here at WFT, we hope you're staying safe and well, and to help get you through the next few days of isolation, we've once again compiled the work of our talented members for you to peruse. Take a look at these shorts, showreels, and trailers – and if you spot anything that tickles your fancy, don't be afraid to say hello to the filmmakers!
Fiona Kinsella: Nice Night For It
Fiona Kinsella is a producer with over 20 years experience working in the Industry.  She established Jumper Productions in 2009 to produce commercials & online content for clients (Rihanna, Carlsberg, O2, RTE & National Lottery).  She has also produced critically acclaimed shorts & is currently in development with her first Feature projects.
Ground down by endless nights awake, an insomniac takes a nighttime walk, where she finds comfort in a fellow sleepless stranger. Nice Night For It stars Clare Dunne & Emmet Kirwan & was produced for the Screen Ireland Short Stories scheme.  It was written and directed by Rachel Carey, who is currently in post-production with her debut feature Cutters.

Aoife Nic Ardghail: Casual

Aoife is an actor/writer and former journalist. Her second short film, Parenting, is starting out its life on the circuit.
Maura's been dumped in a voice mail. It was only a casual thing, but she's still stuck with those grim feelings that come with rejection. To get out of this funk, she decides to take control. For this film, Aoife won Best Actress in a Leading Role as Moscow Indie Film Festival, an Honourable Mention at Chigaco Irish Film Festival and Best Music at the Dublin International Short Film and Music Festival.
Spotlight / Showreel / Trailer
Fiona Ashe: Director's Showreel
Fiona Ashe is an Irish Film/Television Director/Screenwriter. Her short film, Shades of Gray, a Film Noir shot in New York, won the Best Film Noir Award at the New York International Independent Film and Video Festival and was endorsed by Oscar-nominated filmmaker Jim Sheridan as "very well directed". Her short film Rapunzel: The Blonde Years became a viral hit on Screen Ireland's Virtual Cinema YouTube channel, with almost three-quarters-of-a-million views. Fiona holds a Diploma in Advanced Film Directing from the New York Film Academy.
Here's Fiona Ashe's Director's Showreel, which includes clips from Shades of Gray and Rapunzel: The Blonde Years in addition to two spec TV drama scenes that she directed.
Website / LinkedIn / Twitter / Facebook / Instagram
Jeanette Rehnstrom: Trailer for Miss Scarlet and The Duke
Jeanette Rehnstrom is the owner of Avant Music Port Ltd./ Music Supervisor. Originally from Sweden, with a pit stop of years working in Film and Music Law offices in NYC, Jeanette eventually settled in Ireland and started AMP in 2016. AMP offers a full range of music services (not limited to): a one-stop catalogue of tracks from exciting artists (with an Irish focus), providing composers, music supervision and publishing for Film and TV.
Out on UK's Alibi Channel from this week, and then going out to US, Canada, Australia, New Zealand, Germany, Italy,  Avant provided the Music supervision and publishing for Miss Scarlet and The Duke. Set in Victorian London, Eliza Scarlet is left penniless when her father dies. This is problematic in a time where marriage is the only option for financial security. Eliza resolves to continue her father's detective agency.
Lisa Vandegrift Davala: …for peace comes dropping slow…
Lisa Vandegrift Davala is a filmmaker and artist with a 35-year background in digital, light, and visual arts, architecture, and music. She is currently working on a feature documentary. Her work has been nominated for many awards including Best Irish Short, Foyle Film Festival; TV3 Broadcast, Signal Shortlist Shortfest;  Best Short & winner Festival Genius Audience Buzz, New Hope; 30 Minute Film Festival, Galway Film Fleadh; and received an honourable mention for the Best Experimental Film, Corona Fastnet Film Festival.
During two fine summer days in 2010, people from all over Ireland (including Omagh Peace III and Sligo Peace and Reconciliation) came together in W.B. Yeats' "Land of Heart's Desire", to inscribe this place with the line and mark of Yeats' poetic light.
Want to see more? Then watch last week's shorts online here.