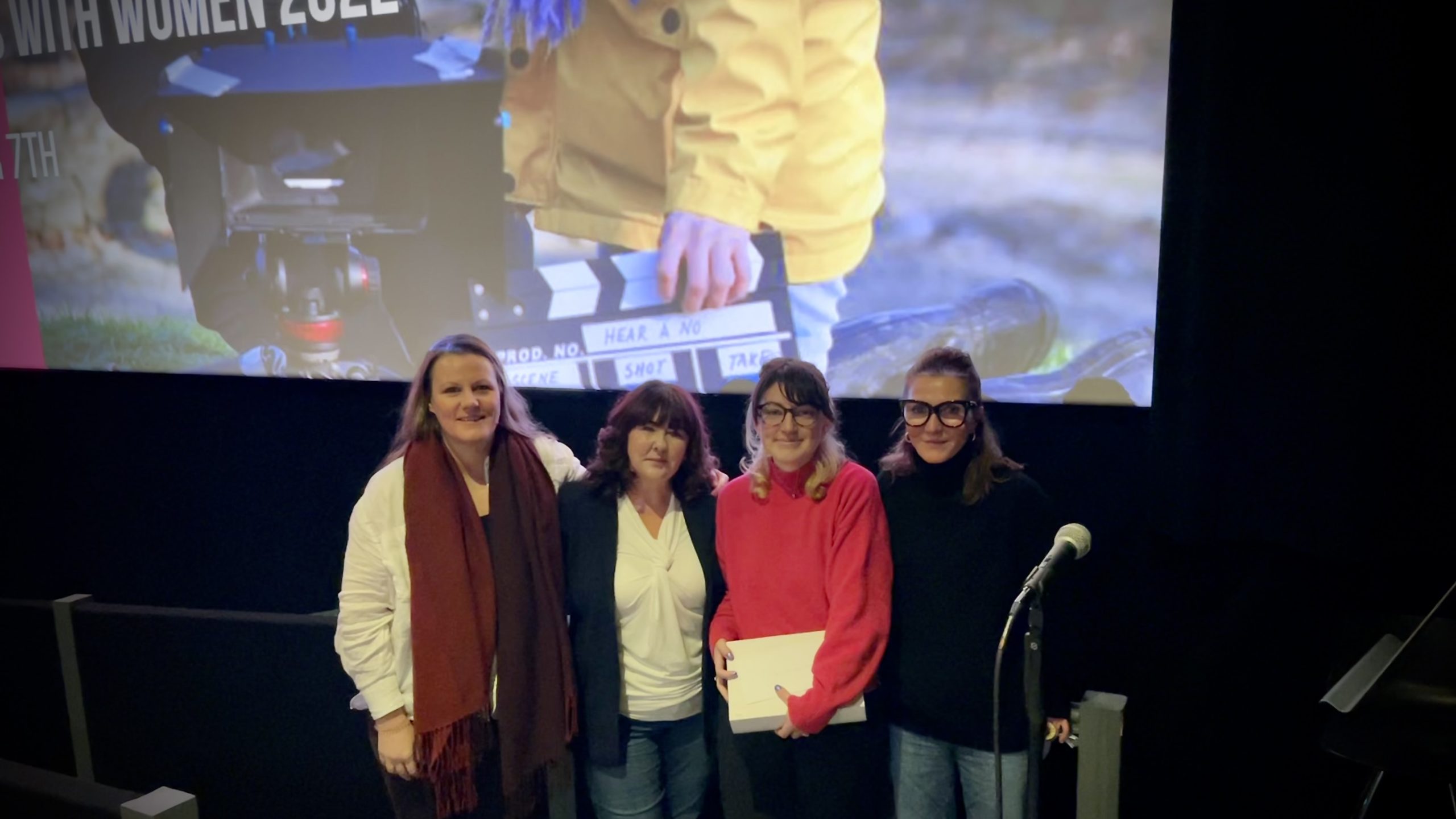 WFT is delighted to announce the winners of our Short Film Showcase for the 2022 competition. From tense, thrilling dramas to witty deadpan comedies, these four distinct winning films were selected from the wealth of shorts submitted, nine of which were chosen for the programme.
About the WFT Short Film Showcase
The fourth annual screening event was a partnership with the IFI and was staged with the generous support of the BAI. Our sponsors who gave the winner generous prizes were:
Winners
The prizes were presented by renowned actor, Michelle Fairley.
Best Documentary: Site Specific – College of Domestic Economy
A visual essay on the art, architecture and social relevance of the College of Domestic Economy, Cathal Brugha Street by conservation architect Mary McDonald and art historian Paula Murphy. Director: Bonnie Dempsey / Producers: Aimie Gavin & Irish Architecture Foundation / DOP: Tom Comerford
Runner Up: Someday Sadie
In 1960's Dublin, a young working-class singer falls pregnant at an inopportune time changing the course of her life forever. Director: Imogen Murphy / Producer: Fiona Kinsella  / Writer: Kate Gilmore / DOP: Philip Blake
Best Cinematography: Eilís Doherty for her work on A Death in the Family   
A death in the family leads to an interesting meal for the mourners. Director: Kate Haley / Producer: Robert O'Meara / Writer: Kate Haley / DOP: Eilís Doherty
Best Film: Hello?
A tense phone call between two strangers doesn't go as expected. Both of their lives are turned upside down in an instant. Director: Claire Byrne / Producer: Tina Pawlik / Writer: Tracy Martin / DOP: Philip Blake
Congratulations to all!
WFT Chair, Dr Susan Liddy observed: "What a joy it was to welcome WFT members and guests to the Short Film Showcase 2022. Thanks to our valued partners in the IFI and the generous sponsorship of the BAI, the Showcase is fast becoming a significant event in the Irish screen calendar.  Our special guest, stage and screen actor, Michelle Fairley, was among those who marveled at the talent screened.  It proves beyond a doubt there is no shortage of talented women screenwriters and filmmakers in Ireland. The question now is – how can we further support emerging talent and those who are ready to move on to features or television drama?  That is a question we will return to on another day. For now, thanks to everyone for a glorious evening!"
WFT Vice Chair and DOP Jaro Waldeck said: "What an amazing night. This year's short film showcase was presented to a full house. Our members, supporters, friends and family, came to celebrate the best of what women have created in the past year. We screened a selection of films with ambitious technical quality and high artistic value. We gave out awards for the best film, runner up, best documentary, and like in the previous year, we again recognised one film with an award for Best Cinematography by a woman. Our guest of honour Michelle, was impressed with the standard of the films and presented the winners with trophies and prizes. The night also saw us mark the election of our Chair, Dr. Susan Liddy as President of WIFT International. The Board presented Susan with a bouquet of flowers, followed by a roaring applause from the whole audience. This appointment will open many doors for women in the Irish film and TV industry and we need to be ready to seize the opportunities that will arise."