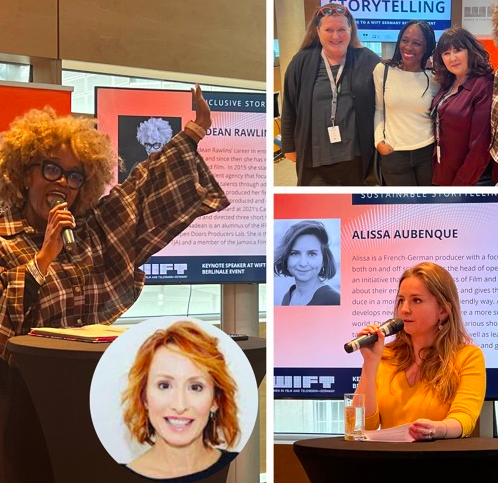 2023 marked a very special year for Women in Film and TV Ireland. Our Chair, Dr. Susan Liddy has been elected as the Incoming President of WIFT International, an appointment that was celebrated at the Berlin International Film Festival earlier this year.
This podcast section was recorded live at WIFT International's Future of Storytelling event. Nadean Rawlins, President of Women in Film and TV Jamaica takes to the podium, and talks about how, and why, we can do better when it comes to inclusive storytelling. During the event,
Susan caught up with Kissy Duggan. A writer, producer and activist for gender equality, Kissy is the founder of Women in Film, Television & Media Italia, where she currently sits on the board. During this discussion, Kissy gives her tips on making the most of the festival in question.
Finally, Producer & Green Film Production Expert Alissa Aubenque spoke about the future of filmmaking, how we can make it as sustainable as possible and why we as an industry need to put the environment first.
This series of discussions have been made possible with the support of Coimisiún na Meán.