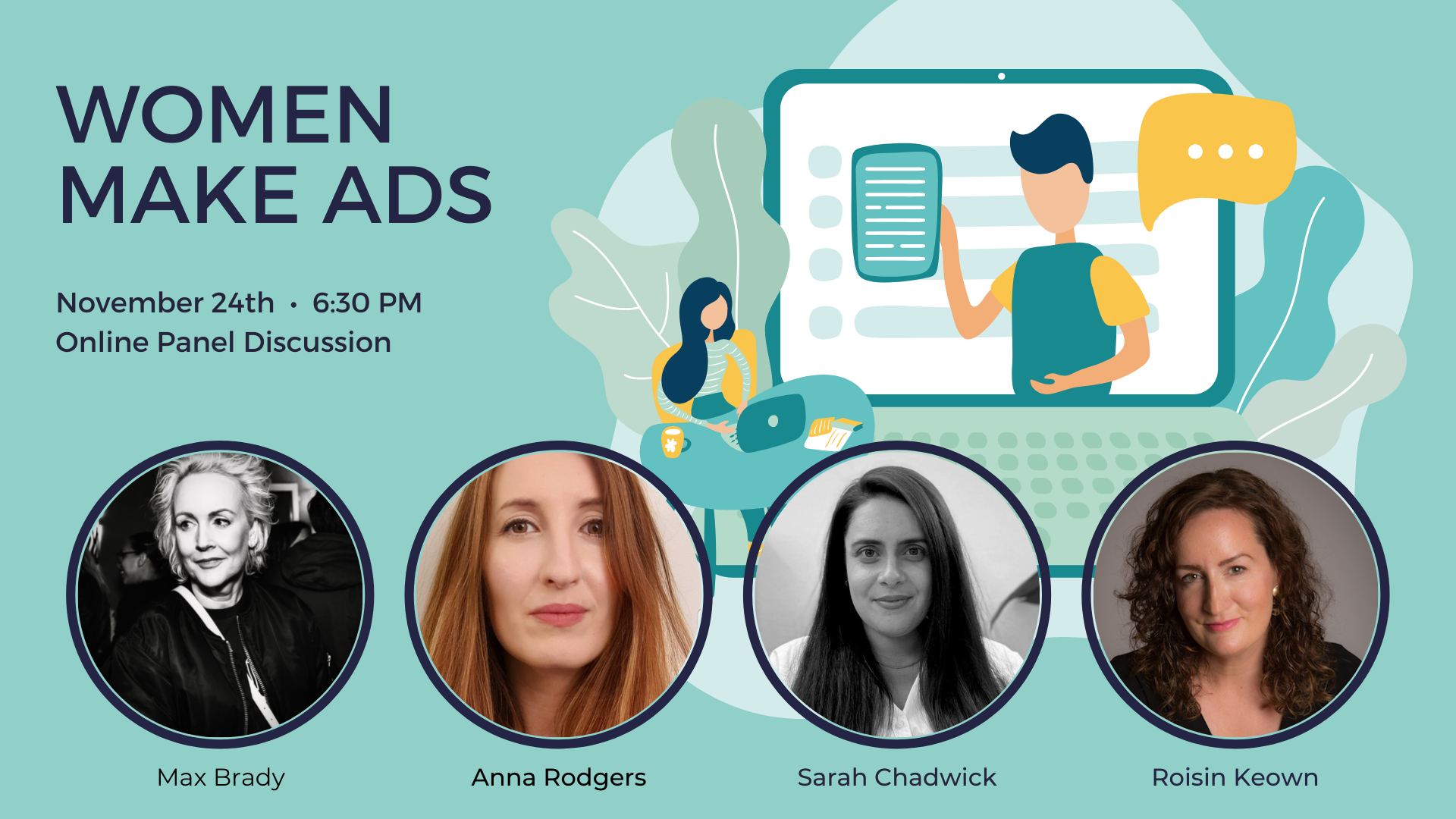 When it comes to Commercial TV Production, we aren't seeing enough women directors working regularly within the industry. Join WFT for a panel on Wednesday 24th November at 6:30pm where we will explore how we can get more women directors on pitches and actually directing commercials. It will be an overview of the industry as it stands, but more importantly an informative event, where WFT members can learn how agencies work and what they look for in directors. This live discussion will be moderated by Producer Fiona Kinsella (Jumper Productions), and features Creative Director Roisin Keown (The Brill Building), Director Anna Rodgers (Invisible Thread), Executive Producer Max Brady (Pull The Trigger) and Producer Sarah Chadwick (Boys + Girls).
This event has been made possible with the support of Screen Skills Ireland.
Panelists
Roisin Keown
Roisin Keown is the Founder and Executive Creative Director of Ireland's most awarded, new creative agency.  The Brill Building is a multidisciplinary shop specialising in brand strategy, creative and production. Her career to date includes noted campaigns for National Lottery, Denny, Breakthrough Cancer Research and Kilkenny Design, where she has been fortunate to work with talented directors like Damien O'Donnell, Paddy Breatnach, Ken Wardrop and Locky McKenna among many others. It is not lost on her this list is exclusively male.  Roisin has co-directed and produced for The Brill Building in-house productions on campaigns for Breakthrough Cancer Research, Marie Keating Foundation and Riskeye. Screenwriter of the recently released The News, a short film about lung cancer for the Marie Keating Foundation directed by Brian O'Malley and produced by Saturday Films in partnership with The Brill Building, she is Creative Producer of The Paddy Irishman Project, the fine art photography and videography project from Ross O'Callaghan.
Sarah Chadwick
A big personality, a wealth of experience, and a cool confidence has enabled Sarah to produce some of the most award-winning and celebrated advertising campaigns from the Irish market. In the last 18 months alone, she has impressively added to her accolades, bagging multiple Cannes Lion and D&AD awards. In 2022 Sarah will be taking on a new and exciting challenge – bringing her extensive expertise to the world of freelance production.
Anna Rodgers
Anna Rodgers is an award winning director with over 20 years experience in the industry in television, film and advertising.  Her documentary Somebody to Love about sexuality and disability earned her the IFTA for Best Director in 2014, becoming the second woman to ever win this award. Her short film Hold on Tight about gay and lesbian hand holding was selected for over 50 film festivals worldwide including Frameline and Iris Prize where it was Highly Commended. It won a Radharc award. Her short film Novena was also nominated for the Iris Prize, won Film of the Year at the Galas, and won Best short Documentary at Kerry Film Festival and at KASHISH Mumbai.  Her recent feature documentary When Women Won won the Special Jury Prize at the Boston Irish Film Festival and Best Feature at the Sydney Women's Festival. She is currently working on a Reel Arts film about HIV for the Arts Council called How to Tell A Secret.  Anna has directed numerous factual programmes for RTE including Keeping Ireland Alive, Crumlin, and My Broken Brain.She has directed advertising campaigns for Budweiser, Liberty Insurance, The Marie Keating Foundation, Keelings Fruit, BeLonG To and TENI.
Max Brady
As a former president of the Union of Students in Ireland, Max Brady knows what it means to take action. No stranger to embracing change, some might even call Max a bit of a radical. But it is that kind of attitude that has allowed Max to forge a unique and very successful path in the world of TV and Commercial Production. Having worked as a producer in the fields of TV Programming, live broadcasting (scary), and documentaries, Max was first attracted to the fast-paced, demanding genre that is commercials and branded content production some twenty years ago. Today, Max is co-owner, Managing Partner and Executive Producer of the creative production company Pull The Trigger, Ireland's biggest and most renowned commercials production company. Pull The Trigger represents a diverse roster of directors, working with Advertising Agencies and Clients domestically, while also maintaining a strong presence and reputation internationally, particularly in Europe and North America, providing production services for brands wishing to shoot in Ireland.
Host: Fiona Kinsella
Dublin based producer Fiona Kinsella has over twenty years experience in the Irish and International Film and Television Industry. Over her career, she has worked with some of the leading Irish Directors. She established Jumper Productions in 2009. Fiona has produced an array of commercials and online content for brands including, Carlsberg, O2, RTE, Jameson, as well as a number of award winning short films, and has provided production services for artists including Rihanna and One Direction. Fiona's heartfelt passion for film, coupled with her extensive experience in film industry training and development in the UK, gives her an instinctive ability to bring out the very best in the many talented people with whom she works. She has recently become Head of Production with Tile Media, and oversees a slate of feature films and TV Drama.